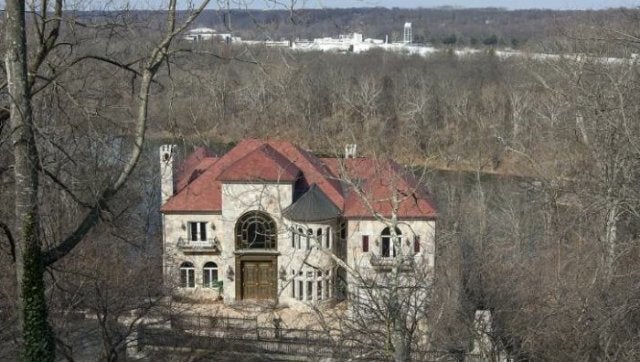 Most people expect if they're spending $9,000,000 on a seven-bedroom castle with a glass elevator and an indoor pool, they'll get to live in it. Or at least use the pool.
Normally this is where we would alert you to a new price chop for a house that was originally listed as $12.5M but appears to have a new asking price of $8.999M. But, that is only the asking price if you agree to let the sellers live there for three years after settlement (not a delayed settlement, mind, but a post settlement occupancy). They are also willing to go up or down on the price, provided the buyer also adjusts their move-in date accordingly.
Elariny told the WSJ he bought the property intending to build a place that was "not monumental, but more than just your run-of-the-mill construction home," and put more than $9.5 into putting up his castle, which was partially inspired by Versailles. (An inspiration that does not always lead to peace and happiness.)
In case it will lead to your peace and happiness, here are the details for the castle at 612 Rivercrest Dr., McLean, Va.: According to the current listing, for $12,500,000 the buyer can move in right away. For $7,999,000 the owner has to wait five years before moving in. For $8,999,999 that waiting time drops to three years and for $9,999,000 the new buyer has to wait a mere 18 months before playing Marie Antoinette.
And while five years might seem like a long time, another way to think about this deal is that if you take the $7,999,000 option, for the next half-decade you'll essentially be collecting $75,000 monthly rent. Even with the D.C. area's notoriously high rents, that's more than most landlords would bring home.
Check out some photos of the McLean castle -- can we call it a McCastle? -- in the slideshow below:
PHOTO GALLERY
612 Rivercrest Dr., McLean, Va.
Calling all HuffPost superfans!
Sign up for membership to become a founding member and help shape HuffPost's next chapter
BEFORE YOU GO