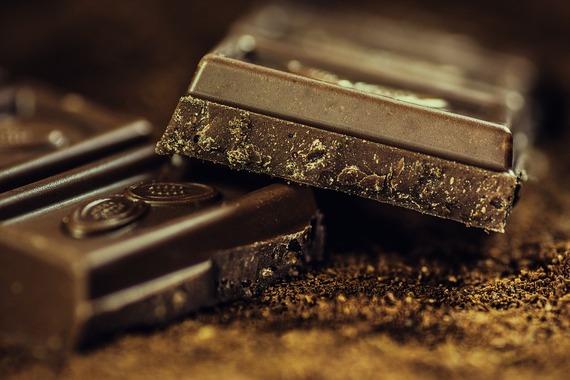 While eating chocolates has its own share of benefits, the wrong kind might terrify you for the rest of your life. With that being said, what is the right kind of chocolate? Now we can't really expect any magical Wilky Wonka Bars around us, but what we can really do is treat ourselves with the best of delicacies from the best chocolate shops around us. Presenting you the fanciest and most fulfilling chocolate treats that would bless your life:
Why get donuts separately when you can get them dipped in chocolate? Compartés Donuts & coffee milk chocolate bar makes sure that your sweet donut-fetish comes true. The most scrumptious donuts dipped in creamy milk chocolate will certainly make you fall in love again.
Right from Madagascar, Madécasse gave us the ultimate coffee-chocolate treat of all time. Espresso beans mixed with the silkiest milk chocolate will not only drive your chocolate buds crazy but will become your personal comfort food as well.
Despite being offered by so many chocolate brands, Lavender truffles is that one signature flavor that will never disappoint you, even if you try making it yourself. Straight forward rich, dark chocolate infused with fresh Lavender and cardamom takes you on a whole new level of chocolate-love.
Malts have to be our favourite one-bite chocolate treat, but Chocolatier Michael Recchiuti took it to a whole another level with this creation. He made sure that our one-bite cookie is filled with blasting double layers of chocolate, giving us the best of both worlds.
Before the taste hits you, you will be mesmerized by the packing itself. Valerie Confections combined the best chocolate with splash of other flavours. You will see the usual caramel, salt relish and exotic matcha, champagne and pepper flavours on the same tray.
Just when you thought organic chocolates are boring, Santa Barbara brought us the traditional chocolates with a twist. Each piece is made with the best of techniques along with the added flair of the California chocolatier style. The dark organic chocolate will leave you with a satisfying and ever-craving chocolate experience.
First, there was Captain Jack Sparrow's Black pearl and then came Vosges Black Pearl Bar. This bar will confuse your palate in the best way possible, with its ginger, wasabi and sesame seeds infusion with dark chocolate.
After chocolate, a good part of the world population is obsessed with chai. Now imagine a goody-good milk chocolate bar packed with a kick of chai and ginger essence. That is exactly what Dagoba did with their Chai Chocolate Bar.
EHChocolatier's decided to give us the biggest and tastiest confection box, with a bit of everything in it! The box includes chocolaty goodness with Ancho bars, Brown butter Toffees, Caramelized, Crispy milk bars, Peanut butter love and so much more. If love could come in a box, this would be it.
Tempted enough with all the chocolate? Time to get yourself some fancy chocolate NOW.