This is a weird time to talk about buying American. In the wake of recent events, a good chunk of the electorate probably doesn't want to hear about supporting businesses who are, for the most part, in the thick of Confederate monument country. To say nothing of our friends around the globe, many of whose leaders have gotten an earful (or a Twitter-lashing) from a certain strangely-coiffed gentleman in the White House. But for goodness' sake, it's whiskey — American whiskey — that's going to help us get through the Trump years. And the bourbons, ryes, and malts featured here are a compelling argument that America doesn't need to be made great again. I mean, a nation that can produce such exquisite elixirs is imbued with greatness in the here and now, whether or not you think that greatness resides in our nation's capital.
So don't resign yourself to drinking Canadian whisky for the next three and a half years to make a political statement, no matter how cool Justin Trudeau may be. We don't have those amber waves of grain just to make bread, you know. Buy American. Drink American. If you're on the redder side of the divide, feel free to credit the present administration for the greatness of these whiskeys, all of which made their debut post-Election Day. And then remind yourself that our Commander-in-Chief is a teetotaler who's never had so much as a taste of the stuff — a mistake you will, thankfully, not make yourself.

EARLY TIMES BOTTLED-IN-BOND BOURBON (50% alcohol by volume, aged 4 years, $22.99/1 liter bottle). Bottled-in-bond — meaning it's distilled at one distillery during one distilling season, aged at least four years in government-supervised warehouses, and bottled at 100 proof — is one of the best bargains in whiskey. And Early Times is one of the best bargains in bottled-in-bond. A throwback to Early Times' 1940s-era B-in-B (the brand has been around since 1860), this is a first-rate bourbon at a cut-rate price. It opens with big brown sugar and caramel notes, which then morph into a luscious, rich chocolate orange. That high alcohol content provides a most pleasant tingle, and the finish is dry and warm without the burn associated with lesser high-proof whiskeys. Early Times B-in-B makes a great mixer with everything from Manhattans to highballs, but it's a good sipper as well, which given the price is pretty amazing.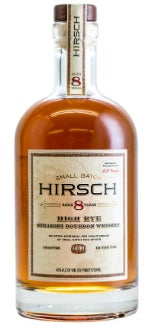 HIRSCH SMALL BATCH 8 YEAR OLD HIGH RYE BOURBON (46% ABV, aged 8 years, $52). There are plenty of reasons to scoff at this one. The Hirsch name is meant to evoke the famed A.H. Hirsch bourbon bottled in 1989, which has gone on to become one of the most collectible and acclaimed American whiskeys ever made (read this to get the whole story). But apart from the name, the two bourbons have no common provenance. This Hirsch is distilled at MGP, the gigantic Indiana distillery which produces so many of those so-called "craft" brands the hipsterati love to be seen drinking. And at a list price of more than $50, it ain't exactly cheap. But misleading name aside, this is a really good bourbon. Not a surprise, since the folks at MGP know their stuff; those pseudo-craft brands may tell a slightly bogus story, but nobody said they didn't taste good. It's on the sweet side for a high-rye bourbon, with candy corn and caramel notes leading the way, a nice, full body, and an elegant, dry, and slightly spicy finish. It makes a nice cocktail or a fine sipper, either neat or on the rocks. I even like the bottle. And yeah, it's a little pricey. But if you can swing the few extra bucks, it'll give you 750 ml of pure pleasure.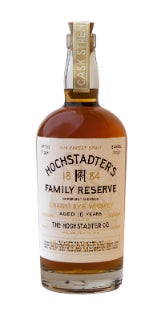 HOCHSTADTER'S FAMILY RESERVE RYE WHISKEY (61.9% ABV, aged 16 years, $200). Hochstadter's was a popular brand in the 19th and early 20th century owned by the Cooper family, with its name on everything from rock & rye to Irish whiskey. Robert Cooper, a Cooper descendent (and the guy who brought the world St-Germain elderflower liqueur in 2007), revived the brand a few years ago; he personally selected the barrels that make up this limited edition bottling. Sadly, he's not around to see this release, having died last year at the age of 39. But it's a hell of a farewell. Sourced from Alberta Distillers Limited in Canada, this cask-strength rye packs the spicy wallop you'd expect, but it's also got softer notes of dark fruits and baking spices to temper the intensity. Add a little water if you must, but I think it goes down just fine as-is, with a long, warming, tingly finish. 16-year-old rye is tough to find nowadays, thanks to the explosion in the category over the last decade or so. The $200 price tag may give you a slight case of sticker shock. But if you love rye, this is worth it.

BOONDOCKS AMERICAN WHISKEY (47.5% ABV, aged 11 years, $40). I've had a lot of whiskeys (and whiskies) over the years, so when I try something that doesn't remind me of anything else I've ever had, I take notice. Especially when it's unique in a good way. Boondocks is kind of like a corn-heavy bourbon, but since it doesn't follow the letter of the law (it's not aged entirely in new charred American oak barrels), it's got to simply be called a whiskey. Aged for 11 years and overseen (I'm not sure if it was distilled) by former Woodford Reserve distiller David Sheurich, this one tastes for all the world like a toasted marshmallow — you know, the one that catches fire on your stick and you have to blow it out so there's that nice layer of char atop the oozy, gooey sweetness. Oak, spice, and a ton of luscious vanilla... drink this with some chocolate and a graham cracker and you've got yourself a boozy deconstructed s'more. It's a little sweet to be an everyday sipper for me, but when I'm in the mood, man, does it hit the spot.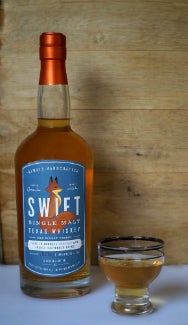 SWIFT SINGLE MALT TEXAS WHISKEY - SAUTERNES FINISH (44% ABV, no age statement, $60). Balcones opened the door for Texan single malt whiskey a few years ago, and Swift followed suit, um, swiftly, bringing a more traditional Scottish style of whiskey making to the table. Swift sources malted barley from Scotland and then ages it in ex-bourbon barrels, just like they do across the pond. This one is finished in French Sauternes casks, and the apple and pear notes the casks impart is subtle but noticeable. Overall, I find Swift to be a quite reasonable American version of more medicinal single malts like Caol Ila, if slightly thinner, and the sweet Sauternes notes complement it nicely. If you're an American single malt fan, this is a brand worth watching.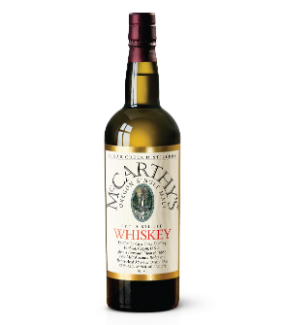 McCARTHY'S OREGON SINGLE MALT WHISKEY (42.5% ABV, aged 3 years, $50). A 3-year-old peated whisky from Scotland would raise more than a few eyebrows, as finding a single malt less than 10 years old is all but impossible. A 3-year-old peated malt from Oregon... that makes a lot more sense, for better or worse. Using peated Scottish barley for that authentic touch, it's aged and bottled in Portland. So is it a Scotch? An American whiskey? Um, yes, I suppose. And it's actually very good. It's no Lagavulin or Bruichladdich, but it's easy to drink for a peated, malt, with lots of round, fruity undertones to go with the smoke, and a rich coffee/dark chocolate finish. If Islay whiskies are your special occasion drams, McCarthy's makes a nifty everyday sipper.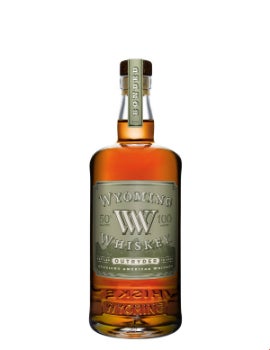 WYOMING OUTRYDER WHISKEY (50% ABV, aged 4 years, $55). It seems like there's hardly a state in the union that's not making whiskey nowadays, and what's wrong with that? Especially if it's as tasty as Wyoming's self-titled hooch. Outryder is a blend of two different whiskeys — one a traditional corn/rye/malted barley bourbon, and another that's almost equal parts corn and rye. The result is similar to a high-rye bourbon, with sweet honey and vanilla notes leading the charge, and a dry cinnamon-pepper spice bringing up the rear. It's got a creamy, almost velvety mouthfeel, and though it comes in at 100 proof (it's bottled-in-bond), it's a surprisingly smooth sipper. Wyoming has a few expressions out — this is the first one I've tried, but I'm looking forward to diving in deeper.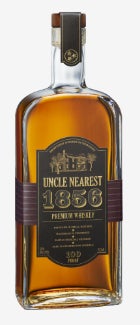 UNCLE NEAREST 1856 PREMIUM AGED WHISKEY (50% ABV, no age statement, $60). Nowadays, when the history of the South is being rewritten to lump Robert E. Lee in with Washington and Jefferson as Great (If Flawed) Americans, here's a piece of history that actually deserves a second draft. The name Nathan "Nearest" Green was unknown outside of a handful of historians and Tennessee locals for almost a century and a half. But thanks to diligent research and persuasion on the part of author and lawyer Fawn Weaver, and the cooperation of spirits conglomerate Brown-Forman, whiskey lovers are being made aware that it was "Uncle Nearest" who, while still a slave, taught Jack Daniel — yes, THAT Jack Daniel — how to distill whiskey. In fact, Green is now officially recognized as the first master distiller of Jack Daniel's, and the first African-American master distiller, period. (To get the story in greater detail, check out Clay Risen's excellent piece in the New York Times.)
It's slightly ironic that the whiskey bearing Uncle Nearest's name isn't made by Jack Daniel's, but by two unnamed Tennessee distilleries who, according to the press release, are "still making whiskey the way Green made it." What makes Tennessee whiskey unique is the Lincoln County Process, in which the whiskey is filtered through maple charcoal before aging. It comes on sweet with notes of maple syrup and caramel corn, underpinned by vanilla and toffee. It dries out quite quickly midpalate and finishes long and oaky, with the Cracker Jack flavor lingering on the tongue. It's worth drinking even if you don't know the backstory. And it's not a quickie exploitation job, either — Green's descendants (many of whom still work at Jack Daniel's) are involved and, presumably, benefiting financially from this tribute to their forefather.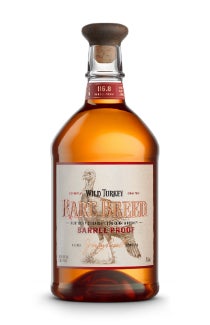 WILD TURKEY RARE BREED BOURBON (58.4% ABV, aged 6-12 years, $45). Rare Breed isn't exactly new — in fact, Wild Turkey's barrel-proof bourbon been around for decades. But this year's batch tweaks the classic formula a bit, clocking in at 116.8 proof instead of 112.8. An extra 2% of alcohol may not seem like a lot, but it can really make a difference in a whiskey's flavor profile and mouthfeel. The result is... well, simply a better bourbon. It's spicy but not hot, with Wild Turkey's hallmark vanilla and caramel notes along with cinnamon and hints of mint. It's got a little more... heft, shall we say, than the lower-proof Rare Breed, and it's still surprisingly smooth even with that high-alcohol kick. A splash of water, which ups the sweeter notes a bit while muting the spice, is optional but not necessary.
Popular in the Community