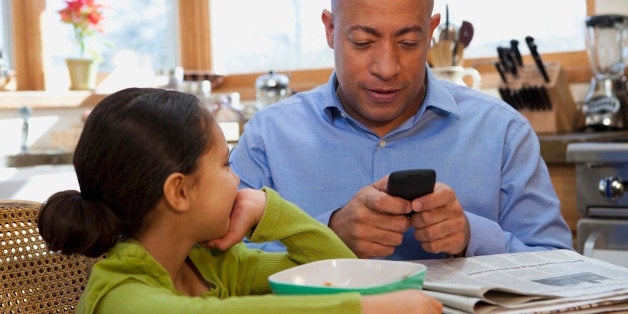 My friend Matt recently faced a disconcerting dilemma millions of parents face every day: the need to be in more than one place at one time. His wife was out of town and he had to get his two sons (ages 8 and 14) to school. The older boy usually rides his bike to school, but it was 10 degrees outside. Matt needed to drive his younger son to school, 25 minutes away, which would mean the high school freshman would be on his own in frigid temps. The solution? Outsource it. He had his son use Uber, the app-based ride service, to get to school. And it worked beautifully. "I don't know why I didn't think of it sooner," he said.
What a wonderful idea. Brilliant, in fact. But it's not one I would have thought of on my own, because like most mothers out there, I'm constantly plagued with mommy guilt. "Shouldn't I be able to figure this out on my own?" "Why can't I get it all done?" But Matt's example got me thinking: What's so wrong with outsourcing? Perhaps it's the future of parenting. Let go of the guilt and let someone else help.
Historically, someone in Matt's very common predicament could have relied on friends or family -- a member of their proverbial village -- to help, but for many Americans, the village isn't what it used to be. We don't live in the 1950s anymore. Seventy-two percent of moms work outside the home, forty-one percent of births are to unmarried women and upwardly mobile professionals regularly move away from their families for job opportunities. In other words, American families are starved for time and starved for help more than ever before. And even if these shifting demographics don't apply to you, multiple kids with multiple commitments means you often need to be in two (or three or four) places at one time.
Thanks to the app-driven labor market, outsourcing family logistics is no longer a privilege of the wealthy. Technology is paving the way to match supply (people willing to help) with busy families who need extra arms and legs to get it all done. And perhaps most exciting, technology is making these outsourcing tasks not only more accessible, but also more acceptable. For years, my colleagues and I have been studying the art of motherhood, and for the first time in a decade, we hear moms saying, "I don't want 'help' with dinner. I want to delegate dinner to someone else." Let freedom ring, I say.
The message to modern parents seems to be: do what you can and then get help with the rest. Hallelujah. So what is this more creative and less guilt-ridden group of parents doing these days to outsource the things they can't get done or simply don't want to do?
Here are 9 things you can start outsourcing tomorrow!
1. Household tasks and chores. The beauty of technology is it can match the formerly elusive supply of helpers with pent-up demand. You can use TaskRabbit to outsource errands and chores, everything from assembling those IKEA bunk beds to organizing the linen closet.
2. Archiving kids' artwork. Who has the time? Finger-painted works of art come home every week from the kid's school. Throwing away 80% of them feels logical but who has time to archive the 20% that you actually want to keep? Artkive knows this task is a pill and is willing to do it for you. Please and thank you.
3. Birthday cards. Who can ever remember to send them? Use Paperwoven to send personalized birthday cards to your countless nieces and nephews. Every. Single. Year.
4. Kids ski clothes. GetOutfitted delivers gently used ski apparel and accessories directly to you, saving you the trouble of shopping for expensive gear the kids will only wear for one season. Bonus: You return the dirty clothes in a prepaid mailer before you head home. No more parka-stuffed washer dancing across the floor.
5. Carpooling. Maybe you don't need after-school help every day, but you do need someone to drive the little ones to soccer on Mondays and Wednesdays when you have to take care of something else. If you live in San Francisco you can use Shuddle, a carpooling service specifically designed for unaccompanied kids. And the best part is the drivers are almost exclusively mothers and nannies that have passed extensive background checks.
6. Dinner. It's the number one pain point among mothers in America. Enter Plated and Blue Apron, services that eliminate meal planning and grocery shopping by providing all the ingredients you need to make meals in about 30 minutes.
7. Homework help. Not up to speed on 6th grade geometry and don't feel like driving your kids to an after school tutor? Use Kahn Academy for online tutoring services instead of leaving work early to take your son across town for in-person help with homework.
8. Shoveling the driveway. This on-demand service from Plowz & Mowz is the ultimate example of dividing and conquering. Someone shovels your driveway while you check off the other eighty-seven things on your list.
The technology-based economy is giving parents more bench strength than ever before. Now it's just up to us to take advantage of it. And if we do, it's likely to change the business of parenting altogether.
In the business world, companies such as Uber are called disrupters. But for the American family, they may end up being the peacemakers and it would behoove the service industry to pay attention. Every quandary that faces a dad trying to drive carpool or a mom who has an important meeting on a snow day is a cry for help. Every time a parent mutters, "I'm just one person," a business opportunity awaits.
So as parents let's agree to keep asking for help and start accepting the helping hands that are coming out of Silicon Valley and beyond.
Related