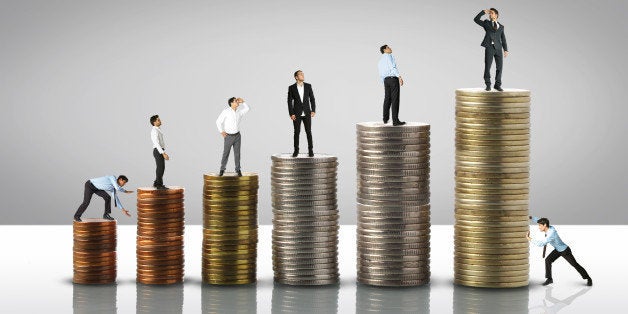 The Powerball jackpot this past Wednesday was the largest jackpot in United States history. With three winners announced (so far), that still leaves the winners with a large chunk of change.
With 1.325 Billion lottery tickets sold this round, millions of Americans have spent a few minutes this week dreaming of what they would do with the money if they won (admit it, you spent time thinking about it)!
Lottery winners have a well-known history of losing all of their winnings quickly. As a wealth advisor & financial planner, here is how I would recommend breaking it all down in order to protect your money, and have your money work for you.
The winners have the option of one lump-sum payment of $983.5 Million, or being paid over a 30-year period in the amount of $1.568 Billion. It makes more sense to take the lump sum, because when invested with care, that money can grow far more over 30 years than the 37% difference being offered. In the case of 3 winners, that would be $327.8 Million each.
2. Be Realistic - Assume Less Than Half Is Yours
Taxes vary from state to state, but let's assume that the government will find a way to take 55% of your earnings. Now each will be worth $147.52 Million. Any money that you do not pay up front, I recommend putting in a separate bank account so you are realistic about your new net worth.
3. Create Your Money Team
The most important item when picking your money team is to find people that will do right by you. You will be inundated with calls from CPA's, financial advisors, business managers, real estate brokers, mortgage brokers, insurance agents, etc. My recommendation is to meet with them, compare them and get to know them. Spend a lot of time figuring out who is right for you to work with. Do not use one company that has the full team in place. Customize each member of your team. A business manager that pays your bills, does your taxes and manages your investments will have no system of checks and balances, and therefore no incentive to work only in your best interest.
Your financial advisor should do this for you right away. Your financial plan should include information about the money you have, debts, future earnings, and your goals for the future with a clear framework of how to accomplish those goals.
5. Compartmentalize - Protect The Principle ($75 Million)
The best way to preserve your money is compartmentalize it into buckets. Protecting your principle and living off the interest should be your largest bucket. Let's say you put $75 Million away in this bucket; you could set it up to be invested in diversified, conservative bonds at a yield of 3%. That means, you can get $2.25 Million a year in income, while protecting your principle.
6. Compartmentalize - You Are An Investor Now ($50 Million)
The beauty of having a lump sum of money, is that this money can work for you. It is like having employees that give you back their salary in the end. You have already put away $75 Million of your $147.2 Million, which leaves you with $72.2 Million. Take $50 Million of this money and invest it in high quality real estate properties. High quality real estate in demanding areas tends to appreciate over time, and will also provide you with quite a lot of income. In our example, let's assume you are making a conservative 4% income on your investment. That is still $2 Million per year.
7. Compartmentalize - Charity ($10 Million)
You were one of the luckiest people in America to win the biggest jackpot in history, and now it's time to give back to make the world a better place. I recommend giving to charity with an intention, and an end goal. For example, rather than giving a few thousand dollars to charity every time someone asks you, work with an organization to build a homeless shelter. Work with the team to set aside a money for a bigger purchase that will make you feel fulfilled and impactful. You can work with your financial team to set up a charitable trust. This would put a certain amount of money away for charity that you can also invest so it grows over a period of time.
8. Compartmentalize - Big Purchases ($12.52 Million)
You won the lottery! It's time to buy. If you plan exactly how much you want to put away for big purchases in the first year, you will prevent overspending. Keep in mind that big purchases often come with expensive maintenance. For example, an expensive home is not just a big purchase, but will obligate you to maintenance costs and high property taxes for the remainder of your home ownership. $12.52 Million may seem like a relatively small number, but remember, you have income of $4.25 Million per year to spend as well.
9. Compartmentalize - Sharing The Wealth
You didn't work for it, so everyone around you is entitled to a piece of it. NO. This is not the case!! It is your money, and no one else is entitled to it. I have never heard of a rich person that just gives out their money. However, if there are people in your life that you WANT to share your money with, you certainly have the flexibility to do that. Make sure that the money you are giving them has a purpose. For example, your best friend wants $50,000 because he has stood by you, rich or poor, for decades. You should be able to share with him. Rather than giving him $50,000 all at once, why don't you offer to pay for his kid's tuition, or offer him money to start his own business? Use your money to make the people around you better, and to teach them to grow and to earn. Take this money that you are sharing out of your annual income.