A mom and psychologist has developed a line of empathy cards that she hopes will break down the silence around a common but not often discussed source of grief: pregnancy and infant loss.
Jessica Zucker's empathy cards are meant for people who have experienced miscarriage and stillbirth, as well as other heartbreaking situations like early infant death, having to terminate a wanted pregnancy or giving birth to a preemie who requires intensive care in the NICU. The cards' messages express support, understanding and even slightly irreverent candor.
"My hope is that people are able to feel less alone through these cards," Zucker told The Huffington Post. "Women are reporting feeling a sense of shame, self blame, guilt and definitely isolation after experiences of pregnancy and infant loss."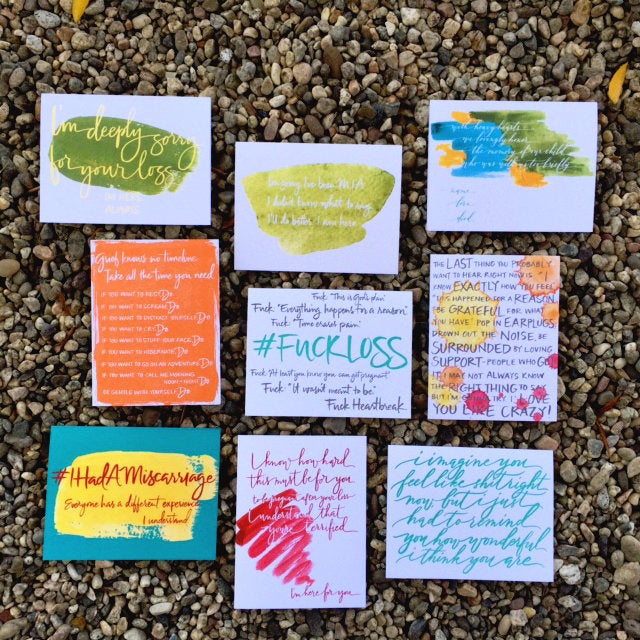 As a psychologist who specializes in women's reproductive and maternal health, Zucker has listened to many mothers' stories of pregnancy and infant loss. But her own experience of having a miscarriage at 16 weeks gave the mom and psychologist a incredibly personal connection to these issues.
"My cards express a combination of things that I wish I had heard, things I definitely say to my patients in a certain way, and things I've heard from my patients in the aftermath of loss," Zucker said, adding that she feels most people today aren't equipped to know what to do or say to someone going through infant or pregnancy loss.
"My biggest inspiration is my desire to help shift the cultural conversation," the mom said. "I hope that through these cards, I can sort of make an indelible impact on normalizing this kind of grief in our society in a way that it isn't right now."
In honor of the start of Pregnancy and Infant Loss Awareness Month, here are Jessica Zucker's empathy cards, available online and in select Los Angeles stores.