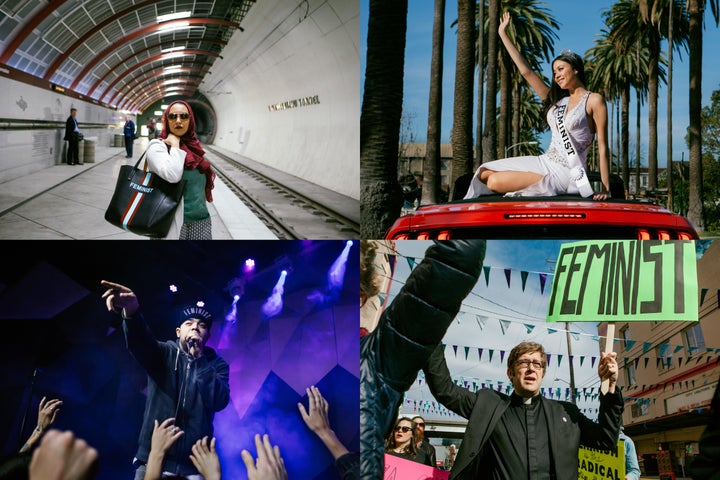 This is what a feminist looks like. And this. And this. And this... 
Feminist clothing company Wildfang created "The F Word," a photo series which features nine photos of self-identifying -- very different -- feminists. The images, which were published on International Women's Day, challenge perceptions about who can and can't be a feminist by featuring a diverse group of people. The series includes a minister, a beauty queen, a Samoan father with his three daughters and a group of strippers. 
"Our point of view is that feminism relates to a person who believes in equal rights and opportunity, irrespective of gender," CEO Wildfang Emma McIlroy told The Huffington Post. "We invite everyone -- men, women, trans community -- to support feminism and call themselves a feminist."
Wildfang reached out to feminists of all different, ages, ethnicities, religious affiliations, occupations and political affiliations. "We asked each of them to share their take on the F-word," a WildFang blog reads. "Feminism isn't just for women, feminism is for all of us." 
We invite everyone -- men, women, trans community -- to support feminism and call themselves a feminist.

Emma McIlroy, Wildfang CEO
As Wildfang's creative director Taralyn Thuot explained in a press release, the company wanted to "set the record straight" when it comes to feminism. 
"In the lead up to this shoot, we did research and outreach with our community that made it clear that there was ambiguity, fear, passion and confusion associated with the word 'feminism.' We wanted to set the record straight," Thuot wrote. "So we shot a group of self-identifying but unexpected feminists in really authentic yet provocative situations to challenge perceptions and start conversations."
Each image is titled with the person's name, we well as a list of identifiers, which each subject defined for themselves. Underneath is a quote that sums up why they consider themselves feminists. 
Feminists come in all shapes, sizes and colors -- and here's proof.  
Scroll below to read why these 10 people are feminists. 
REAL LIFE. REAL NEWS. REAL VOICES.
Help us tell more of the stories that matter from voices that too often remain unheard.
BEFORE YOU GO
PHOTO GALLERY
Most Feminist Moments For Women In 2015