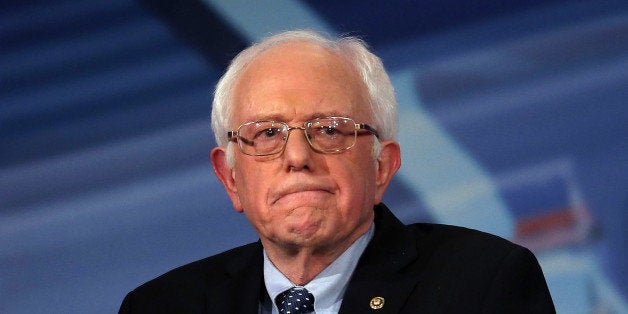 So, you're feeling the Bern. For the sake of transparency, I'm with her. But that doesn't mean we can't engage in some healthy discourse, and I have a few honest questions for Sanders supporters.
1. What was Bernie Sanders doing for the first half of his life? In the 1970s alone, Hillary, who has been painted as an establishment candidate and in the pocket of Wall Street, worked at the Children's Defense Fund to level the playing field for all children, with Walter Mondale to defend and advocate on behalf of migrant workers, and served on the Legal Service Corporation to ensure equal access to legal representation and justice for all Americans. What was Bernie doing in the 1970s?
2. Why would Bernie Sanders support the F-35 Joint Strike Fighter? I understand that it brought jobs to Vermont, but this is the most expensive weapon system of all time with a price tag of $1.5 trillion. Yes, trillion, not billion. Worse, it is plagued with cost overruns, doesn't fly, has software issues, and is not even capable of supporting ground troops. And yet, Sanders supports it for all the wrong reasons. As a senator and presidential candidate who vehemently argues for cutting defense spending and the problems of pork and money in politics, shouldn't his supporters expect more of him? Doesn't this reek of hypocrisy?
3. How much has Bernie really done to help vets? Bernie Sanders served as Chairman of the Veterans Affairs Committee, arguably the most important, or at least most powerful, post he has held in government. Though he often brings up the work he did reaching out across the aisle to pass the VA reform act (which has done little to improve the VA, by the way), he was in an important oversight position and for years defended the VA, effectively choosing unions over veterans. Why did it take a national scandal to spur Sanders to action? Why has that action done little to reform a broken system many of my fellow veterans depend upon for care? And shouldn't he be held accountable for not doing his job of overseeing the VA?
4. Is Bernie's approach toward young people the right path? President John F. Kennedy famously asked, "ask not what your country can do for you, but what you can do for your country." Bernie has promised free college education, which is great, though many of my fellow veterans will point out you can already get college paid for through something called the GI Bill. Shouldn't we be asking more of our young people? Dare we ask them to be citizens?

5. What exactly are Bernie's plans for Wall Street? While we're at it, Bernie plans on paying for his college plan through a tax on Wall Street speculation. I thought he planned on ending Wall Street speculation. So does he plan on taxing it? Or ending it?

6. Is Bernie really running a clean campaign? I get the disheveled grandpa look, but while Hillary keeps hammering him on the issues, it seems he is more focused on her character through statements that she is owned by Wall Street or that she takes Wall Street money, albeit only 3% of her total donations. Guess what, Hillary was a senator from New York, many of her constituents work on Wall Street. It's not like the banks are actually donating to her campaign, because, you know, that would be illegal.
7. Is Bernie really against super PACs? Bernie Sanders has made it a point that he does not have or receive the support of a super PAC, but that isn't really how a super PAC works. Super PACs, by law, do not work with campaigns and cannot even interact with campaigns. A recent New York Times article showed that he was the biggest beneficiary of Super PACs during the Iowa caucuses form both conservative and liberal PACs attacking Hillary. I'm curious how his supporters feel about this irony?
8. Does national security matter to you? We live in an incredibly complex world and foreign policy is about much more than a single vote on the Iraq War. As a veteran, I know first hand the gravity of that decision, but I also question why Bernie is so hesitant to articulate a policy approach to our foreign policy challenges himself.

9. Why is the entire Republican party afraid of Hillary Clinton? On the subject of money in politics, Hillary has been in the arena for her entire adult life fighting for progressive causes. Bernie also deserves credit for being a great critic and a needed voice. But for those Sanders supporters who are adamantly against Hillary, I only ask if you think you too are susceptible to designs of special interests in politics. Why are hundreds of millions of dollars being spent to paint Hillary as untrustworthy, as power hungry, as any other awful stereotype we paint powerful and accomplished women with? And why are you falling for it?
Calling all HuffPost superfans!
Sign up for membership to become a founding member and help shape HuffPost's next chapter