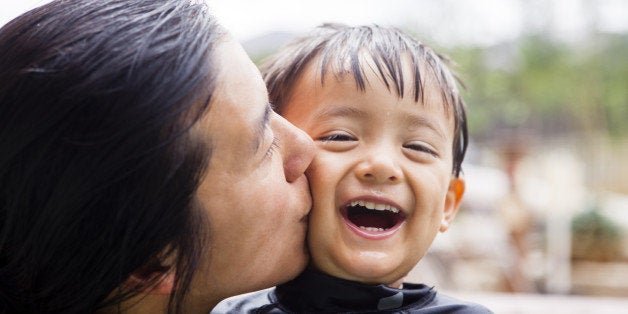 Why stress out and struggle with New Year's resolutions that are impossible to keep? Put your time to better use by relying on handy parenting hacks that make everyday life simpler and more productive with little or no effort. As a CEO and mom of three rambunctious young boys, I depend on on these favorite tricks to maximize my time, simplify our lives, and keep my sanity!
• Use "The Bathrobe Trick"
Get dressed without fear of kid-related morning mishaps -- spit-up on your shoulder, cereal down your blouse -- by wearing a bathrobe over your clothes until it's time to leave the house. It will catch the spills and save you from a last-minute clothes change.
• Post a Checklist
It's tough to remember your own belongings, let alone all of things that your kids require away from home. I find it handy to tape a checklist of take-alongs to the back of my door so I can quickly scan and assure myself that I'm locked and loaded before leaving home.
• Replace Bulky Equipment (and Clutter) With Your Smartphone
Pare down on baby equipment -- and make traveling much easier -- by utilizing apps that turn your phone into a baby monitor, white noise sound machine, and television.
• Keep a Few Cleaning Tricks Up Your Sleeve
Avert a meltdown (your own) by knowing and relying on unconventional cleaning products to remove kid mishaps: Toothpaste removes Sharpie from wood furniture, WD-40 is a super crayon remover, and an old favorite -- peanut butter does a wonderful job of removing chewing gum from hair.
• Make Use of Printables
Not everything is better in digital form. Keep a few printables on hand to keep you from repeatedly jotting down frequently used info, such as emergency contacts and guidelines for babysitters. You can find a handy, all-inclusive Babysitter Emergency Contacts Printable at UrbanSitter.
• Make Your Appliances Work Harder
Your dishwasher is capable of more than just washing dishes and glassware. Load it with sticky baby toys and mildew-y bath toys to clean up and kill germs, too.
• Turn Anything into Dessert
Providing three well-balanced meals a day leaves little or no time for dessert. To give my kids an occasional treat, I rely on quick tricks like cutting the tops off of frozen juice boxes for instant slushes or grilling nutella and marshmallow sandwiches for indoor s'mores.
• Outsource with Technology
Whenever possible, save time and hassle by using services and apps to do your dirty work, such as Instacart for picking up groceries, Keepy.me for saving the loads of artwork kids bring home, Plated for getting a fresh meal on the table and, of course, UrbanSitter for quickly and easily finding a babysitter.
• Get Your Kids to Help Out By Turning Chores Into Games
No child can resist a challenge if you call it a game. Set a timer and offer a reward for a job well done.
These tips and tricks won't give you more hours in the day, but they can help you resolve to manage your time and simplify life with kids. I hope they work for you, too!