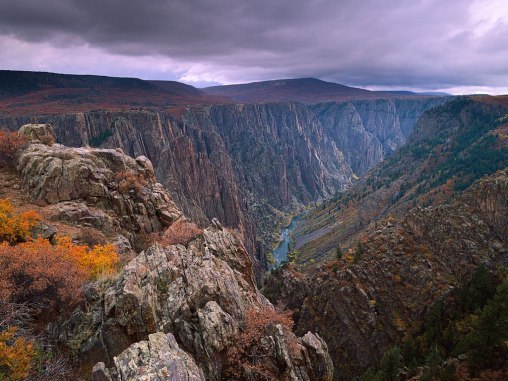 Pot is now legal in Colorado, folks. As of Jan 1, Colorado becomes the first place in the world where it is legal to simply walk to into a licensed shop and purchase marijuana, no prescription necessary. Washington State and Uruguay aren't far behind, but with the start of 2014, Colorado is the first to put the law into action, and now the travel industry is watching closely to see if "pot tourism" takes off, turning the state into an American version of Amsterdam. Of course, we'd argue that there are many more interesting things to do in Amsterdam than smoke weed (for instance, who needs drugs when you have the drag olympics, surreal public art, and renowned museums?). And today, we'd like to make the same argument for Colorado. Here are our favorite things to do in Denver and the rest of the Centennial State, none of which require weed for full appreciation.
Shop for something other than pot
Most of the stores that have nabbed state licenses to sell marijuana are located in Denver, but the city also has some terrific traditional shopping. From the boutiques of the Cherry Creek shopping district, to the vintage stores in Southwest Denver (we like the quirky Regal Vintage for its impressive selection of 1980s motorcycle jackets and graphic tees), there's something for everyone. Old South Gaylord Street, ten minutes from downtown near Washington Park, boasts a row of old houses that have been converted into fun, one-of-a-kind boutiques, wine stores, and galleries.
Denver's become a huge foodie destination, according to James Beard Award-winning chef, Jennifer Jasinski, owner of Rioja in Denver's historic Larimer Square. "The amount of really good exciting chef-driven restaurants has just gone crazy--there's a lot more options than there ever used to be," said Jasinski. Jasinski recommends New Saigon, Spuntino, and Patzcuaro's for lunch and dinner; we like Snooze for breakfast (get the carrot cake pancakes with cream cheese icing and walnuts).
And we don't mean that in a 'Let's get wasted, dude!' kind of way. Denver has been gaining a lot of culinary attention lately, and some of that spotlight is thanks to its artisan beer scene--a scene that some might argue is the most interesting in the country today. The roots lie in the fact that Colorado has more home brewers than any other state, along with an impressive (and growing) number of breweries. Two we recommend: Wynkoop Brewing Co., which was co-founded in the 1980s by laid-off geologist and now Colorado governor John Hickenlooper, and Crooked Stave, helmed by hipster beer king Chad Yakobson.
In addition to housing an impressive collection of art and a roster of international traveling exhibitions (like a current show of Degas, Monet, and other famous French artists), the Denver Art Museum has an architectural pedigree: The original 1971 building was designed by talian architect Gio Ponti, and the 2006 expansion is by Daniel Libeskind. But that's not the only art game in town. The Clyfford Still Museum opened here in 2011, a shrine to the famously finicky abstract expressionist painter who wanted nothing to do with the commercial art world and kept tight control of his work.
Explore the national parks
We hesitate to make any 'get high on nature' puns, but of course you certainly can here. The state is home to four national parks (Rocky Mountain, Mesa Verde, Great Sand Dunes, and Black Canyon of the Gunnison) and we're particularly fond of the southwest corner of the state, where you'll find the Black Canyon. It's one of the steepest and narrowest canyons in North America--yet relatively few people visit it. Stay at Dunton Hot Springs, a spruced-up version of an old mining village in the San Juan Mountains north of Durango. It's rusticated luxury at its best: old log cabin guest cottages centered around hot springs at the foot of an untouched valley.
Who says history has to be boring? Not the friendly staff at the History Colorado Center, where interactive exhibits and fun presentations bring the sometimes scandalous and always interesting backstories of the state to life.
Ski at some of the best resorts in the world
In the right weather, you can get to the mountain in less than two hours from downtown Denver. Copper Mountain is a local favorite for its proximity to the city, but there are many more in Colorado to choose from, including the top four ski resorts in the U.S. and Canada as voted by our readers this year.
Catch a game (and a view)
The stalwart Rockies are still at it downtown, in pitch-perfect Coors Field, where a newly renovated seating section will open in summer 2014 with craft brews and panoramas of the mountains.