Despite my dire warnings, my adopted hometown of Greenville, SC has achieved more internet fame than Kim Kardashian's caboose. It was inevitable. Our town has hit its stride at the same time that so many journalists realized that no matter how many Picasso-filled museums and $300 per person restaurants one has access to, life in a huge metropolis boils down to being stuck in traffic for the better part of the day. Life in Greenville, however, means a thriving downtown, some big city amenities, and the outdoor possibilities that being this close to the Blue Ridge mountains offers. Canoeing, hiking, white water rafting, rock climbing, and the best cycling on the east coast are all right here within an hour's drive of great pizza, sophisticated chef-driven bistros, and amazing beer. And doesn't that beat a $60 cab ride any day?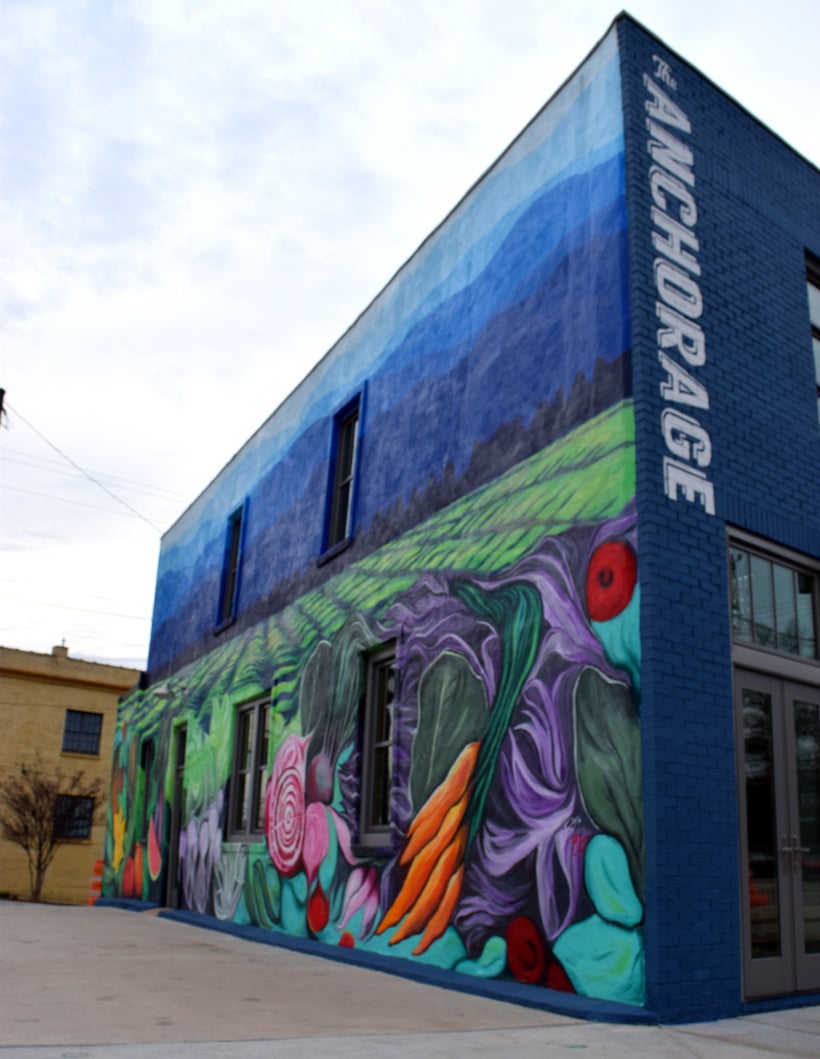 For years, some of us (including me) have bemoaned our city's growth. Yet now it's time to accept, and enjoy it. Because while our interstate highway congestion may not rival a Baltimore or Atlanta, those larger towns don't have a Swamp Rabbit Trail or a Christian Hansen.
So let's open our arms to the multitude of travelers that 2017 will bring and point them in the right direction. Many of our new residents and visitors will choose Greenville because of four things at which our town excels: beer, coffee, food, and bicycles. And since I happen to be a self-appointed expert at these four endeavors, allow me to share some of my favorite folks to visit and tastes to try, in no particular order. And I'll start with Christian Hansen's Blue Ridge Creamery.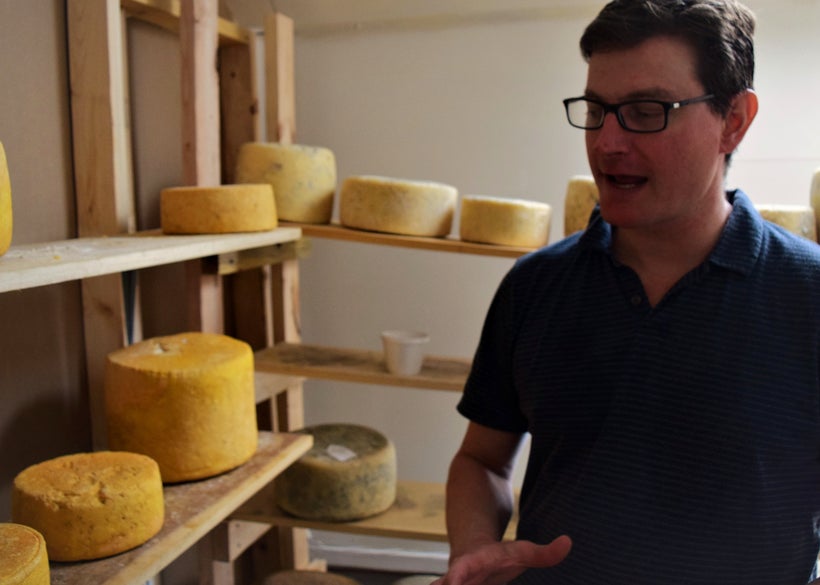 In the confines of an old body shop on the north side of our county, Christian makes old world style cheeses with raw milk from one of our local dairies. And I believe this is the best news regarding our town since we learned we'd be getting electricity. Why? The past few years we've had folks move in from across the globe and start start-up after start-up. We routinely wine and dine venture capitalists, we've got IT firms creating app after app and there's a parade of kids that have given up agriculture in lieu of learning Ruby on Rails or SQL. Cheese? Who the hell wants to make cheese? Sure we all love it and want it oozing over the sides of our locally raised, grass fed and hickory grilled hamburger, but who's going to make it? Because making cheese is damn hard. It takes an immense amount of patience, craftsmanship and vision because milk doesn't become great cheese in a week. It takes months to see results and suppose those results are less than admirable? Who's going to buy your cheese if it's crap after you've invested money and so much time in the process? And while many of us in Greenville are familiar with the cheese made at the home of the recent NCAA national champions of college football, those folks should take a lesson from Christian. His Blue Ridge Blue is delightful and decadent with a soft creamy texture reminiscent of a Gorgonzola dolce while his ash-layered cow's milk 'Eastatoe' could be mistaken for a classic French Morbier by any one of Michelin's Gallic management team. Right now Christian doesn't have a tasting room so you'll have to enjoy it locally at one of the restaurants he supplies, such as The Anchorage.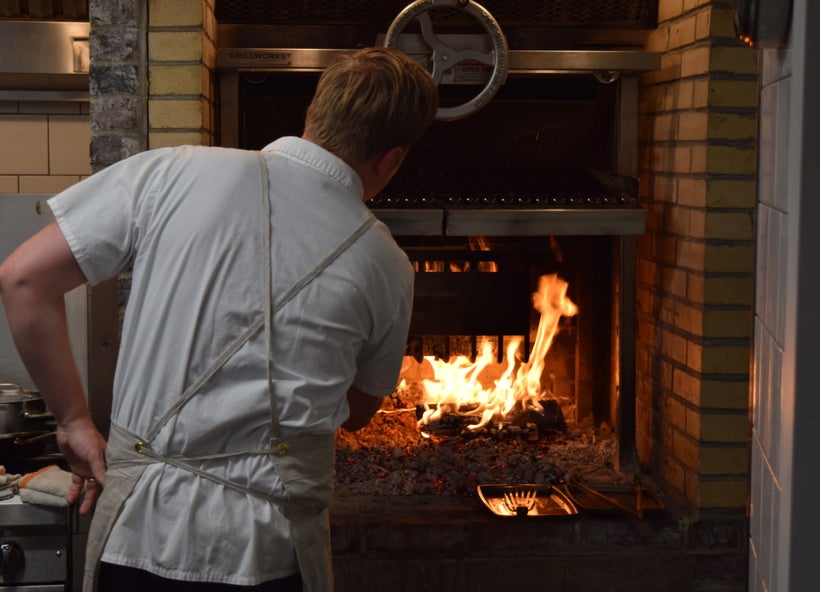 Greg and Beth McPhee fit into the same mold (pun intended) as Christian. These two have taken a huge gamble and struck out on their own. They went to a transitional part of town, found a solid team of enthusiastic supporters to work with them and opened a brilliantly conceived restaurant. And it works beautifully because The Anchorage offers the best evening of food, wine and craft cocktails our town has seen in many years. Greg's food is personal and intriguing without being self-absorbed. There's handmade pasta and charcuterie to rival the best in town and plenty of local products and produce, prepared with skill and a nod to the global cultural influences Greenville has seen. His table appetizer, featuring Christian's Blue Ridge Tomme, at only $20, might be the best use of a twenty in this town. The only downside to a visit to The Anchorage is you'll have to drive or Uber if you're staying downtown. No worries, though. It's a short ride.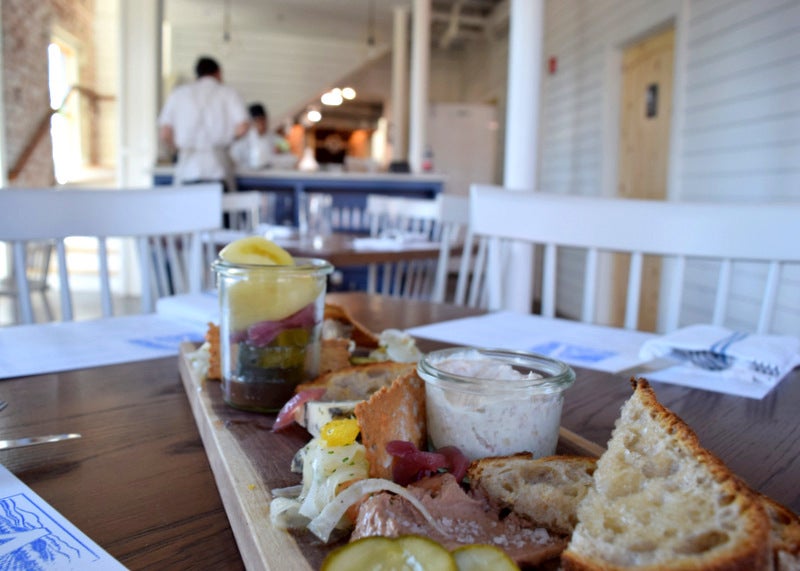 And that brings me to brother and sister Alex and Lindsey George, and neighbors of The Anchorage. Alex mans the stove at his GB & D restaurant while sister Lindsey creates wonderful coffees and teas at The Village Grind. I mention them in the same sentence because they're connected by a common dining room as well as a common sur name. Sharing a dining room is a brilliant move because Alex serves one of the most seductive dishes in Greenville, his chicken and waffles. It's a crispy fried chicken breast sandwiched between two yeast-risen waffles, finished with a local fried egg and his own maple hot sauce. It's simply the best sandwich in town. Yet finishing one comes at a price. If you've got to get back to work, you're going to need a thirty minute walk, or a shot of espresso.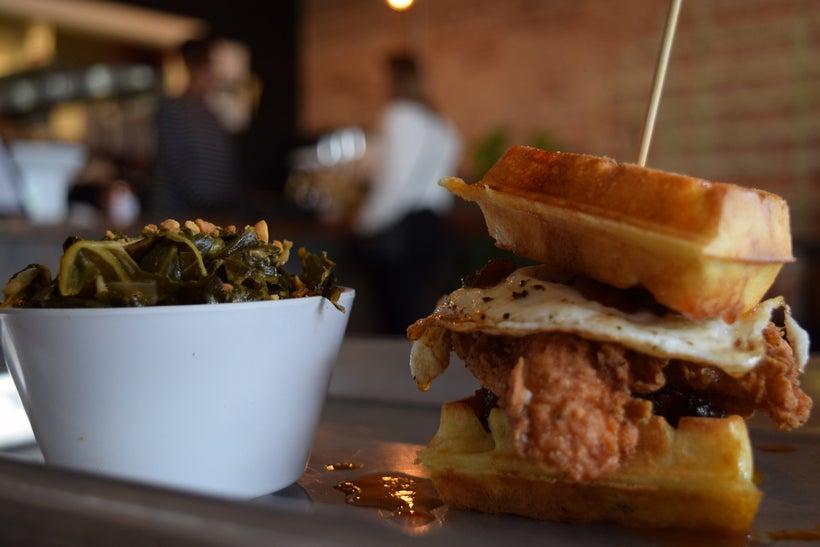 Thankfully his sister Lindsey is right next door pulling those shots of espresso. Her Village Grind creates familiar coffee and tea drinks yet they take it a step further by creating their own flavored syrups infused with fresh herbs, chocolate, or caramel. The Village Grind is one of my favorite coffee shops in town. It's funky and cool without being pretentious and Lindsey is usually there with her effervescent smile and exemplary service.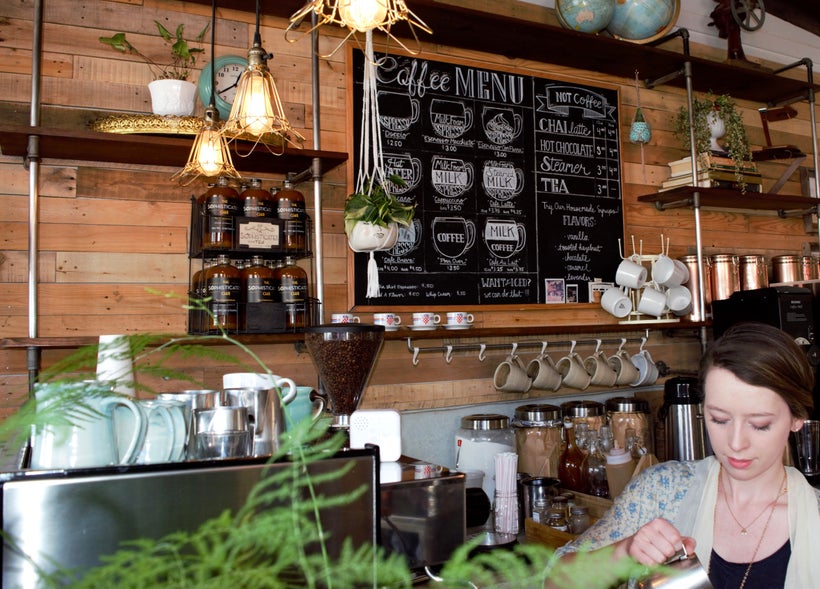 If you're downtown, however, then a visit to Methodical Coffee is a must. Owner Will Shurtz is one of the coffee industry's rising stars and his café packs a cool retro vibe. The baristas spin vinyl while making exceptional coffee, with beans curated and roasted by Will. The Tres Leche is the best coffee drink I've ever had, even if it is only made with two milks.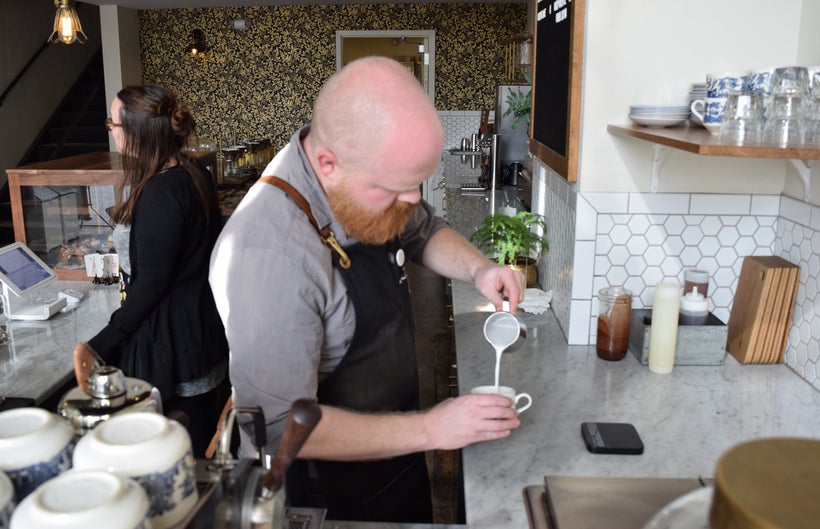 Step out the door of Methodical and head south and you'll run into Caviar & Bananas. And no this isn't a post punk rock band, it's a restaurant. If you're in a hurry and need a great sandwich, salad or cupcake, Chef Eddie Wiles has you covered. Caviar & Bananas is a modern city grocery, without TV dinners. It's a must for busy travelers or the downtown crowd looking for a slice of meatloaf, to go. And Holly Whatley's pastry case is always chock full of buttery goodness.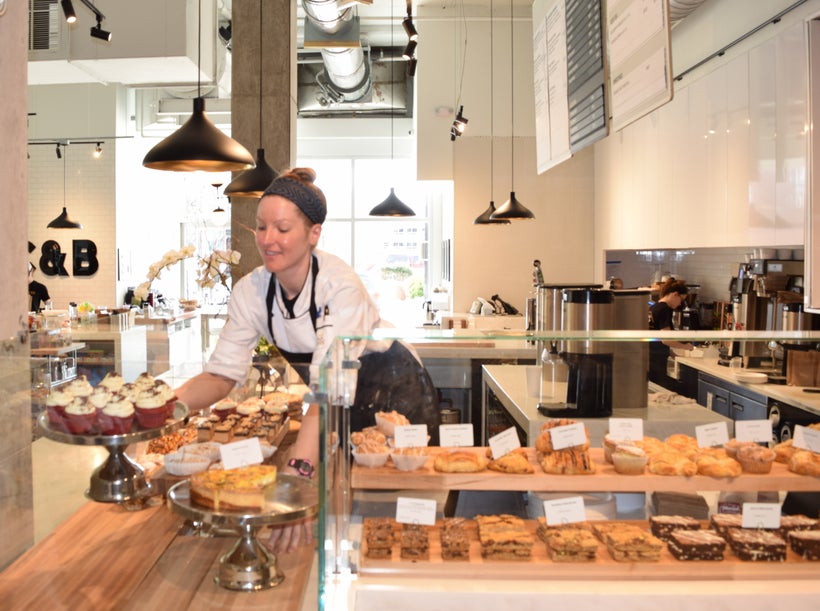 If you're on the casual side and looking for something fun to do with the family and perhaps the family dog, there's Sidewall Pizza. It's an indoor/outdoor place with attentive service and hand tossed pizza studded with a blend of contemporary and traditional toppings; roasted garlic, fresh mozzarella, caramelized onions, toasted walnuts, Brussels sprouts, butternut squash, and provolone. Our dog makes the occasional visit to Sidewall and he always gets the white tablecloth treatment.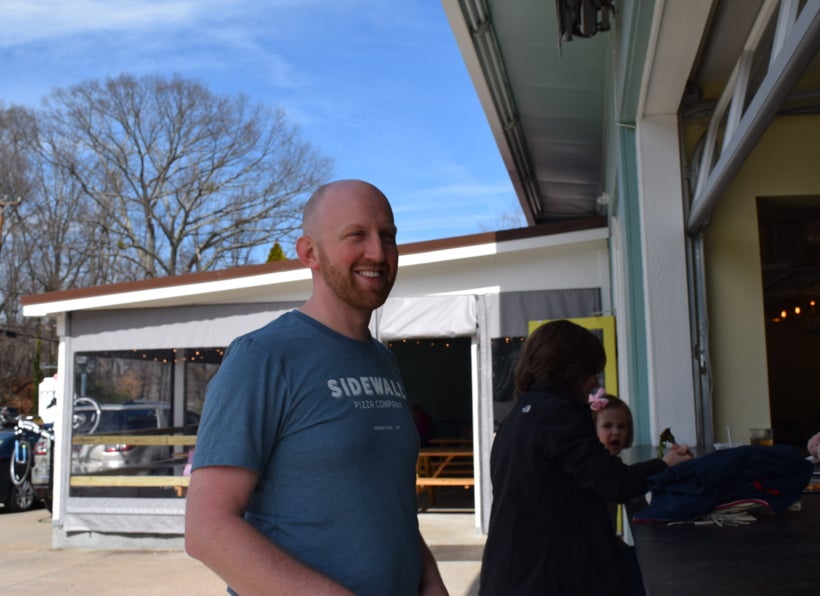 Now if you prefer your dining non I cani and you're looking for something more familiar such as a grilled steak and a bottle of Bordeaux, that's where Northampton Wines and Café comes in. Ostensibly they're a wine shop yet they also have a restaurant and bar where one can order a cheeseburger or filet mignon.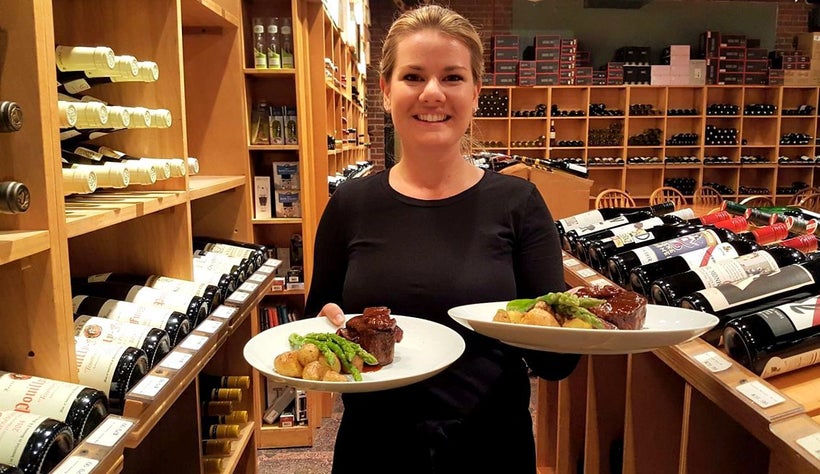 Their shop stocks I don't know how many umpteen bottles of wine, everything from an $18 bottle of Gruner Veltliner to a $400 bottle of Domaine Romanee Conti. And for only a $10 corkage, you can enjoy that bottle of wine at their bar with your cheeseburger. So if you'd like to channel your inner Malcolm Forbes with a bottle of Premier Cru Bordeaux, then Northampton Wines it is.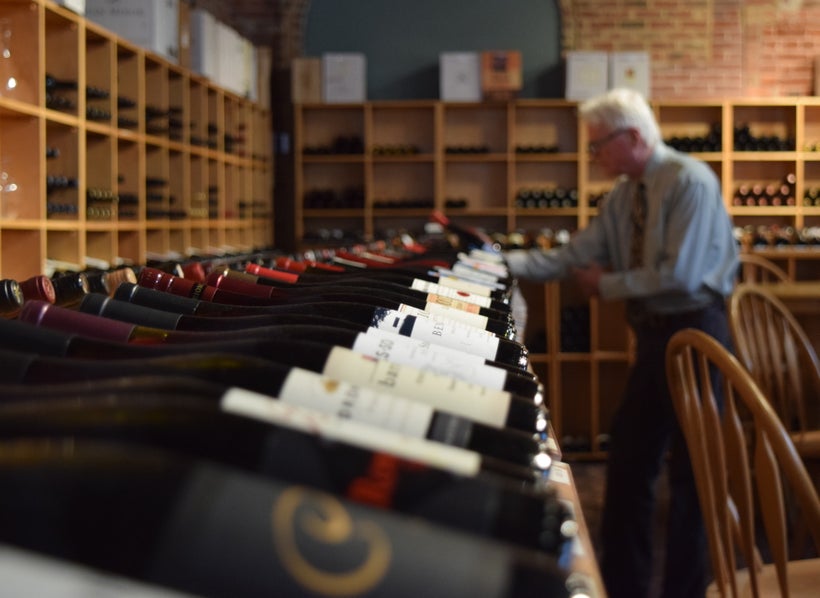 If beer is more your style, you're in luck because Greenville wins the craft beer lottery. We've got craft breweries growing out of practically every crack in the sidewalk. And most of them have tasting rooms. The old pros are Brewery 85, Quest, and Thomas Creek but none of these are convenient to Main Street. If you decide to pedal down the Swamp Rabbit Trail or catch an Uber to Traveler's Rest, grab a draft at Birds Fly South or the Swamp Rabbit Brewery. Both of these breweries attract a younger crowd with their delicious, clever takes on Ales, Saissons, and IPAs and their food trucks, occasional trivia contests and pop-up dinners.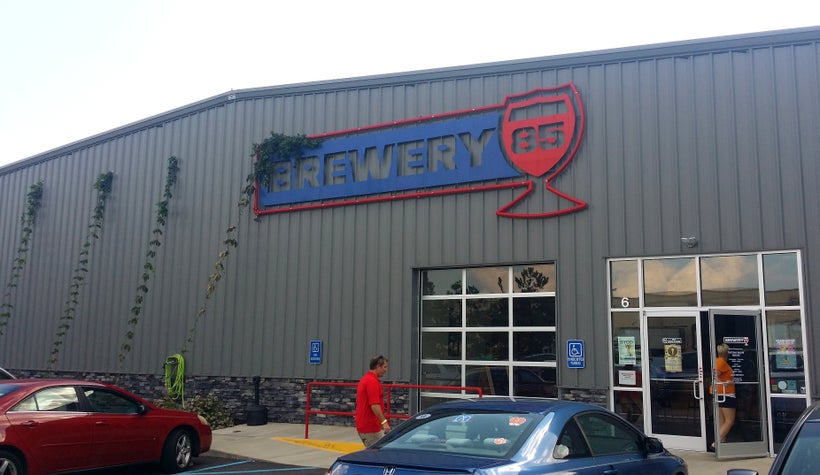 Now that you've dined and imbibed your way through Greenville, it's time to climb on a bike and work off those calories. If you'd like to ride one of the city's rental clunkers, be my guest. I haven't actually seen anyone riding one of these basket-laden battleships so I'm not sure how much longer they'll be around.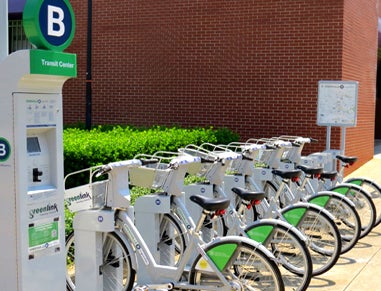 If you're not going to bring your own ride, then you'll want to rent from one of our local shops. At last count, there's something like 47 bike shops in town. Sunshine Cycle Shop happens to be the oldest independent shop in town and they also rent real bikes, sans baskets. So, if you'd like to shred some of the trails in Bent Creek or Paris Mountain then these are the guys to help you get that done. If you're going to be happy on a city bike, stop into Freehub Bikes. They're right on the Swamp Rabbit trail and within walking distance of downtown.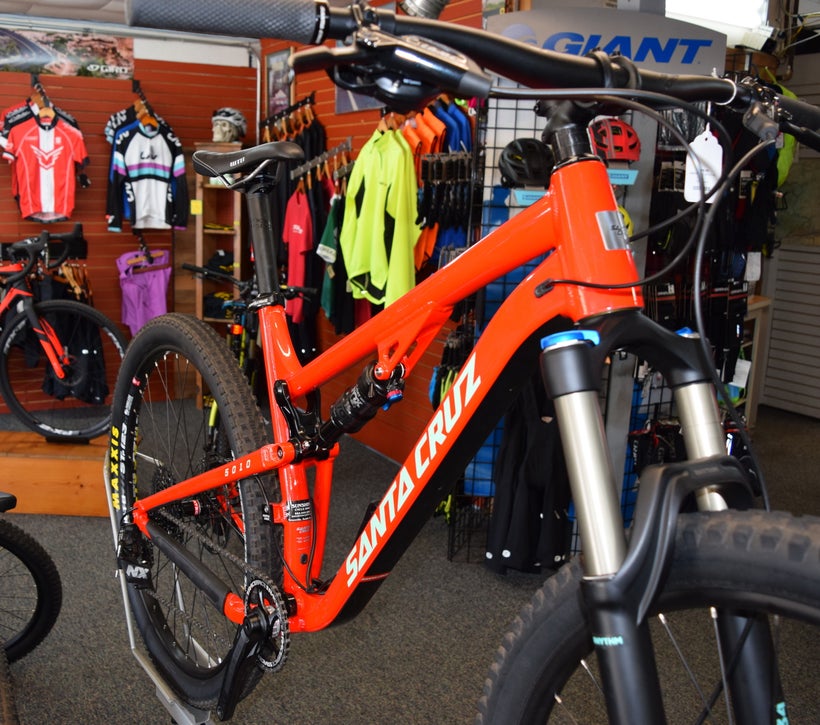 And here's a bonus. Should you find yourself in town and in need of a haircut, and you're a guy, head on over to The Old Crow Barbershop where Eric Clary manages a team of tattooed guys that have a knack for cutting hair and have a nice selection of local beer and a few bottles of Bourbon. Help yourself to a drink while you wait your turn. If you're a vet like Eric, you can expect a hefty discount. And men, take note. A haircut from the Old Crow includes having the back of your neck shaved with a straight razor and warm cream. And to a guy, that's a little slice of heaven on earth. 9 reasons? That's more like 11 or so because that's Greenville, we always deliver a little something extra.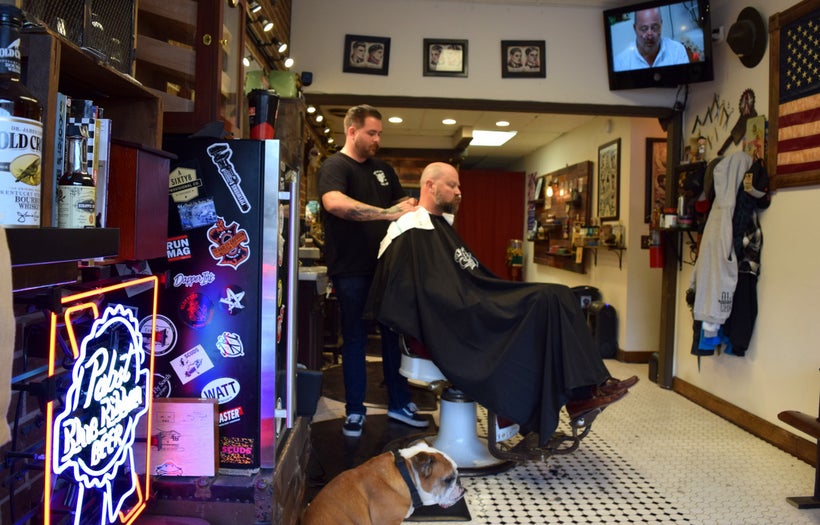 And now that I've done my civic duty and invited you to Greenville, I've got some miles to ride and a beer or two to enjoy. See y'all on the road. And please remember to give me three feet when passing. I'd like to continue to write travel stories and for that I'm going to need my hands, and feet, my spine and the rest of my appendages.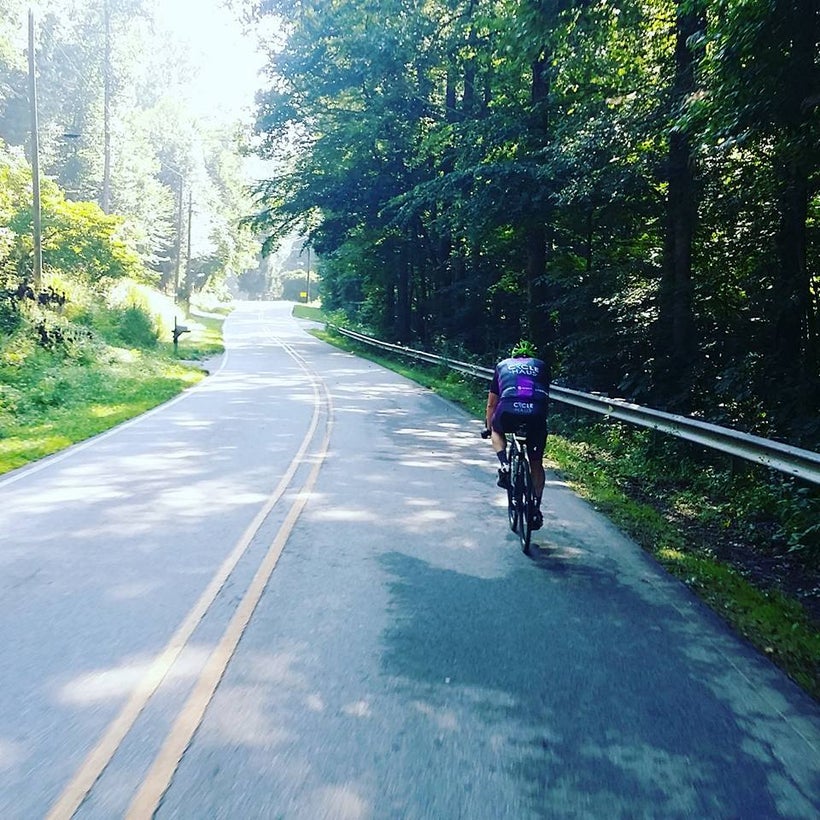 Calling all HuffPost superfans!
Sign up for membership to become a founding member and help shape HuffPost's next chapter
This post was published on the now-closed HuffPost Contributor platform. Contributors control their own work and posted freely to our site. If you need to flag this entry as abusive,
send us an email
.