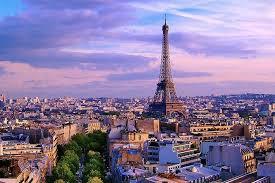 1. The roses are blooming. You may not think of Paris as a great rose "site" but that would be wrong. There are two very fantastic rose gardens in Paris, as good as or better than anything in the UK: the Roseraie du Val-de-Marne (Roseraie de L'Haÿ) in southeastern Paris, and the Bagatelle Garden in the Bois de Boulogne, a large wooded area on the west side of Paris. But both are f-ing difficult to get to, so bring your walking shoes. For the first of these, you take the metro to wherever you can connect to the RER C line. Take it to the Gare de Chemin d'Antony and then walk about a kilometer and a half, somewhat uphill, on the same road (Rue de Chaillais) heading north east from the station. The garden is just roses, it's about four acres, and it's delightful at this time of year. Climbers, hybrid teas, floribundas, etc. No other distractions, no perennials and not even much grass, just roses and paths.
The bagatelle garden would seem to be easier, take the #1 (Yellow) metro to Pont Neuilly, get off and head due south on Avenue de Madrid. It changes names two times to throw you off, first to Boulevard du Commandant Charcot and then to Allee de la Reine Marguerite, but follow the signs and you'll get there eventually, eventually meaning a mile plus. The only entry to this large nine acre rectangular arboretum with a rose garden inside is on the south side in the middle, so you have to walk all the way around it to get in. When you do, for a massive € 2,50 per person, or $3.15, go immediately to your right and walk to the far southeast corner where the most roses are located in a concentrated growing area laid out geometrically with many paths, beds full of roses and nothing else, and arches covered with roses and nothing else. There is another more natural area of clumps of roses in the park grass, but the first area is the best. It's breathtaking. Then it's a long walk back to the metro.
So why not just take a taxi? Well, that's not very sporting, anyone can do that. And how to get a taxi back from the garden is the real question—no taxi stands there, and it's not downtown Paris exactly. So, a nice hike is probably part of the equation, at least one way. Just so you'll know.
2. You won't be a dumb fashion nerd. Time was that going to Paris was a bit of a combination of stumbling into Fashion Week and being in one of those nightmares where you're naked and everyone else is dressed. Nicely dressed. The women with great outfits pulled effortlessly together with scarves—how did they stay on, anyway? Where did they learn that, in Scarf University? And the men with great sport coats in patterns and colors that were not legal in the US.
Well, that's all gone. It is with some small dismay that we note that if you wear blue jeans, a t-shirt, and running shoes, you will look just like 95 percent of the Parisians that you see. I do not know where the scarves on the women went to. It used to be that at least two in five women walking on the Paris streets wore a stylish scarf as an integral part of her outfit. Now, maybe one in twenty-five. The scarf industry must be in substantial decline. I guess they don't go so well with t-shirts. Oh, yes, and don't wash your hair.
Casual style has triumphed, or perhaps "no-style" has. The only exception is that you should wear white sneakers if you really want to fit in. Keds, high or low topped, are fine. Plus, everyone is fatter than before, and they don't smoke nearly as much. There could be a connection. In any event, don't worry about outfit choice, just bring the same junky stuff that you wear at home. Maybe leave the flip flops behind, but otherwise, you'll be fine.
3. "You like me, you really like me!" famously exclaimed Sally Fields, the flying nun and Oscar recipient at the 2011 Hollywood ceremony. This is something we have not routinely heard in Paris from its citizens. About us, actually about anybody. The standard knock is that the locals think Americans are hicks and have no trouble expressing this is many ways, direct and indirect. But now… Maybe it's the economy, maybe it's the Russians taking over the Crimean peninsula of Ukraine and now supplying thirty percent of Europe's energy, maybe it's routinely having your citizens blown up, stabbed and shot by unpleasant young men screaming "Allah Akbar" while doing it, maybe it's dismay at what a dolt the US President seemed to be during his recent trip to Europe, but Parisians now appear downright friendly to us. They may want to make sure that we all aren't Donald Trump, who knows. I'd like to make sure of that myself.
4. The food is still great. Why can't we have food like this? We've been good… Go on Sunday morning, early like eight or eight thirty, to the traffic circle called Place de la Bastille, famous for once having been the site of Alcatraz (just kidding) and admire the lovely statue on the column in the center. This is, by the way, a naked guy with wings, holding a torch, and is "the genie of freedom." Then walk through the mostly farmers market, although with interspersed bits of flea market (scarves made out of old sari's, anyone?) that starts at the circle and spreads northwest for ten blocks along Boulevard Richard Lenoir. You will want to buy one of almost everything that you see, even if you have nowhere to take the food and cook it. The chickens do have their heads on, as do the small red quarters of piglets, but ignore that. Look at the cheese and the fish and the breads and the pastries and the beautiful fresh vegetables. Bunches of cherry tomatoes aligned in rows, almonds in their original fuzzy green skins, even wild asparagus ("asperse sauvage"), which looks like shoots of lavender except all green. The fish don't smell like fish, and there are all kinds including stuff you never see even in the best US fish markets—skate, lotte, big octopus, large hunks of fresh tuna, real anchovies not in cans. It's a feast for the eyes and ears and nose even if you don't buy anything.
And that's just the markets. There is a secret Parisian law that requires that there be a bistro or a brasserie or a patisserie or a boulangerie deployed in a dense network so that no matter where you are in Paris, you are within 1000 meters of a place to eat something delicious. Even if you're in the middle of Pere Lachaise cemetery looking for Jim Morrison's grave, I checked. Why does one never get tired of croque monsieur or salad nicoise or crème caramel or croissants or filet steak with frites or boeuf bourguignon or roast chicken? Because they're always freaking wonderful whenever you order them and then consume them, sitting at a small round table, one of many lined up along the sidewalk, a table so small that you don't think you can get two plates and two glasses of wine and a bottle of Badoit and two water glasses all on its top without catastrophe, but you can. And while you eat, you enjoy watching all the Parisians walk by, even if they're not as well dressed as you are.
5. The security isn't off putting. In fact, while there are probably more soldiers at transport hubs, it is a bit hard to find evidence of increased surveillance or more cops around. Perhaps it's because we are law abiding citizens and not interested in renting white vans—why always white? —and mowing down anyone in the way. Or we don't have in our possession AK-47's or long knives, although I do have a swiss army knife because it has scissors, small scissors, and a cork screw. Oh, and a 2-inch knife blade for cutting cheese. To go with the uses of the cork screw, which are few but critical.
Here's an example. I decided to make a short trip to Giverny about an hour outside Paris, the famous garden created by Monet. I have been to it six or seven times, and it never fails to impress and enchant me. I believe that it is the best garden in the world, and that's saying a lot. It is also very heavily visited, especially in June, even if you go on a Monday. And if you don't just hire a car and driver for the day (which is recommended but pricey, maybe $250 for the day, but way convenient), but instead I became a man of the people and took the train to Vernon (€17.50 round trip) and then the special bus from the train station to Giverny or rather one of its parking lots (€10 round trip). I then found myself standing in long lines in unprotected locations, first to get on the bus (twenty-minute wait as the conductor carefully sells each passenger a ticket) and then to get into the garden (forty-five minute wait as one person at one entrance window sells each person a ticket to get into the garden) and then another forty-five minute wait when the bus returns you to the station at two ten for the two fifty-five train.
But the description of all that waiting isn't really to elicit sympathy. Everyone in all these waiting situations is outside, in an unconstrained location, even the train station where you can come in, even across the tracks, from any of the four sides of the open station. And no metal detector to get into the garden or for that matter into the train station or onto the train. So, what's the point of all this? If the ISIS/Al Qaeda/who knows what crazy person tactics have now changed to going after people in large groups in popular spots with no security constraints, then Giverny and its approaches would sure fit the bill. Number of security personnel we saw at the Gare de Lazare, the Vernon station, or at Giverny itself: zero.
So, no, the security is not oppressive and bothersome if you come to Paris and environs. Maybe that's a good thing, maybe not, but it's the picture. The garden was still wonderful.
6. Paris is a "tribal art" hub. When I first came across what is now called "tribal art," it was called "primitive art" and had been slightly popularized by French artists like Picasso and Matisse and Gaugin. And then by Michael Rockefeller going off to Papua New Guinea to get himself eaten. Few people "collected" it and there were no popular museums and no auctions and few if any agents really prowling the jungles of the Congo for the authentic masks that had actually been used in a male age cohort "coming of age" initiation in a Bakongo village. The religious leader of the community was called a witch doctor, which we don't do anymore now either. There was no big debate about "provenance" because no one cared and no one in the art world thought the pieces were more than curiosities. Such museums which had anything like collections were called ethnographic or anthropology museums. The one in Florence still is. I was there last year and it has some wonderful pieces, and lots of skulls. And dusty cases. And surely was not crowded.
I don't know when that changed exactly, there isn't anything like the famous Armory Show of 1913 in New York that announced the arrival of modern art in America, or the discovery of abstract expressionism in the person of Jackson Pollack by Life magazine in 1949. But after WWII there was interest sufficient for the construction of some museums. In Paris, there was a big old dusty structure way out on the eastern edge of the city that one could visit, as I did in the seventies. And it had about two visitors a day. It was originally called the Palace of the Colonies but after the war this became the Museum of African and Oceanic Art, as having a colony was a bit less acceptable. It had probably inherited the collection of the original Muséum ethnographique des missions scientifiques (Ethnographic Museum of Scientific Expeditions) which had been established at the Trocadero Palace, a no longer existing structure that stood where the large plaza now stands. Now the focus has shifted, and these items are not "anthropological" or "scientific," they're art. And so we have Quai Branly, also known informally as "Le Museum de L'Autre," right on the banks of the Seine near the Eiffel tower. It is a gorgeous structure that has a beautifully displayed array of art from all the areas that could be considered "tribal"—oceanic, African, Pacific Northwest, South America, even some interesting Ainu pieces and art from Siberia, one presumes from "tribal" people. The translation of the museum's name is not The Museum of Gene Autry, but 'the Museum of the Other." This is France's way of being politically correct.
Paris has about 2.5 million inhabitants. It has approximately 23 tribal art galleries, all but a couple of them located in a six square block rectangle in the neighborhood bounded by the Seine on the north and the Boulevard St Germain on the south. The subway stops of St Germain des Pres and Odeon mark the south-western and south-eastern corners of this area. It also has many other galleries of modern art and other things in the same area, so having tribal art galleries there isn't a big surprise, if you are to have them anywhere. San Diego is a city of approximately six million people, and I can only find one tribal art gallery there. New York is a city of nine million people, and it's hard to find more than three or four such galleries there. I don't understand why Paris has more than twenty, but it does, so if you're in the market, then by all means come to Paris and go shopping. As with many things Parisian, however, bring your checkbook.
7. Rodin at the Grand Palais—OK, so you don't care about tribal art, how about this? This year is the one hundredth anniversary of the death of Auguste Rodin, and the French have mounted a large and powerful exhibition in a large and wonderful building, the Grand Palais. This site sits several blocks north of the Seine, on the south side of the Champs Elysees and so is easily accessible by metro (Champs Elysees Clemenceau) and every other mode of transport. The show has all that you expect of Rodin—the burghers of Calais, the thinker, the kiss, Balzac, the gates of hell—but does it cleverly and doesn't loot the Rodin museum which is only a couple of subway stops away. It shows his discovery of impressionism in sculpture and its lasting effect on contemporaries. Most interesting for me, the exhibition highlights his many drawings. I am no art scholar but it always charms me to find that someone so skilled in another mode can also actually draw.
There are two secrets to the exhibition, one disclosed here by me and the other not. The first secret is when to go. You can buy tickets ahead of time and then download them to your smart phone, if you trust things like that to work, especially to work in Paris when you have done them in Des Moines. If you're not using digital airline boarding passes yet, then you probably won't like this. Instead you can print them out, but you have to know about the show first, which I didn't. But the real secret for the artistically uninformed is that after five o'clock on a weekday NO ONE goes there. You can just walk in, buy a ticket and see the whole thing in a very uncrowded situation. The rest of Paris is either still working for a living or has stood in line for two hours to get in at ten in the AM and is now sitting at a café with friends discussing Rodin's influence on skateboards and whether he was an anti-colonialist.
The other secret is not disclosed. If you look at all the items on display, and there are many, more than a hundred, you will find only three that have fabrication dates later than 1902. And these three are either small drawings or small plaster maquettes, no more than five or six inches tall. Rodin was born in 1840 and died in 1917—he was sixty at the turn of the century, and hugely famous. Did he just quit? Did he lose his sight like Monet? Overcome by palsy? Tired of being reviewed? Out of ideas? Picasso lived to be 91 years old and continued to work right up to the year he died. Apparently not so with Rodin. It seems odd, and nothing in the exhibition, which is very well signed, makes any mention of this incongruity.
But go for sure anyway, it's terrific, and it's only on view until 31 July.
8. The Metro still works--wonderfully. There isn't a better rapid transit system in any major city in the world. There, I've said it, so London Underground, take that. The Paris system is clean, it's safe, it is easy to understand and easy to navigate, tickets are cheap and easy to buy, and you really cannot get lost. This assumes you have the navigational skills of nothing above an infantry second lieutenant, that is, you can read a simple map and translate this information from the wall to the ground under your feet. You'll have help, of course, in the form of signs everywhere with the round colored and numbered circles indicating the lines to take. You don't need more French than "sortie" which means exit and "correspondence" which means a station where you can change from one line to the other. You do have to sort out at which station you are starting, but that's clear as you descend the steps into the station—look up at the sign, dummy. The metro cars used to have short French poems inside them instead of advertisements and you could impress your colleagues or your date by translating them badly, but this is no more.
To use it, one assumes you know where you want to go, and which line or lines take you there, and directions. If you don't, it is easy to look it up ahead of time on the internet. Restaurants and museums and shops usually come with a metro tag. If not, Google maps also shows metro stations near where you want to go.
Once you know which metro stop is your destination, then you know or can tell which line by just looking on the map at the station. It will be on a colored and numbered line, like Orange #5. It's then only a little bit tricky to get on the right train, as lines are not labeled east or west, but by their last stop. So the number 5 (orange) line has two endpoints, the northeast one is Bobigny-Pablo Picasso, and the south west one is Place d'Italie. By the way, if you're curious, Bobigny is a Paris suburb, and the only definition that one can find is that it is the number three in Chaldean numerology. Not clear if that's related to the suburb name. If you don't know who Pablo Picasso was, go back and read the last paragraph again.
If you need to go from station A on the line chartreuse 17, to station B, you will have to determine which direction you will be moving, toward which endpoint. Then follow the signs to that side of the tracks, i.e., the train on the orange line going toward Bobigny. There will be signs all over the place to help you. If you cannot even do that, then you need to go to the airport and go home (assuming you can find the airport and the right plane) as you are too dumb to be in Paris. You may also be too dumb to be in Des Moines, but that's another problem.
9. The internet works except Open Table. And maybe Uber. You would think by now that the internet would be everywhere. There are internet cafes in Tibet, for god's sake. At least I think there are, I read that someplace. But now finally there is Wi-Fi in many places you would want it, and perhaps some places where you don't care. There also appears to be free floating Orange (the large Euro communications network, not the Metro line) Wi-Fi pretty much everywhere in Paris—we had it in our third-floor apartment in a very average neighborhood in the Marais, across from a large and poorly attended church. Maybe they had it in the church too, I wasn't bold enough to take my laptop in and check. All the coffee shops, most of the restaruants, some of the metro stations, the busses, the museums, etc. This is especially nice as it saves you tons of money if you are a smart phone addict, that is, if you are under 30 years of age.
They don't have Open Table, which is a surprise. People eat in Paris. Some would argue that's all they do. But when you go to the Open Table web site, you get approximately five restaurants listed for Paris, four of them in the Ritz Carlton. This is not how many restaurants there are in Paris. Yelp was better but not much. And it's not clear about Uber. When Travis Kalanick first tried to put in Uber there were riots as the taxi drivers were not happy. There were stories about drivers getting pulled out of cars and beaten up. Also, passengers including Courtney Love. This is said to no longer be the case, said by Uber, but the passengers part was enough to make us think twice. On the other hand, who knows how to call a taxi in French? And you sure cannot find them cruising down the street. So maybe Uber is OK. There, was that helpful?
And now one reason not to go: there's no ADA there. The Americans with Disabilities Act passed in the US and went into effect in 1990. Despite some initial grumbling, there has been significant change in the issue of getting around physically. We now have curb cuts at curbs and ramps beside stairs and many more elevators in facilities that are to be accessed by the public. It's a welcome change even if you're not handicapped, as it has made rolling luggage possible. Yes, that's a small thing. Until you decide to take the Paris Metro to the train station.
It should be easy. Leave the apartment, walk two blocks to the local Metro, St. Sebastien Froissart on the purple #8 line in this case, take it north to the Republic stop, change to our old friend the orange #5 line, and get off at Gare du Nord. But the metro system does not have elevators in any station that I have ever seen. It does occasionally have escalators, but as in all subway systems, only about half of them are working. And an escalator is no good if you're in a wheel chair. All the metro stations have are stairs, and no handicapped ramps. You don't notice this until you're either suddenly wheel chair bound, God forbid, or you're negotiating a large and heavy piece of rolling luggage. Let me repeat, the metro stations do not have elevators or wheelchair ramps, all they have are stairs. So, all this fluff above about how wonderful the system is must be appropriately qualified. And if you're handicapped, it's not a qualifier, it's a disqualifier. Don't go, Paris will be very difficult to navigate. Go someplace friendlier, like anywhere in the US. The food won't be quite as good, but at least you'll be able to get around. There are still some things we do right.