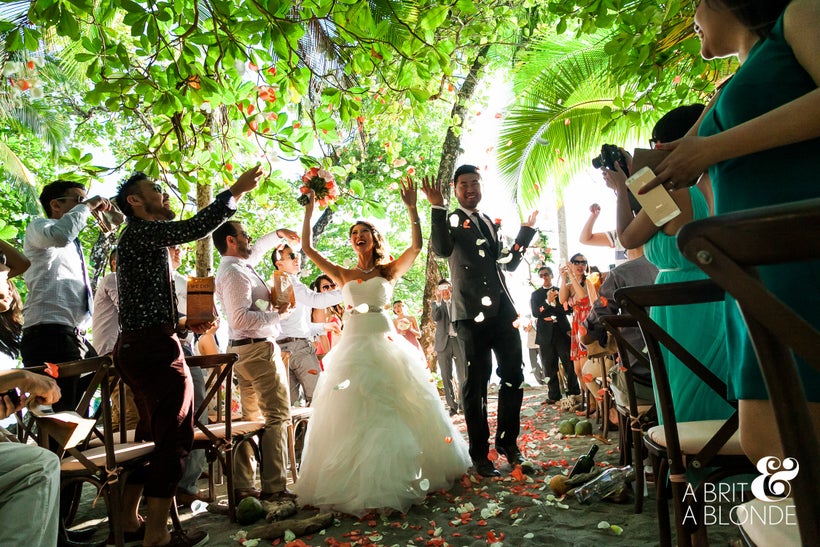 Thinking of marrying abroad in a beautiful, tropical location? There's never been a better time than now to have your wedding celebration in Costa Rica. Here are 9 great reasons why the Land of Pura Vida is an excellent choice for an unforgettable wedding:
1.Safety - Sadly, we're seeing other countries experiencing extreme violence due to drug cartels, causing travel bans to be issued. Luckily, Costa Rica remains a safe country for tourists to visit. Want to walk around the funky beach town of Tamarindo at night or stroll along the beach in Manuel Antonio or drive around dirt roads to explore the funky surf villages dotting the Nicoya Penninsula? No worries. Of course, you still need to use common sense and not leave personal items unattended at the beach or in your rental car (just as you wouldn't at home). Having no army since 1949, Costa Rica places a high value on peace.
2. Visitors Welcome - Costa Ricans, or "Ticos" as they are affectionately known, are very proud of their beautiful country and are warm, hospitable hosts. Here, the term Gringo is not a derogatory one, as they simply use it for anyone who doesn't look Latino. Americans, Canadians, Brits - we're all "Gringos" and we're all welcome.  No hable espanol ? No problem, since English is spoken by everyone working in tourism. Most Ticos have a basic grasp of the Queen's English, on account of it being taught in school. If they don't, they'll try their best to help you out, even if it turns into a hysterical game of charades.
3. Flower Power - There are 13 microclimates in Costa Rica, ranging from crisp, chilly mountains to humid rainforests. Thanks to the wide range of growing conditions, Costa Rica is one of the major growers and exporters of flowers in the world. With orchids, hydrangeas, cala lillis, roses, freesias, birds of paradise, ginger and numerous other gorgeous blooms available year round, you'll find locally sourced flora for whatever your wedding style is.
4. So Many Choices - Think a wedding in Costa Rica means basic white chair covers and tablecloths? Think again. There are a number of rental shops in the country with everything from custom-made teak dining tables and chairs to sequined tablecloths rivaling the swankiest shops in LA, usually at prices far below what you'd pay in your home country.  Whether your vision is Boho chic by the beach or an elegant affair in a luxury hotel on a rainforest mountain top, a sleek modern villa overlooking the ocean or a rustic lodge nestled under the shadow of a volcano, you'll find the perfect setting in Costa Rica.
5. You Can drink the Water - Really! In all but the most remote areas of the country, the water is potable so no fear of contracting Montezuma's Revenge. Go ahead and enjoy all the local fresh fruits and vegetables without worrying about them having been washed in tap water.
6. Affordable World-Class Locations & Services - Imagine having a triple-Grammy award-winning duo perform for your wedding ceremony. Or maybe you'd like one of the top fireworks companies in the world to set off an explosion of color and lights into the night sky to finish your wedding with a bang. Perhaps your preference is white-gloved waiters serving locally grown, organic vegetables alongside a delicious red snapper filet that was freshly caught that morning. You needn't be a millionaire to enjoy any of these world-class talents and amenities, as they are all more affordable than you'd think.
7. No Shots, Shots, Shots (Everybody) - Unless you're traveling from or have been traveling in a country that has Yellow Fever (Angola, Benin, Burkina Faso, Cameroon, Democratic Republic of Congo, Gabon, Gambia, Ghana, Guinea, Liberia, Nigeria, Sierra Leone, Sudan, Bolivia, Brazil, Colombia, Ecuador, Peru, Guyana and Venezuela), you won't need any vaccinations to enter Costa Rica. Thanks to a high standard of living and universal healthcare, Costa Rica has a healthy population and low risk of infection.
The CDC recommends travelers have the Hepatitis A vaccine, as there is a low risk of contamination via food or water, which. For more information, click on the CDC site here.
8. So Many Flights - Traveling to Costa Rica has never been easier! Airlines are constantly announcing new direct flights to the capital of San Jose (SJO) or the northern Pacific airport in Liberia (LIR). Direct flights are available from all over North America, England, Spain, Germany and France, making travel here fast and affordable.
9. Never A Dull Moment - Keeping your guests entertained can be a challenge at a destination wedding, especially if you've a wide range of ages and fitness levels. Costa Rica has something fun for everyone. Being a Latin country, kids are king and welcomed everywhere. Taking a guided hike into the rainforest and seeing monkeys, sloths and toucans is exciting for all youngsters (and the young at heart). Thrill-seeking teens and adults can get their adrenaline fix white water rafting on Class IV rapids, mountain biking around a volcano or rappelling down a waterfall. Folks seeking more sedate adventures will enjoy a leisurely catamaran tour, a tour of an organic spice farm or a gentle ride in a gondola through the treetops in the rainforest. All ages can play Tarzan and fly through the forest on a zip-line canopy tour. After a day of adventures, a relaxing soak in healing hot springs is the the perfect way to unwind.
With so much to do and see, Costa Rica has something for every age and activity level. No matter what your wedding vision is or your budget, you'll find a dream location for a incredible wedding celebration.
Want more information on how to create your dream wedding in Paradise? We'd love to chat! Weddings Costa Rica is an award-winning destination wedding firm with 15 years experience creating unforgettable celebrations of all sizes. Drop us an email at info@weddingscostarica.com
Calling all HuffPost superfans!
Sign up for membership to become a founding member and help shape HuffPost's next chapter
This post was published on the now-closed HuffPost Contributor platform. Contributors control their own work and posted freely to our site. If you need to flag this entry as abusive,
send us an email
.