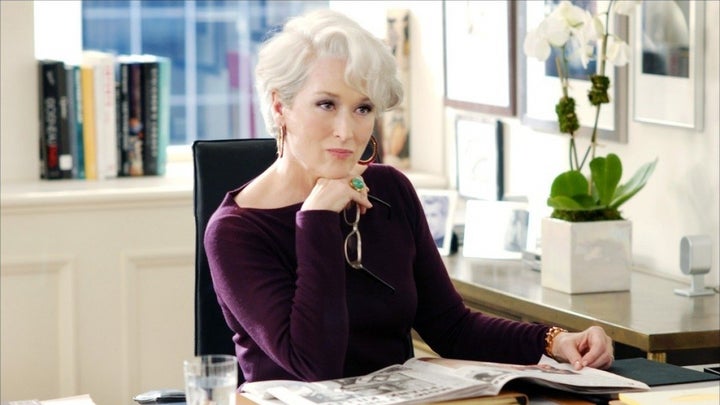 "The Devil Wears Prada" gave us many things: Meryl Streep in her most stylish role ever, a lesson in the color blue and, of course, a solid movie makeover. But aside from broadening our fashion knowledge and pleasing our eyes with a wardrobe Carrie Bradshaw would drool over, "The Devil Wears Prada" taught us some serious life lessons. 
Today, on the 10th anniversary of the movie's release, let us reflect on all the wonderful (and actually useful) things we learned from Miranda Priestly and co. 
1. Always walk into a room like you own the place.
Unleash your inner Miranda Priestly and let your confidence soar. 
2. It's important to have your priorities in order.
This lesson can be applied to pretty much anything -- work, friends, romantic relationships. You just have to know where to put your energy and focus on the things that will fulfill your life in the long run. 
3. Sometimes, work sucks, but you just have to deal with it.
This is especially true in the summer months, when you're slaving away at a desk, looking out the window and yearning to be in the sun. When work's getting you down, just try to remind yourselves of the perks -- in Emily's case, sample size clothes -- and suck it up.
4. Public transportation is the worst.
OK, so we already knew this, but watching the film just cemented that fact. Subways and buses in the summer (especially in NYC) are hell on earth. 
5. Know your worth.
You are a priceless gem and don't ever let anyone tell you you're anything less than that.
6. Don't pay attention to the haters.
7. Always do your research.
Always, always, always! This lesson comes in handy for pretty much any situation you can get yourself into. Need a doctor? Look for the best. Going out for dinner? Get on those Yelp reviews. Tinder date? Google and Facebook are your best friends. 
8. Don't be afraid to take chances.
Sure, sometimes taking a chance might come to bite you in the ass later, but it could also end up being the best decision you ever made. 
9. And most important, wearing florals for spring is definitely not groundbreaking.
Sorry, fashionistas, it's nothing new. 
That's all.
Calling all HuffPost superfans!
Sign up for membership to become a founding member and help shape HuffPost's next chapter
BEFORE YOU GO
PHOTO GALLERY
Style Lessons From Meryl Streep