In cooperation with our longstanding partner, Crowdrise, The Huffington Post is celebrating its 10 year anniversary by focusing on the promise of the next 10 years ahead. We're highlighting causes that are near and dear to our ethos -- causes where we believe meaningful strides can be made in the coming decade -- and empowering readers to act and take part. Join us!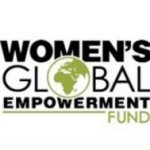 By Celeste Mergens
Celeste is the Founder and Executive Director of Days for Girls International. Since 2008, Days for Girls has restored education, health, and dignity to over 100,000 women and girls in 83 nations. Days for Girls is a two-time Girl Effect Champion, is a Top-Rated Nonprofit on Great Nonprofits, and was featured this year at the UN Commission on the Status of Women.
The world is a complex place. Today it's hard enough to find the time to answer all our emails, let alone think about how to save the world. Fortunately, tackling the bigger questions doesn't have to be difficult.
Since 2008, Days for Girls has worked to break the cycle of poverty by starting with the basics: we make washable hygiene kits. If hygiene kits don't initially seem like The Big Idea, don't worry, they didn't at first to us either. Days for Girls was born almost by accident, in an orphanage outside Nairobi, Kenya. In the wake of the 2008 post-election violence, we suddenly found ourselves with too many children and too few beds. I went to sleep one night like many parents of the world, thinking about how to help hungry children. To my surprise, the question that came to mind in the middle of that night wasn't about food, or water, or housing. It was, "What are the girls doing for feminine hygiene?"
When I ran to the computer to ask the Assistant Director of the orphanage, he responded immediately: "Nothing. They wait in their rooms." We quickly realized that girls were sitting on cardboard, often going without food and water for days every month. We knew something had to be done.
This was the beginning of Days for Girls. In the six years since then, Days for Girls has grown to a vibrant, passionate global network of over 370 volunteer Chapters and Teams. That network is working hard to break the cycles of poverty that keep millions of women and girls from achieving their dreams, through providing washable feminine hygiene kits. Here's how Days for Girls kits make a difference:
1.) Pads keep girls in school. According to UNESCO, 5 out of 10 girls in Kenya lack access to pads. When girls miss up to a week of school every month, not having access to pads can have a big impact on education.
2.) Pads help women go to work. 56% of women in Sindh, Pakistan said that it was difficult to work in the fields during menstruation. When women make up between 36% and 60% of the agricultural work force, ensuring that women have the resources they need not only helps them, but also makes communities and nations stronger.
3.) Pads bring girls out of isolation. Lack of access to pads leaves girls isolated. In Nepal, 28% of girls reported sleeping apart from their families during menstruation. In Gujarat, India, 91% of girls reported staying away from flowing water during menstruation. Eunice from Uganda summarized best how Days for Girls kits combat this. She explained, "If I was menstruating I [would] just hide. Now I will be free...because I don't have to worry about leaking. I can just stay with people."
4.) Pads help women no longer feel ashamed. 90% of girls in rural Ghana reported feeling ashamed during their periods. Days for Girls reminds girls that menstruation is natural, and that we have this process to thank for the existence of every human being on earth!
5.) Pads give girls the confidence to succeed. Noreen from Kenya said it best. "When we have those kits, we can do something great in this world. Without education we have nowhere to go, and we can achieve our goals now." Kits remind girls that they are beautiful, important, and worthy of health and dignity.
6.) Washable pads don't create additional waste. Disposable pads can create waste, especially in places without good sanitation facilities. Days for Girls kits are washable with little water, dry easily, and last for up to three years. This is good for girls, and for the earth.
7.) Washable pads help women in remote areas. When it's difficult for women to get to a store to buy pads, having something that lasts longer helps them. Days for Girls kits help women save time and resources.
8.) Washable pads are cost-effective. Even if a month's supply of pads costs $1, women will need to spend $36 for three years. Days for Girls kits cost $10, providing a $26 savings.
9.) Washable pads provide women and girls the solution they ask for. The Days for Girls kit went through 27 different iterations before we felt we'd created a product that truly matched what women and girls wanted. This is their design. Today, we are also teaching them to make kits themselves, and to create enterprises, and to serve as Ambassadors of Women's Health in their communities.
Through honoring their wisdom, through listening, and through partnership, Days for Girls is confident that together, we can reach Every girl. Everywhere. Period. By 2022. There are a lot of things in this world that are difficult to change, but this isn't one of them. You too can lift up millions of girls and women who have been waiting to live their lives unbound. You too can join the movement today.
Related