I have been living in the Swiss city of Basel for some time now. Just a few months ago, I moved from a student dorm to an unfurnished flat with two friends, and went through the complete ordeal of furniture hunting,planning,transporting it and setting it all up.I think by the end of it all, we probably became experts in assembling IKEA furniture, fixing light fittings, drilling holes in the walls and fixing shelves. Thanks to IKEA and all the people selling their old (and not-so-old) furniture, we found quite a bit of 'smart' or space saving furniture. But, recently, when I visited Stockholm(also in the land of IKEA!)and stayed at HTL - a 'smart hotel', I was amazed at some of the really cool features they had implemented in all rooms!
Now, I had read about the predicted rise of smart hotels but staying in one was a first for me. I realized how you could utilize the little space you have and come up with so many ideas. I wish I could implement some of these in my home too.I see some people have mastered the art of bringing hotel design ideas home, but it will probably take a lot more time (and budget) for me to do so. Nevertheless, here are some design ideas that I found interesting, some from the hotel and some just on the internet:
1. USB ports along with regular power outlets -- At HTL Stockholm, I noted they offered USB ports on the wall, along with the regular power outlets. This proved to be very useful while charging multiple devices at the same time, especially since I had more USB cables than adapters. Also, they had these power outlets on each side of the double bed, which meant that each person had enough possibilities of charging all devices they needed!
2. Sockets under the bed -- Speaking of chargers and power outlets, I was surprised to find an outlet also in the bed box (under-the-bed storage- which I love and got for my room too by the way). Plus, it was nice of them to already provide a EU adapter, for those two might not be carrying one themselves. Three years ago, stressing on the needs of professional travellers, an article on a British Airways blog read," Hotels that put plug sockets by beds are the rarest of treasures." Sure, time has passed and advances have been made. But, when it comes to catering to the needs of the tech savvy traveller, HTL probably takes the cake.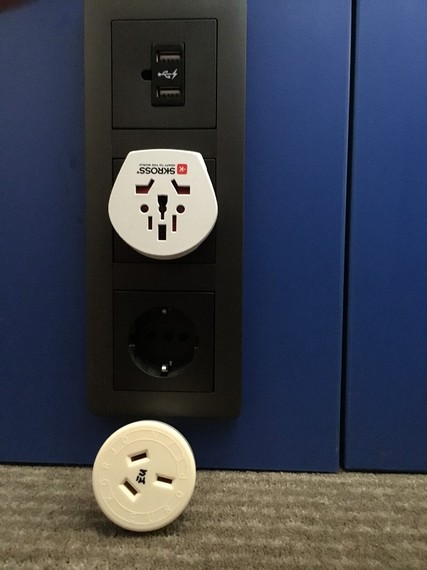 Power outlet in the bed box. Image:europediaries.com
This might have been a good idea for my home too, perhaps, as I currently have multi-plug outlets and lots of wires kept next to my bed.
3. Built-in-bin -- This is embarrassing, but honestly, when my friend and I checked into our HTL room and took a look at the washroom, we thought they hadn't provided us with a dust bin! How strange, I thought to myself, before realizing this: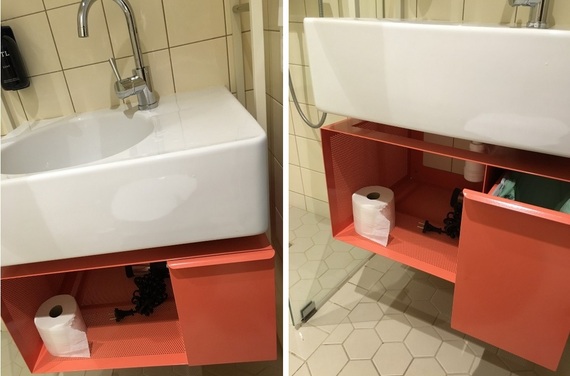 Space saving ideas for the washroom. Image:europediaries.com
Of course there was a dust-bin in the washroom, just integrated below the wash basin! I thought it was a clever idea to save some space, as the washroom was small. I do have a pull-out bin in the kitchen, but having one in the washroom too might not be a bad idea. Oh, and they also had recyclable bags in the room for disposing paper.
4. Room key in smartphone -- Real talk -- the amount of time I spend looking for my keys in my bag could well be utilized for something constructive on the whole. I sure have looked up solutions and found some interesting techniques and ideas,both, for not losing keys in the house as well as in your bag. However, when I saw that you could check in through the HTL app on your smartphone and also use your phone as your key, I was thrilled! How convenient it would be if I could use my phone for my house too! Except of course, if my phone went dead or worse, if I lost it :( It also would be very expensive to have that kind of a system at home. But then again, you never know how technology might advance in the next few years.
5.Hooks, hangers and lamps near bed -- I would be up for an opportunity to fix adorable lamps above or near my bed, along with alternatives, if that were a possibility. I remember running around looking for bedside and table lamps when I was moving in.It would depend a lot on the type and size of the room, for each one's case. But, it would be convenient to control the lamps using buttons next to the bed or appropriate gadgets.
I wouldn't have opted to have hangers near my bed in my own room, but someone used one of the hooks to hang their shoe!
6. Storage staircase -- I came across this idea in a post on icreatived and absolutely loved it! Having storage options under the stairs would be fantastic!What do you think?
7.Extendable bed with storage -- Now I saw one of such beds on the IKEA website and immediately knew I wanted it. A single bed, which could be extended to make it double, when you have family or friends over, along with bed boxes for storage -- sounded so perfect to me! So perfect that I ultimately bought it. Not a new IKEA Brimnes costing nearly 300 CHF, but luckily found someone selling theirs just after 6 months of usage at a third of the price. So, win win!
8.Book shelves on the wall -- This is something I would absolutely love to have! A small set of shelves mounted on the wall would be convenient to store books, files, decoration pieces for instance, and I wouldn't have to worry much about creating more space in my room for an extra shelf.
Some cool ideas I came across were on Floatproject , decoist, homemydesign and of course, images on Pinterest.

I also remember having a small shelf next to my bed at The Winery Hotel,also during my trip to Stockholm.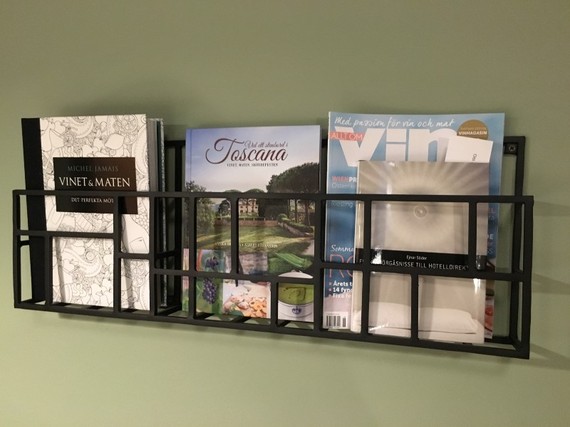 At The Winery Hotel,Stockholm. Image: europediaries.com

9. Wide mirrors -- I came across some posts suggesting that wide mirrors can make a small room look more open as they reflect light. I would keep this in mind in the future. Also noticed this in my room at HTL. In fact, they had mirrors on both sides of the room.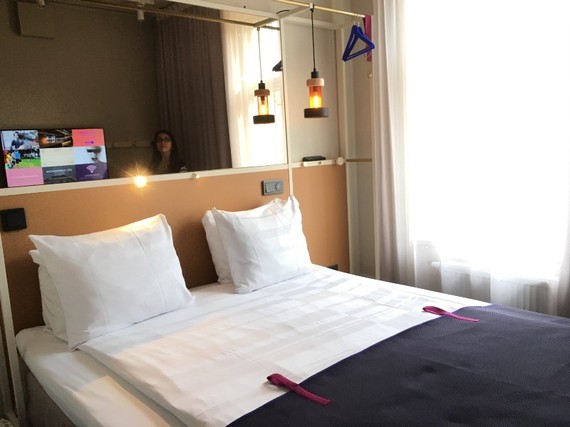 Room at HTL Stockholm. Image: europediaries.com
So these were some of the things that I could think of at the moment. I am sure this list will keep growing, as and when I come across even more smart ideas. If you have any suggestions to add on, do let me know. And now, it's time to close this post with a bit of wishful thinking : a rooftop pool! Just like the one at The Winery Hotel, Stockholm.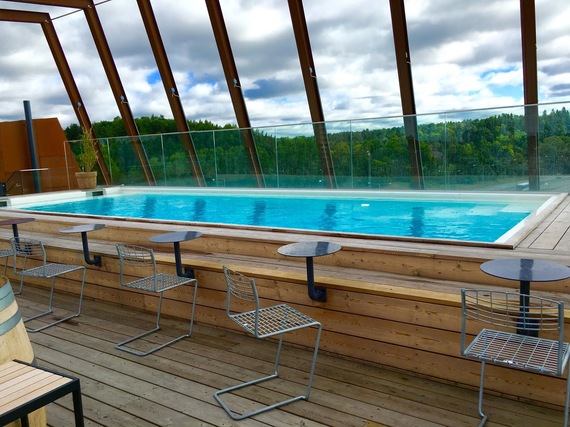 Happy dreaming, planning and travelling, you all! You can check out my blog at www.europediaries.com for travel stories and experiences. I'd also love to have you contribute your stories to my Travellers' Tales series and join us story lovers on Facebook!
Popular in the Community