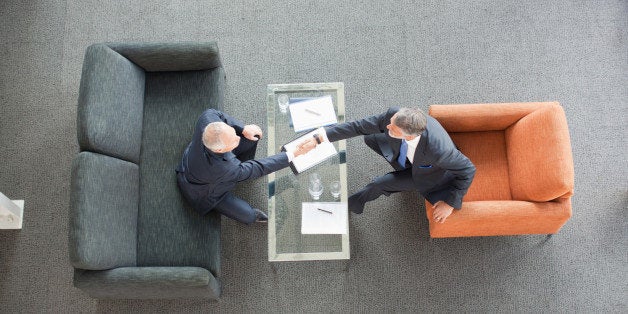 The average job hunt these days is at least four months long. And over one million have been unemployed for one year or more. Following these nine steps should make your job search shorter.
How to Shorten Your Job Search
1.) Have a VERY GOOD answer for the question, "What are you looking for?"
When someone asks you what you are looking for, giving an unfocused or unclear response about what you want squanders a valuable opportunity. People who ask are usually interested in helping you. Help them to help you!
Say, very clearly, "I'm looking for a job as a [list one or two job titles] working for [name a couple of employers or the class of employer]. I've been doing [that kind of work] for [however long you've been in the field], and I'm good at it [list a major accomplishment or two]."
For example, someone in the Boston area looking for a job as a writer might say this:
"I'm looking for a job as a writer working for a top local media company like The Boston Globe, The Boston Herald, or HubSpot. I've been writing and editing web content since 1998, and both of my websites have won several awards over the years, including the 2013 Forbes 100 Best Websites for Your Career."
This may take some time and effort to figure out what you want, but it will be very well worth the time investment!
2.) Don't job hunt alone.
A job hunt is a tough, discouraging, hard-on-the-ego slog through seemingly endless weeks of rejection. Find a buddy, or join a "job club" or job search support group. Members help each other with resumes and profiles, exchange job leads, and expand networks. The old saying "More heads are better than one" is a cliche because it is so true. Often group members become life-long friends.
And, it's good to know that you are not the only reasonably smart person who is struggling with a job search.
Look for notices about job clubs in local places of worship, public libraries, the local CareerOneStop centers, MeetUp.com, and elsewhere.
3.) Do at least one face-to-face networking meeting a week.
Sitting at your computer for hours every day can feel very productive, but the best networking is face-to-face. So, step away from the computer, and interact with a live human being.
Follow up on a LinkedIn introduction or other social media connection.
Meet a former colleague for coffee or a drink after work.
Attend a meeting associated with your kid's school or some other community group.
Attend an "event" with a speaker and official networking.
Whatever you find, at least once a week, get out of the house and connect with people face-to-face, being sure that you have number one, above, nailed so you can turn those introductions into useful networking opportunities (when asked).
4.) Pay daily attention to LinkedIn.
LinkedIn is the happy hunting ground for recruiters looking for qualified applicants. It's also the best "social proof" of who you are and what you've done when recruiters and employers look for validation of the facts on your resume or job application.
Complete your LinkedIn Profile so the facts are there for validation, and be active in several LinkedIn Groups to demonstrate your knowledge, grasp of social media for business, and communications skills. Connect with "Open Link" recruiters to get on their radar. Follow your target companies.
5.) Don't waste your valuable time applying online for jobs that aren't good fits for you.
Read Before You Apply, Ask 4 Important Questions. Applying for every job you see, regardless of fit, is a waste of time, can damage your reputation with employers, and is very discouraging because most employers have several qualified candidates to choose from.
6.) Customize your resume and cover letter to the specific opportunity.
Applicant tracking systems are merciless screeners. If your resume doesn't contain the "right keywords" -- the ones used in the job description -- it won't be seen by a human being, regardless of how perfectly qualified you might be. This is not something to skip.
At a minimum, add the job title on the job description to your resume (at the top) described as "Target Job Title: [job title]" or "Objective: [job title] at [employer name]". Create a summary of your relevant qualifications and accomplishments at the top, below the Target Job Title or Objective.
Doing more customization, like matching keywords in your resume with the keywords in the job description, is a very good idea so your resume is found searches of the resume database or applicant tracking system.
7.) Have a list of target employers.
Learn as much as you can about these employers and their competitors. Look for personal connections and LinkedIn connections. Join LinkedIn Groups which would be appropriate for those employers -- look for activities by current employees, topics that seem to be important to those employers, and, if and when appropriate, reach out via "Reply privately" to comments.
8.) Carefully prepare for every interview.
Don't walk into an interview without knowing what the employer does (products and services) who their competitors are (also good prospects for you, maybe), where they are located, and how well they are doing (avoid an employer heading for layoffs). Be well-prepared to answer this question -- "So what do you know about us?"
Hopefully, you know the names of the people who will be interviewing you, and you can check out their profiles on LinkedIn to see if you have anything in common or any connections.
9.) Focus on learning new skills and staying up-to-date in the skills you have -- demonstrably!
Particularly if you have been unemployed for many months (or years), prove that you are still up-to-date and that you have remained active and engaged in your career by continuing to learn new skills and polishing the skills you have.
Learning may mean volunteering, taking MOOC (Massive Online Open Courses) classes or other courses to fill any gaps you have in your skill set, do contracting or temporary work, even starting your own "side business."
If you can afford it and the school shows graduates have high employment at a decent salary, a certification or other advanced training may be appropriate. Look for solid help for graduates from the school's career center or find another school.
Be sure to update your LinkedIn profile and resume with these activities.
Susan P. Joyce is president of NETability, Inc. and the editor and chief technology writer for Job-Hunt.org and WorkCoachCafe.com. This piece first appeared on WorkCoachCafe.com.
REAL LIFE. REAL NEWS. REAL VOICES.
Help us tell more of the stories that matter from voices that too often remain unheard.