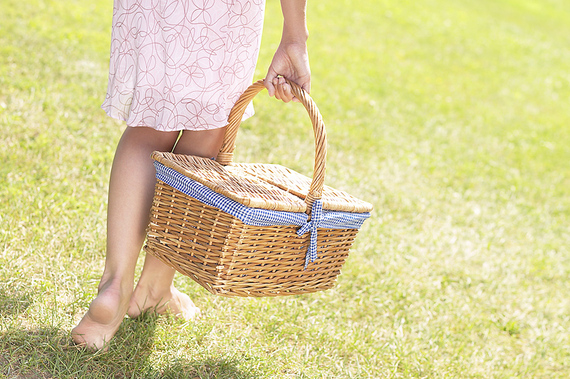 It's summertime! And it seems everyone must be playing beach volleyball or experiencing their perfect vacation. It is easy for the chronically ill person to feel left out. Those of us with illness aren't supposed to be in the sun, we can't always have that sip of wine, and traveling can seem impossible--even if it is just a daytime outing.
It doesn't have to be this way, however. With a few tools and preparation summertime can be full of a few fresh memories that will make you smile when you look at your photos this winter.
1. Consider what is most important to you and brainstorm about the ways you can make it happen.
Do you want to go the fair or a ball game? Do you love entertaining in your backyard? Many families create summertime bucket lists to try to squeeze in as much as possible. Rather than trying to fill every moment, think about what really makes you happy. It may be as simple as sitting under the stars one night with a loved one or a spontaneous outing for frozen yogurt. Ask family members what is most important on their lists and makes some plans.
2. Ask yourself what is preventing you from outings and what could make it possible.
There are many accommodations that can make outings more relaxing. You can apply for a handicapped parking placard or at least ask at events where you can be dropped off. Consider purchasing a used wheelchair for events that require a lot of walking, or rent it when needed. When making plans check websites for disability accommodations or call to speak to someone about specifics. When purchasing tickets for seating, like for a concert, it is best to speak to someone.
3. Make a packing checklist for day outings.
What will keep you comfortable and safe? Keep everything you can in a tote bag ready to go. This can include: a hat or visor, sunglasses, sunscreen, bottles of water, medications or vitamins, bandages and extra shoes, snacks and mints to suck on, a spray mister or small fan, SeaBands and a vomit bag in case you are nauseous, tissues or wet wipes, an ice bag (you can get ice anywhere), an eye mask or ear plugs, and some cash and emergency contact phone numbers.
4. Depending on your disease, pack accordingly for personal needs.
Although friends may give you a hard time, wipe down surfaces in public use before using them, such as an arm rest or tray table, and after holding onto handrails. Make sure you program a few ICE ("In case of emergency") numbers into your cell phone. Keep a copy of doctor's phone numbers with you at all times.
5. Check your local newspaper for events near home.
There are a variety of activities such as concerts in the park, street fairs, book readings, movie showings at the pool, or even a local rodeo. It can be fun for both adults and kids and you don't have to attend the entire event to try to get your money's worth since most are free. Arrive early for close parking, bring a picnic, and stay as long as you wish.
6. Pace yourself when doing something fun.
Take a comfortable folding chair to sit in at the park in the shade and read a book while your family flies kites. If your family plans an outing for the entire day, ask for someone to bring you back to the house or hotel room for a few hours to rest and join them again at dinner if possible. If you are at a hotel, take advantage of the hot tub. Elevate your feet in bed with ice to get rid of swelling. Learn to find joy in observing or taking photos of your loved ones. You are there--so try not to get depressed that you didn't get to see every sight or ride the roller coaster.
7. Talk to your doctor as soon as possible about your hopes for the summer or any long-term travel plans.
He may be able to offer certain injections, like shots in your knees so you walk more comfortably, or an injection for pain control. He can sign paperwork to authorize for a disabled parking placard, or give proof of your disability if it is questioned by anyone, such as at the airport or on a cruise ship.
8. Take care of yourself with the change of routines in the summer.
If you are a parent of children who are now at home, even the smallest change in routine can leave you forgetting to take a dose of medication until hours later. Set a timer on your phone so you don't forget to take mid-day medications. Be consistent in staying hydrated. Consider purchasing a cooling vest. Many people with chronic illness say they make a considerable difference.
9. Don't rule out what you think is impossible.
There are accommodations for those with disabilities in most vacation destinations. You may consider making plans for the fall when the crowds lessen and the weather is less severe. Whether it is the Grand Canyon or Disneyland, a cruise ship or wine country, there are programs already set up to help you enjoy your time. You can speak to one of the many travel agents who specialize in vacations for those with special needs and be sure to ask about travel insurance in case you have to postpone.
Ask yourself what the biggest barrier to your vacation may be? Is your health fragile and it is ill advised or is it your nerves and reluctance about using a wheelchair or scooter that is holding you back? Take a few minutes to search online for information that may make you more comfortable. For example, there are a variety of forums that explain how to navigate the world of Disney when in a wheelchair and videos on YouTube that show how a paraplegic transfers from a wheelchair to a seat when boarding an airplane. Don't give up on your dreams of travel just because of your circumstances. If there are people who can scuba dive and bungee jump with a wheelchair, you can make it to a national park!
9. Above all, enjoy your time this summer!
Take photos of the small moments, like when a family member is washing the car or your son is starting a water fight with the neighbor kids. Slurp on a Popsicle when no one is looking, have iced coffee on the patio. Watch the birds build a nest, make sun tea, and buy some planted flowers for your front step.
There will be seasons when we can't travel and we feel stuck in a rut if one doctor's appointment after another, but with a few small changes in our daily routine, we can have that sunshine of summer--without the sunburn!