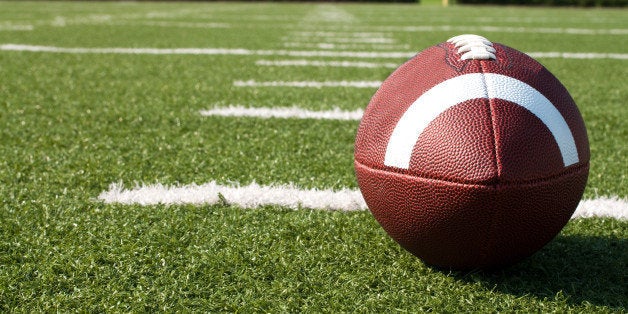 In 2011, my middle-school son came to me and said he wanted to attend a football summer camp at De La Salle. I asked what was De La Salle.
"Everyone knows De La Salle," he said and explained that De La Salle's high school football team had the longest winning streak ever -- 151 consecutive wins -- more than any NFL team, more than John Wooden's UCLA basketball team, more than any other sports team. He said the coach was a man named Ladouceur who would be coaching the camp himself.
I could see my son wanted to go with every ounce of his being. The school was an hour and a half drive from our house. I decided I could work in a coffee shop while he attended the weeklong day camp.
At De La Salle, middle school football players and their parents assembled in the auditorium. We were introduced to assistant coaches and then Ladouceur spoke. The auditorium was silent. Even babies quieted.
Ladouceur had no bravado. He seemed less like a coach and more like a humble servant, in service to the higher good of every boy there. He was firm, kind and intense. A few sentences into his talk, I took out my phone and started typing notes. I expected to leave quickly, but Ladouceur's words and manner were so compelling that I stayed and watched him coach for five days.
After the camp, I said to my son, "Someday someone's going to make a movie about De La Salle football." That day has arrived. The movie based on Neil Hayes' book When The Game Stands Tall opens in theaters on August 22nd.
The previews remind me of the week I spent at De La Salle. I found notes I typed on 6/17/11 in my phone. When I reread Ladouceur's words, I saw that he had given all of us sitting in that auditorium a guide on how to live life better. Here are his key points:
1. "If you participate in football, you are not better than any other human being." Ladouceur went on to say that his son was not on the football team, attended De La Salle, and played in the marching band. He said he was the proudest father when his son marched onto the field playing in the band. "Extracurriculars are to help you grow and become a better person. I implore you not to let football make you think you are better than anyone."
*This idea can be applied to anything -- to not allow ourselves think we're better (or worse) than anyone.
2. "How much are you committed to just being better? Ask yourself this." Ladouceur went on to say, "We work hard at making every player better." He said, "We don't see football as an end all to end all. We want you to be a better player when you walk off the field after every practice, and after every game, and we want you to work to be a better person every day."
*These are words to drink every morning with a cup of tea or coffee.
3. "We want you to have a true team experience, to know what it is to work hard, to all be on the same page, what it takes to prepare like a champion." Ladouceur said his team pledged to be drug- and alcohol-free. He said that during the offseason their players went river rafting, camping and did community service projects together. He said they became a tight-knit family. He said they were committed not only to getting better individually, but to making personal sacrifices that made the team better.
*Learning to make personal sacrifices that serve the good of the larger community is a behavior that by definition makes the world a better place. It's worth asking, "What can I do to live this way?"
4. "We want you to understand when it's time to play and time to work. When you are having fun, don't take work with you. When you are working hard, work hard. We want you to be able to do both." He said they value the whole person -- the physical, the mental, the social and the spiritual and that it is important to develop all of these aspects within one person. He saw football and being part of a team as a way of doing this well.
*I like the idea of having more fun and working smarter. This means doing a better job at separating the two.
5. "We care about fitness. We strive to be better and to always be getting in better shape." He talked about a rigorous offseason workout schedule that was player-led and involved weight training, footwork drills, skill sessions and stretching.
*Research continues to show that fitness increases happiness, improves health and extends life. I want to make certain I make time to exercise regularly.
6. "We use nutrition to augment fitness. We coach our players on meals and hydration. We take breaks to hydrate every 20 minutes." Ladouceur emphasized the importance of hydration and nutrition and the effects on performance.
*Research supports that hydrating and eating well improve ones ability to work effectively. Doing this better supports the goal of working smarter and having more fun.

7. "We expect commitment and respect." Ladouceur said there was to be no physical contact off-field. He said bullying happens with subtle and not so subtle shoves in the locker room. He said any contact off-field would result in dismissal from camp. "We teach discipline and respect," he said and explained that the coaching staff refuses to excuse or inflate certain players and requires all players to respect one another.
*Ladouceur himself showed tremendous commitment and respect. He was both loving and caring which set an example for how best to treat people.
8. "Be emotionally invested. You can't be any good at football unless you are emotionally invested."
*This applies to everything. Caring intensely about what I am doing will help me work harder to be better.

9. "Keep a good attitude." Ladouceur talked about the importance of "coachabilty," to be the player who took suggestions and worked to continuously improve. "Be that player," he said.
*Be that player, I said to myself.
When Ladouceur ended his talk, he said, "Let's go hit the field." He could have said, "Let's go hit life."
On the last day of camp, there was a pizza party in the cafeteria. Two former De La Salle football players who were in the NFL came to the event. Campers lined up to have their camp t-shirts signed by the celebrities. Ladouceur wasn't with the stars, he wasn't talking to parents or coaches; he was in the food line scooping ice-cream, making certain he said hello to every camper and that everyone was served.
The movie When The Game Stands Tall opens on Friday, August 18, 2014. If the movie is half as good as the real thing, it will be worth seeing.
Kathleen writes regularly for The Huffington Post. To be notified when she publishes a column, please sign up here.
Related
Popular in the Community