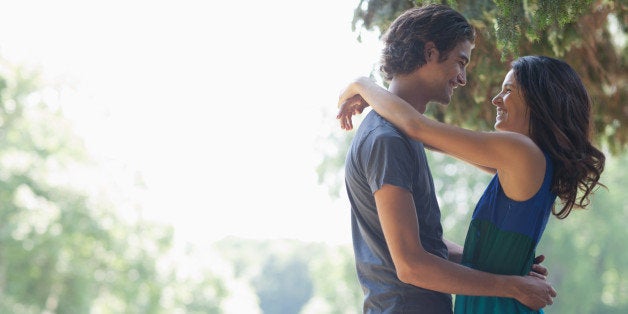 The heat of summer can heat up your love life as well. When it comes to romance, I've had summer flings and summer flops. Some were short-lived and others became loving, lasting relationships. But I treasure every one of them because I learned something valuable from each experience.
Here are several things I learned about summer love:
1. Having a fling with a piece of eye candy is A-OK.
If after a night of Long Island Ice Teas and dirty dancing you hook up with a guy who looks like Maksim Chmerkovskiy from Dancing with the Stars, it's OK. You can find out later if this guy's just a casual fling, or potentially the real thing.
2. Great sex doesn't always equal great love (despite what your hormones are telling you).
If you tangle in the sheets with a guy, know that rising oxytocin is going to rev up your emotions -- it's just chemistry. Be smart and keep it in perspective. See if your sexy guy is a great match out of bed, too. If not, don't worry. Simply move on... with a smile (I mean, you did have great sex!).
3. It's OK to rekindle an old crush or an old flame.
One of my best summers was spending two love-filled weeks at the Cape with my high school crush. And it was so much better because I was older and way more confident (in and out of bed). So if you bump into someone you had a "thing" for in the past, have fun getting to know each other all over again and see what happens!
4. If your hot hookup last summer turns frigid this summer, get over it.
There's no need to let a past fizzled romance ruin your present summertime fun. So if your sweet romance turns sour, kiss it goodbye with no regrets. As Colbie Caillat sings, "If you want to leave then just go, 'cause I can't get no sun in your shadow." Say, "Thank you" and move on. You had a great time, right? Keep dating.
5. That fun, freewheeling guy you met at a friend's wedding may not be Mr. Forever... and that's OK.
He's the college buddy of the groom. He's fun, smart, and... can I say it? Adorkable. Now's not the time to go through your mental checklist to see if he's marriage material. Not right now, anyway. Just have fun getting to know this guy and decide later whether he's a keeper or not.
6. If your crush turns into a critical crab or a slimy fish, toss him back in the water and keep fishing!
Let's face it: We're all on our best behavior when we first meet someone. It's only later that we reveal our deeper selves. So that funny guy you hooked up with at a friend's luau may be Mr. Personality in a crowd, but not so good one on one. Or he may reveal a darker side to him behind closed doors. If your instinct senses trouble, find someone else to crush on.
7. It's alright to get swept off your feet as long as you plant your toes back in the sand at some point (and keep focusing on your own desires).
Thoughts about your new, exciting romance can become all-consuming. That's totally understandable. Just remember to stay engaged in your own life, as well. Go out with friends, take time for yourself or start a new project. By staying focused on your own desires, you'll be more grounded and self-confident.
8. It's fine to turn the heat up, just don't get burned.
Your feelings may be heating up and you could be starting to wonder what "this" is. Although it's important not to be eager (it is summer after all), if it's really bugging you, say something. It's better to be honest about your feelings instead of getting burned later with his disappearing act, or his "I just want to be friends" text. If he feels the same way, then you'll be heating things up together! If not, make time to meet someone else.
9. Stay in the moment.
Remember, this is a time to relax and have fun. That goes for love, too. Everyone's operating at a slower pace, so allow your emotions to run at a slower pace, as well. Just enjoy getting to know each other over Mai Tais and sunsets. If you do, you may find that great guy who gives you summer love all year long!
Popular in the Community