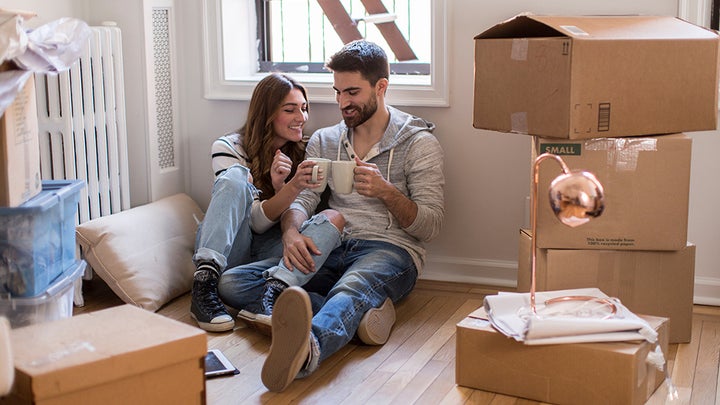 You've signed and initialed on all the dotted lines. The house is yours — no more landlords or leases. Enjoy it. Revel in it. Even spend a night in your new, empty home on an air mattress with a box of pizza before things start to get real (it's a memory you might appreciate down the road). But when the house honeymoon's over, there's work to be done, and certain things belong on a "the sooner the better" list. These nine expert tips offering guidance on what to do before you move into your new home just might surprise you
1. "Borrow" your real estate agent's contacts"
Who needs friend recommendations when you can use your trusted real estate agent's list? Most agents have plumbers, electricians, and more that they recommend regularly. "Ask your Realtor for a list of preferred providers so you have it handy in the future when you need something," suggests Megan Shook, a real estate agent with Mosaic Community Lifestyle Realty in Asheville, NC. "It's comforting to know you have those contacts if you need them in a hurry."
2. Wait to paint the walls
Living in your home unpacked for a little while lets you see where the light hits every room at all times of the day. So don't rush to paint the walls before your things are in place, even if that seems easiest. You may end up choosing colors you don't love — and then you'll have to paint again.
The type of light bulbs you use also impacts the paint color, says interior designer Barbara Anderson of Preferred Designs in Rehoboth Beach, DE. "The popular Edison bulbs will change the color hue," she says. When Anderson meets with a client, she places the paint sample in all four corners of the room. She looks at it in natural light, then blocks the light. But while the walls can wait, your ceilings are another, messier matter. Anderson suggests painting the ceilings before bringing in the boxes and furniture.
3. Add a UV film on your windows
Before you drill any holes or plan where you'll hang your art, find out where the sun is strongest in your new home. "Sunlight can damage works on canvas and paper over time and fade colors," advises artist Steven Seinberg. He recommends adding a UV film on your windows. You won't notice it's there, but it will offer some protection for your precious artwork and furniture.
Scheduling a housewarming party two to four weeks after you move in gives you an incentive — and a deadline — to get all those boxes unpacked. Once the invites are out there, you're committed. It's the homeowner's equivalent of telling a friend you'll meet her for a Pilates class. In many aspects of life, accountability is key. And if the result is a party in your newly organized house? All the better.
5. Do a doggie meet-and-greet
Before you move in, walk Fido around the neighborhood. It's a good chance to meet your new neighbors and introduce Fido to his new surroundings. Since your neighbors will then know your doggie by name — and where he lives — they'll know whom to call if he ever gets out of your yard. (Moving-day pet escapes are all too common!) Consider also handing them a business card with your contact info on one side and your pet's name on the back. They also might be more forgiving of any early morning yapping if they've seen how sweet he is up close.
Make a folder, get a notebook, and keep receipts for everything. You might be surprised at what's tax-deductible. Claiming the space for your home office isn't big news, but don't forget all the pieces that go with the home office. "Whether that's an alarm, maid service, cost of electricity … all of those things can be prorated to account for the home-office deduction," says Kelly Phillips Erb, founder of Taxgirl.com. Erb also suggests looking into deductible home mortgage interest as well as the property taxes paid at closing. "I think that gets missed a lot," she says. And definitely keep track of all those home improvements. You could get tax breaks for these down the road.
According to the U.S. Department of Energy, you can save up to 30% on your energy bill by making upgrades identified in an energy audit. "Energy-efficient homes are a win-win for the owner and the environment," says Shook. During a professional energy assessment, an auditor will identify shortcomings in your home that can be fixed to save energy and lower your bills. To find an auditor near you, ask your local electric or gas companies or search the Residential Energy Services Network directory.
If your home is new construction, be sure to vacuum out the vents (with a hose attachment) before turning on the HVAC. Otherwise, the dust that settled in the vents could be blown out — and into your home. Owners of new-construction homes often report needing to change their air filters more frequently, and this is why. Your builder should have done this too, but it can't hurt to make sure.
9. Start fresh in the safety department
Replace the batteries in the smoke and carbon monoxide detectors immediately. Shook suggests buying a new fire extinguisher as well. At the very least, you're postponing the inevitable annoyance of dying batteries chirping all at once all over the house. At best, you're saving lives. "One colleague just had a fish tank pump catch on fire last week at 5:45 a.m.," Shook says. "Their home had minimal damage due to the detector and the extinguisher!"
What's on your list of things to do before moving into a new house?
Related
Popular in the Community