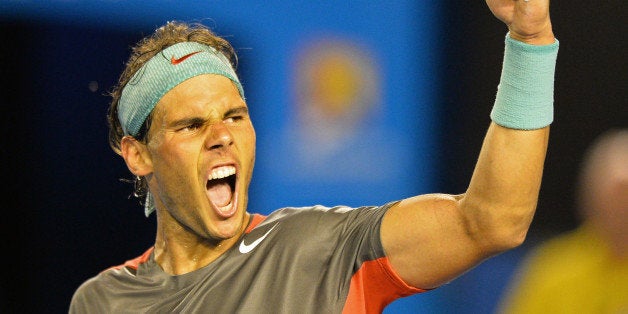 On a warm, sunny and highly anticipated Sunday afternoon in Paris, Rafael Nadal and Novak Djokovic entered Court Phillippe Chatrier each on a mission. Nadal's to become the first player to win nine titles at one Grand Slam, Djokovic's to complete his career Grand Slam and in doing so, become only the second person ever to defeat Rafa at Roland Garros.
In a match, absent of the high quality tennis we've grown accustomed to between these two rivals, it was still full of high drama. From jumbled nerves and missed opportunities to a tweaked back and an on court vomit, it appeared victory would go to whichever player was, quite literally, the last man standing.
In the end it was Rafa, who for the fifth straight year and a record setting ninth time, hoisted the Coup des Mousquetaires high into the sky as tears rolled down his cheeks. For Nadal, this trophy has meaning well beyond any narrative marking this historic day in tennis and the legacy he will someday leave behind on the terre battue.
To understand Rafael Nadal it is important to understand that clay -- especially the kind made from crushed red brick -- could very well be part of his DNA. Here are some facts that may help to support this idea even further.
1. The number 9 has history written all over it.
In his first French Open (2005) at the age of 19, Rafael Nadal won his first Grand Slam making him the youngest champion since Pete Sampras won the 1990 U.S. Open crown. Nadal also became only the second player ever -- joining Mats Wilander -- to win the French in his first attempt.
In 2009, Robin Soderling dealt Rafael Nadal his ONLY loss at Roland Garros. A year later Rafa exacted his revenge, thumping Soderling in the finals to win his fifth title and restart his march toward his unprecedented ninth title in Paris.
2. A trophy for Nadal equals a trophy for Spain.
Rafa's fourth title on the red clay in 2008 proved to be a good omen for La Furia Roja (The Red Fury) the Spanish futbol team. A month after Rafa hoisted the hardware; Spain did the same, winning the prestigious Euro Cup.
Two years later in 2010, the scenario was the same only this time Rafa's beloved national soccer team achieved something it had never done before, winning the coveted World Cup. In 2012, opportunity knocked again -- Nadal picked up his seventh men's title in Paris and Spain defended its Euro Cup title.
With their fates seemingly tied together and the start of the 2014 World Cup on Thursday, Spain's futbol team should feel confident about becoming the first team to win back to back trophies since host country Brazil did it in 1958 and 1962 -- seeing how Rafa's success at the French has translated into their own success.
Nadal's remarkable record in French Open finals has been against top tier talent. With the exception of his very first title in 2005 where he defeated unranked Argentine, Mariano Puerta, Rafa's other eight opponents have all been seeded in the Top 5.
Of those eight, Nadal has defeated Roger Federer four times, Novak Djokovic twice and both Robin Soderling and David Ferrer once. And if that isn't impressive enough, six of his titles have pitted No. 1 vs. No. 2 -- with Nadal being the lower seeded player in four of those match ups.
4. Stat sheets gone wild:
Over the past 10 years at Roland Garros not only has Rafa collected nine Coupe des Mousquetaires, he has compiled some mind-blowing stats.
*Nadal has never been pushed to a fifth set in the finals.
*He has never lost the first two sets in Paris.
*Rafa possesses a 66-1 record on the red clay and has amassed a career mark of 90-1 in best-of-five clay court matches.
* He has won 35 straight matches at the French, since suffering his lone defeat.
5. The GOAT debate has been re-ignited:
Nadal's win against Djokovic tied him with Pete Sampras at 14 career Grand Slam singles titles and puts him three shy of pulling even with Roger Federer, who has 17.
At 28-years-old and assuming he can stay healthy, Nadal has a legitimate chance of catching Federer, perhaps even surpassing him. But to hear Rafa tell it, the countless conversations about title chases and "best-ever" labels are furthest from his mind. Asked about it in his post-match presser, Nadal said, "I'll repeat what I always say; this is not something that worries me or motivates me." Even so the debate will rage on, especially if and when Nadal captures his 15th.
When it comes to celebrating his titles on the terre battue, Rafa has it down to a science. The moment he seals the deal he hits the clay.
From 2005-2008, and again in 2010, 2013 Nadal celebrated the victory with his signature back flop. His back half coated in the surface he will forever be known as... The King of Clay continuing leave his indelible mark on Chatrier.
Even when he forgoes this tradition and instead drops to his knees, lifting his hands to his face -- as he has done when defeating Federer in 2011 and Djokovic in both 2012 and this year -- Rafa Nadal still needs to become one with the dirt, in the place he all but owns.
7. The only thing constant in life is change.
Or so the quote goes. However, for Rafa consistency is everything, especially when it comes to family and friends.
While many of the top male players changed coaches this past year, while others have switched coaches more times than they've changed their underwear, Nadal has done no such thing. In fact, Rafa has only had one coach his entire life -- his uncle.
Toni Nadal has guided his nephew's career since childhood and is responsible for Rafa's left-handed play. As a former player on the tour, Uncle Toni understood the advantages lefties enjoyed in tennis and took Rafa, a natural right-hander and turned him into the most lethal lefty with the wickedest forehand the sport has ever seen.
For Rafa, family and friends are most important. He is quick to pay homage to them and takes great comfort in their constant presence at his matches. To illustrate just how integral his family is to him all you have to do is look back at 2009 and the only time Rafa has lost in Paris.
Unbeknownst to most that spring Nadal's parents separated. Carrying a heavy heart and a distracted mind, Rafa arrived at Roland Garros a shell of himself. While he fought hard to remain focused, he could not shake the deep sadness that consumed him. The one place where he could always glance when in need of a friendly face or a collective "Vamos" no longer existed.
For the first time since this longhaired, pirate pant wearing, Mallorcan teenager stepped foot onto the French clay five years earlier his player box looked different. The familiarity of family was gone and so were Rafa's title hopes that year.
8. Eight was great but not enough:
In the 2013 all-Spanish final which saw a masked man waving a lit flair leap onto the court and political demonstrations from the stands interrupting play, Rafa Nadal still managed to go about his business as usual.
In a straight set victory over David Ferrer, Rafa became the first man to win a Grand Slam singles title eight times. It also marked his 59th win at Roland Garros moving him past former leaders Guillermo Vilas and Roger Federer.
In capturing his 12th Grand Slam title, Nadal no longer sat tied on the all-time list with two other greats of the game, Bjorn Borg and Rod Laver.
Before the trophy presentation even ended, Rafa was already being heralded as the favorite to win his 9th French Open title in 2014. It was hard to argue against such proclamations after witnessing the history Nadal had already made at Roland Garros. One year later those who picked Rafa were right. Not only did he win a 9th title in Paris -- he became the only man to capture at least one Grand Slam title 10 consecutive years.
There is little time for Rafa to bask in his Paris Grand Slam glory. Each year he must quickly shift his focus from the clay to the grass as he prepares for Wimbledon.
Nadal is a two-time champion at the All England Club winning last in 2010 and being disposed of quickly in his last two ventures to London. Including a first round exit last year.
He knows he can win here again but much of that is tied to how his body is feeling. An injury free and confidant Rafa is a tough out on the grass. He is one of only four men in the Open Era to win the French and Wimbledon in the same year.
Four Sundays from now tennis will crown a Wimbledon Champion, and it could very well be the man who for the ninth time in 10 years dropped to the clay in victory and would love nothing more than to do the same on the grass.
Calling all HuffPost superfans!
Sign up for membership to become a founding member and help shape HuffPost's next chapter