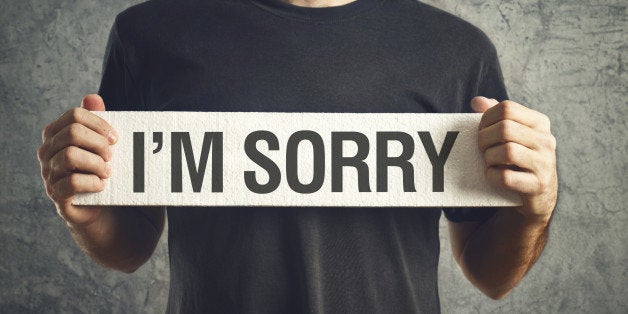 We Brits love a good apology. It's burned deep into our psyche, like our passion for weak tea and miserably grey skies. Our reputation as a polite and well-mannered bunch is world-famous, even when it comes to online dating. There are some things, however, that we need to stop apologizing for. Here are just a few of them.
It is now acceptable to have aspirations for your career.
If you're female, it's okay to fight for equal payment with your male counterparts even though you'll be called 'bitchy' or 'pushy'. There's no reason why you shouldn't be aiming for that Nobel Prize, and help close the indefensible gap between male and female winners in the process. You have my permission to start your own company, or to want that promotion at work. It's time to ignore those who doubt you, and to prove them wrong.
It's also completely fine to not have lofty ambitions or goals. If you're happy with your lot, you don't need to justify it to anyone. Rate your achievements against your own standards, and nobody else's.
It's now permissible to be a smart-arse. Do not apologize for being curious and knowledgeable. Some people are happy to go through life without challenging assumptions or received wisdom. Stop worrying about being seen as a know-it-all by people who choose to know nothing.
Stop apologizing for what you love, who you love and how you love them. It is nobody's business but yours.
Too often the loudest voices carry the empiest words. It's time to redress that balance, whether it be by speaking your mind in work or at home. Stop letting bullshitters hog the microphone.
You could be like me, where you prefer to take a back seat in social situations and let others take the lead. This is perfectly acceptable. Do not view this as something that needs to be remedied. The next time someone asks why you're so quiet, do not feel like you have to provide an explanation.
Being Where You Came From
Whether your house has one bathroom or five is not a reflection of your character. Ignore those who would choose to judge you based on whether you went to a public or private school. Let their snobbish preconceptions continue to inform their myopic worldview.
Life is hard enough without ignoring the reality that everybody needs help. Be kinder to yourself, to your friends, to your family and to strangers. Have a look at these examples of extraordinarily kind acts and enjoy the warm fuzzy feeling spreading in your gut. Now go give that feeling to others.
Console yourself with that fact that everybody makes mistakes. You're not the only one who feels like they're stumbling through life from one miscalculation to another. If perfection was attainable, we'd all be lying content in our beds without a reason to get dressed in the morning.
You will always be judged for being yourself. Its unavoidable -- everybody does it.
But the next time you feel the need to apologize for who or what you are, read this article. I hope it helps.