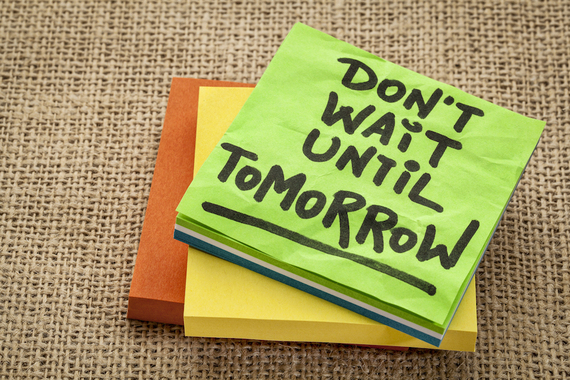 Do you remember that all-nighter you pulled senior year of high school because your essay was due the next morning? Or that time you crammed for a test, even though your teacher gave you weeks to prepare?
Managing your time wisely when taking four or five college classes is no easy task, even when you know that the simple solution is to start earlier. Most every student struggles with effective time management, and balancing a heavy class load and social life can be especially tough for those used to the structure of high school classrooms--namely, college freshmen.
Learning the skills to properly manage a busy schedule will benefit you in the long run. A successful time-manager will be less stressed, get more sleep and generally feel better about a job well done than those who procrastinate.
To help you start your first semester on the right track and put that 4.0 grade point average within reach, follow these nine tips to better time management.
1. Utilize a day planner.
It might seem obvious, but writing down your to-do list in a day planner works. It will hold you accountable for even the smallest of tasks. A planner "will not only help students keep track of academic responsibilities," says Michelle Curtis-Bailey, senior admissions advisor and Educational Opportunity Program coordinator at Stony Brook University, "but it will also [help in noting] important campus deadlines, such as drop and add dates, course withdrawal deadlines, registering for courses, and more."
In using a daily planner, "students should record the tasks they need to complete on a daily, weekly and monthly basis," says Hope Walton, director of the Academic Skills Center at the University of Richmond in Virginia. List your tasks by high and low priority, Walton says, keeping in mind that your focus should be on completing larger projects by their due dates first.
Lynne Richardson, dean of the College of Business at the University of Mary Washington, tells students to make sure they pencil in some time to relax when prioritizing their week.
2. Form study groups early.
If you're a social person, studying alone can be draining and hinder your productivity. Try studying with friends in the library or at a coffee shop. Better yet, form study groups where you can talk and work through the same assignments with others. Ann Marie Klotz, the dean for campus life at the New York Institute of Technology, advises students to "build weekly traditions. Enchiladas and Engineering? Pizza and Poetry?" she says. "Form groups to study and make it social, too."
3. Break projects into smaller steps.
Feeling overwhelmed often leads to procrastination. For college students, this may mean that a long research essay seems too daunting to begin. But to succeed in college, you'll have to face these challenges head-on. Sharon Donnelly, director of counseling at Delaware Valley College, advises breaking down big assignments into smaller parts or steps. "For example," she says, "if you have a 15-page paper due at the end of the semester, start by drafting up the paper. Then, set aside time in your schedule to work on each part of the outline, as well as time to revise and proofread it." Not only will you feel more successful in having accomplished these small goals, you will also learn what it takes to manage your time most effectively.
4. Set realistic goals with an action plan.
Avoid setting goals for yourself that you know you won't stick to. Doing so will only lead to disappointment. Instead, identify realistic ones you can work toward.
"In conversations with students on goals, I discuss the importance of setting short-term and long-term goals that are realistic and achievable," Walton says. "For example, if a student's short-term goal is to earn a 3.5 grade point average, I suggest action steps of conducting daily, pre-class, and weekly reviews of notes." Creating a plan of action is the best way to accomplish your goals, Walton adds, often turning once-unreachable goals into more realistic ones.
5. Reward your study time.
It's important to take breaks during study hours and classes. As an extra incentive, use those breaks to reward yourself for a job well done. Klotz points to a time where this advice worked for her: "When I was a doctoral student I would say 'one more hour of studying and then I'm getting an ice cream cone.'" She says those small rewards kept her focused and motivated to succeed in her work.
Adding positive reinforcement to your study time will help motivate you to achieve your goals. If listening to music while you study helps you focus, consider creating a short study playlist. "Commit to doing homework each night until the playlist is over," Klotz recommends. That way, you motivate yourself to stay focused for however long your music lasts.
6. Study when you are at your best.
Your best working style may not be your roommate's best, but learning what works for you and what doesn't is key to success in college. If you've realized that you produce your best work at night, then accommodate your schedule for later study sessions. If you are a night owl, Klotz says, "then 8 a.m. classes might not be the best for you. Try to schedule classes that are offered at times where you will be most awake and ready to concentrate."
If you're still learning what study habits work best for you, try getting an early start to your day. Erin Wheeler, an academic support program manager at Louisiana State University, suggests adopting "the professional work schedule of 9 a.m. to 5 p.m." By scheduling daytime classes and making an effort to study in between, Wheeler says, "students can devote their evening hours to social activities without a pressing need to stay up late to complete assignments.
7. Keep your eyes on the prize.
According to Donnelly, for an incoming freshman, "it's easy to lose sight of the big picture because graduation seems so far away." Donnelly advises students "to visualize yourself not only on your graduation day, but also where you want to be in your career. This can help give you that extra motivation to study for that exam or write that paper." She adds, "Every task accomplished moves you a step closer to the direction of your ultimate vision.
8. Reflect on how you spend your time.
A simple way to improve your time-management skills is to realize what you're currently doing that just isn't working. Reflect on your study habits to find where you procrastinate the most. Wheeler advises asking yourself: "'How much time do I watch TV, hang out with friends, or browse Facebook?' Intentionally monitoring the time it takes to complete tasks can help students improve their productivity and manage their distractions."
Still stuck? "Seek out help on campus if you find yourself overwhelmed and not sure what step to take next," says Curtis-Bailey. "You can find this help on campus with your academic advisor, career center or counseling center."
According to Susan Dennett, academic dean for Northwood University's Florida campus, you should get to know the other learning resources available to you. "Familiarize yourself with the many resources available to help you excel academically. College libraries and learning resource centers will become invaluable, as will their many online resources."
Popular in the Community