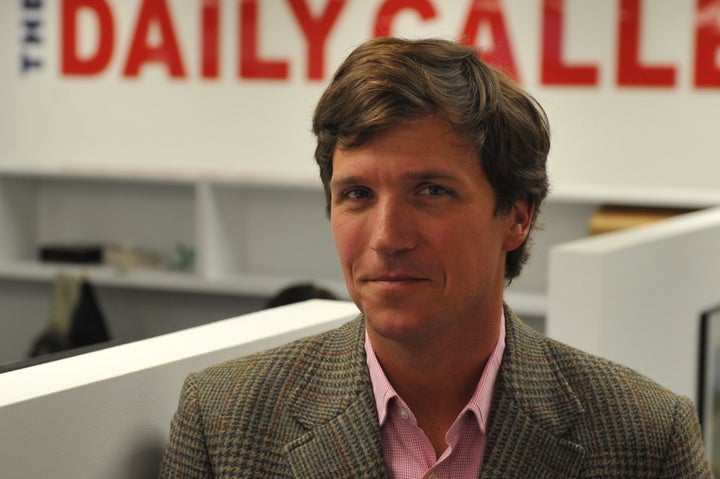 As of Wednesday, Bill O'Reilly is officially out at Fox News, a turn of events that has some rejoicing. Even though O'Reilly has been ousted only after it came out that he and Fox had settled at least 5 sexual harassment suits over the past 15 years ― and those claims began to hurt ad dollars ― his termination still feels like a win in the ongoing battle against sexist men with huge media platforms. 
And yet Fox has announced that O'Reilly's slot will be filled by anchor and commentator Tucker Carlson. While Carlson certainly doesn't have any highly publicized sexual harassment allegations looming over him (a marked improvement!), he has a well-recorded history of dismissing sexual harassment and women in general. 
Let's take a stroll down memory lane, shall we? 
1. He complained about Ashley Graham's "political" Sports Illustrated cover. 
"Keep it out of my swimsuit issue," Carlson says via voice-over in the clip below. 
2. He refused to apologize when a writer at his website, The Daily Caller, referred to the NYC Mayor's spokesperson as a "self-righteous bitch" with a "labia face."
In 2015, an email obtained by Buzzfeed revealed that Carlson's brother Buckley Carlson, a writer for his news site The Daily Caller, referred to called New York Mayor De Blasio's spokesperson Amy Spitalnick as a "self-righteous bitch." The email, which had been sent to Tucker, also speculated as to whether Spitalnick had ever been given a "pearl necklace," accused her of having "extreme dick-fright," and referred to her as "LabiaFace." Oh, and it was sent to Spitalnick herself by mistake.  
When the email came to light, Carlson declined to apologize on his brother's behalf and quipped that the email had been meant "in the nicest way."
3. He claimed that Democrats "made up" the concept of sexual harassment. 
Yup. In 2006, during a segment of his old MSNBC show in which Democratic strategist Steve McMahon said that the Dems taking control of Congress would mean an era of "a lot more fun," Carlson responded: 
A lot more fun? This is a group that made up the concept of sexual harassment. 'You look great today.' Boom, I'm charging you with a crime.  Do you know what I mean? It's not a group I associate with fun. You want a sex scandal, the Republican party, baby, that's where you go.
4. He also showed that he actually doesn't understand the concept of sexual harassment at all. 
According to MediaMatters, on an episode of "Hannity" in February 2010, Carlson defended an ESPN analyst who had been suspended for making sexist comments about a woman's clothes on air.
Because the sexist comments were made publicly, Carlson explained that the analyst had done done nothing wrong because: "Sexual harassment by definition takes place in private."
5. He blamed women for sexism in politics. 
On a 2007 episode of his MSNBC show "Tucker," Carlson questioned the idea that woman have it harder in politics, citing the fact that "most voters are women."
He asked: "If women were so anxious to have women in Congress, and there were so many great female candidates running, then why wouldn't Congress be 52 percent female?"
Welcome to internalized misogyny and structural sexism, Tucker. 
6. He told political writer Lauren Duca to "stick to the thigh-high boots."
After her Teen Vogue article on Donald Trump and gaslighting went viral in December 2016, Carlson invited writer Lauren Duca on his show. He then proceeded to try and devalue her opinions and political writing because she writes for Teen Vogue, and has written non-political pieces in the past.
"You should stick to the thigh-high boots," he said. "You are better at that." 
7. He defended President Donald Trump's "Grab 'em by the pussy" comments.
When audio of President Trump bragging about sexually assaulting women leaked in October 2016, Carlson claimed that the outrage over the comment was exaggerated.
"Nobody is actually shocked by this and everyone is pretending to be," he said.
8. He described Hillary Clinton as "castrating." 
Because the idea of a female president is apparently the most terrifying thing ever, Carlson dedicated a segment of his MSNBC show in 2007 to talk about how scary Hillary Clinton is.
"There's just something about her that feels castrating, overbearing, and scary," he said. 
9. He said the Day Without A Woman boycott was an "attack on white men." 
Calling all HuffPost superfans!
Sign up for membership to become a founding member and help shape HuffPost's next chapter
BEFORE YOU GO