"Summer is filled with breaking the rules and standing apart, ignoring your head and following you heart." - Anonymous
In my twenties, engaging in Summer Love was a surefire way to stop stressing over boys and start having some fun! In the season of sun, sand and surf--and in an era of youthful exuberance--there was a sense of carefree abandon.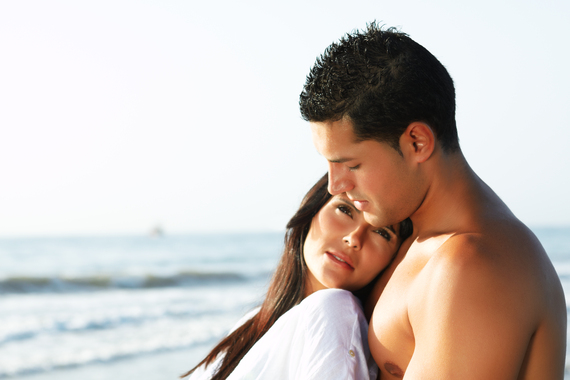 Many, many years later, I am still a fan of Summer Love and what I call, "Summer Love Consciousness" for single gals. In fact, I think it is a great way for women to prepare for true love. There are certain seasonal rules of romance that can reduce the pressure of "finding the one" and can reduce the stress women sometimes feel when searching for a lifelong soul mate.
Here are 9 tips for a fun and soulful summer love experience for women of any age. Who knows, this may bring back some good memories:
1. Pencil in Romance
The way to get started it to declare your intentions! Pencil in ROMANCE in big red letters across your calendar for July and August. This will be your first symbolic gesture to the universe that, "Yes, I am getting that loving feeling and I am opening to my Summer Love."
2. Get Your Grove On
Put yourself in the mood for light hearted love. Get into Summer Love Consciousness and include it as part of your spiritual practice. Meditate, pray, visualize, and daydream about hot and passionate summer days with an oh-so-special Summer Love who treats you like a Goddess. Watch movies about summer lovers and listen to music for inspiration. And think about your favorite summer love and the feelings that experience evoked in you.
3. Treat Summer Love as a Spiritual Experience
The idea of Summer Love, in its truest essence, is a very Buddhist thing - no attachments, and full acceptance that it will end, sometime. Along the way we make it point to have as much fun, excitement, new experiences, passion and joy we can. We don't worry about the consequences and we have no expectations of the outcome. Traditionally, with Summer Love we are not imagining who we'll invite to the wedding by the third date--unlike, admit it, the non-summer soulmate season when a third date inspires thoughts of: this could be it! Just imagine what it might feel like if you gave yourself permission to have a fling with lighthearted love.
4. Don't Take Love Too Seriously--Just For Now
We take love so seriously and we work so hard to get it right. Often, we are so focused on is he the one that we are not having any fun! What would happen if we could get into that old Summer Love Consciousness and toss our cares, ancient broken hearts and most of our relationship expectations to the wind? We'd be liberated--and free to love without attachment or expectation. I believe we can achieve this at any age!
5. Know You Deserve Romance and Passion, and Lots of It!
Consider yourself duly entitled to as much passion, romance and fun as you can muster. The whole point is to be caught up in the romance and the heat of the moment, and to be spontaneous. There are a lot of spur of the moment adventures. You don't mind if he shows up unexpectedly at midnight--you love it. At any other time, if a guy shows up without calling, you break up with him for being invasive! In fact, you don't mind anything he does. Time is short and nit-picking and trying to transform him into the perfect man is just not an issue.
6. Stop Trying to Control Love
Imagine what could happen to our love lives if we approached them from this Summer Love perspective: We'd be in a state of surrender, which would make it a little easier for True Love to find us. In winter, potential soul mates have to battle the winter bulge of the armor covering our hearts, and slay the dragon of our mindsets that says perfect love must look, behave and feel a certain way. In the state of Summer Love, we are lighter and airier! When you are willing to indulge in a little carefree romance, you will be surprised how much easier it may be to see love and relationships in a new light.
7. Allow Yourself to Be Spontaneous
If you are used to planning, plotting and looking hard for love, this will be a great opportunity to relax your usual approach. Let yourself be spontaneous and gain some mastery over your issues about control and surrender. Learn to go with the flow.
8. Stop Nitpicking
It is so challenging for us to relinquish our judgments and let go of our image of the perfect mate. It is harder, yet, to resist trying to transform every man we like--from "having potential" to being the man we wish he would be. Here's your chance to stop being so picky and demanding. Allow your summer love to be who he is meant to be, and do not, under any circumstances, try to turn him into husband material--at least until fall!
9. Create List of Summer Love Wishes
Even though this is an exercise in being more spontaneous, less picky, and making minimal demands, you still need a road map to the kind of summer love that would be most appealing. Create a list of the qualities of your ideal summer love and read it our loud to yourself every day. It will help bring your true summer love closer!
Be sure to include some of these on your list this Top Ten List of Essential Summer Love qualities. If you need a little inspiration, here is my sample list from 1985:
• Glances at you in a way that makes you feel you are the only two human beings on the planet.
• Communicates passion and appreciation with stunning force.
• Can dissolve all your concerns and worries with just one kiss.
• Is a breath-taking hunk of handsomeness and sexiness in your eyes, with a body and manner that makes you want to surrender to love.
• Has a master's degree in the art of love.
• Has an irresistibly adorable personality
• Is so passionate, romantic and alluring that even if your favorite movie star called for a date, you wouldn't leave your Summer Love.
• For an entire summer he is yours--body, mind and spirit--and you are his, and you revel in your own vulnerability and willingness.
• You have frequent out of body experiences in his presence.
• You really like him a lot!
• He will say, more than once, "You are the most beautiful (sexy, gorgeous, etc.) woman I have ever seen," "I love your spirit (soul, who you are, etc.)," "I am so glad I met you!!"
Summer Love May Lead to True Love
It may seem like a summer fling, but Summer Love Consciousness is actually an educational experience. You will also learn how to lighten up about love and expectations. Summer Love Consciousness is a state of mind you can enter any time. Your soul mate will ultimately be ever-so-happy to meet you there, in the land of carefree abandon, where love is much simpler, and where it can easily grow.
© Copyright 1985-2015, Rev. Laurie Sue Brockway, All Rights Reserved.