Part One: Creating Your Own Strategic Giving Process
Starting a successful charitable organization relies on the success of one simple action: raising money to support that cause. Whether your charity needs only startup funding or your group will rely on contributions in the long-run, raising money towards a cause is a top priority.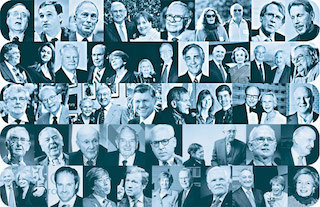 New initiatives like The Giving Pledge encourage high net-worth individuals to give most of their wealth to philanthropic causes (Source)

Thanks to the prominence of corporations in the media, it would be easy to assume that the best place to secure that funding would be a company. Anuja Khemka recently shared her tips in forging relationships with corporate funders, but her years designing program strategy and planning philanthropic activities have also given her a special perspective into another obscure layer of the philanthropic sector: high net-worth individuals.
High net-worth individuals account for just 1.4% of the American population yet their donations help account for the 72% of gifts to charity that come from individuals, or $258.51 billion. As more and more of this population strives to strategically organize their gifts around long-term impact and innovative solutions to big problems, there is a growing need for clarity on both the art and the science of philanthropy.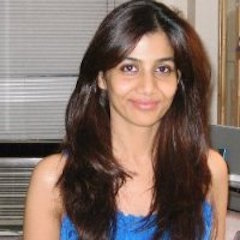 Anuja shares her expertise in helping high net worth individuals maximize their philanthropy
Today Anuja will attempt to lift the curtain on what motivates a high net-worth individual to give, and will also give some tips to budding philanthropists and individuals looking to organize and maximize the impact of charitable giving.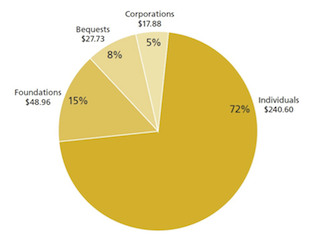 Individuals give the most to charity (Source)

Steve Mariotti: What kinds of opportunities do high net-worth individuals have when they formalize philanthropy?
Anuja Khemka: I recently worked with a very philanthropic family that was committed to making a difference, leaving behind a legacy, and doing genuine good for society. Their foundation was donating millions but lacked structures--everything from solidified focus areas of giving to a mission statement, from screening and approval processes to reporting and evaluation methods. I dug into my corporate philanthropy background for key processes and templates to streamline their work.
With strong processes in place, not only do you achieve more impact, but it becomes easier to replicate that impact for generations to come.
One of the most important things I've learned over the years is that grant-making goes beyond just cutting a check. It is important to nurture your grantees, understand their challenges, and address those challenges by giving them tools to succeed. With this private foundation, I suggested convening all their grantees to share best practices with each other so they could all learn from each other's successes and mistakes--multiplying the impact of the foundation's investment.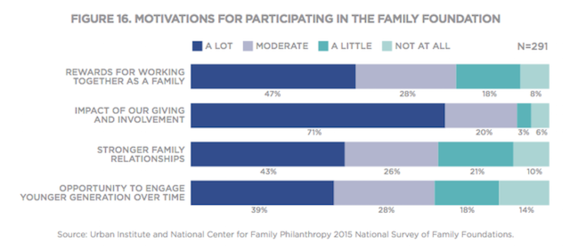 SM: Why are high net-worth individuals so important to philanthropy?
AK: In 2014 charitable giving totaled $358 billion and by far the biggest and most frequent givers are individuals. Their role in philanthropy cannot be overstated.
Most high net-worth individuals either have a family foundation, are thinking of starting one, or give to charity with no formal structure. By providing these individuals with some of the same tools that make corporate and foundation grantmaking so powerful, they can maximize their return on investment for society, empower their grantees, enhance their own legacy, and deepen their personal fulfillment.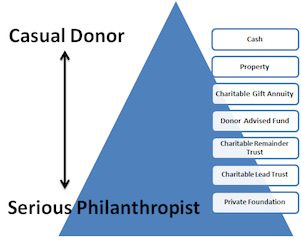 Most high net-worth individuals are finding ways to structure their giving (Source)


Anuja's Tips for Structuring to Maximize Impact

1. Create a Shared Value System.
Working with your board, you can start to determine your foundation's values by asking key questions: What problems energize you? Why is solving this problem so important? What values are most important to you and to your cause? What is your investment philosophy? Will you make single-year grants or longer term investments?

Holding a blue-sky session can get your board or family thinking about their shared values. I recently helped guide a foundation through this process and we were all excited to see the clear goals that came from the questions, eventually writing our mission statement and fleshing it out with statistics and research.

2. Engineer Your Mission Statement.
Once you have defined your value system, your mission statement will flow directly and naturally from those values. Powerful mission statements clearly define your niche, the population you want to impact, and how you are going to do it. One example of this could be: support programs that prepare low-income women in India to lead financially stable lives through entrepreneurship, business, and job skills training.

3. Determine Your Focus Areas of Giving.
Once you have defined your mission, it is critical to outline the areas you plan to support. If you are, for example, taking on women's empowerment, then you should ask: how can our philanthropy impact women. In this case, giving might focus on program areas such as entrepreneurship and business education, and job skills and training. Next comes the fun part--when you build an ecosystem of grantee projects that help you achieve impact in these areas.

Extra Tip: break down your total budget by program area. In this case, you might plan to spend 40% of your annual philanthropy on entrepreneurship & business education, 40% on job skills and training, and the remaining 20% on special projects. This formulation enables you to look strategically at the impact you are making later on and most importantly, it prevents you from wasting time and money on projects that are not related to your mission.

4. Map for Impact
If you want to see just how on--or off--course your foundation's giving is, map your grants against the program areas you just defined. Mapping can be a powerful exercise: when I did this with a high net-worth individual looking to focus philanthropy, we found that funding was scattered among organizations including many that had nothing to do with the mission. Why? Because this particular foundation was using an ad-hoc screening process that allowed ineligible organizations to slip in. We created a new Letter of Inquiry (LOI) template to formally screen applicants and made sure to include criteria to mark organizations that did not match program areas.

5. Create a Friends and Family Portfolio.
One of the biggest advantages of having your own foundation is that you can give as you please. To avoid feeling tied down by your program areas and mission, create a flexible portfolio--dedicated to friends, family, creative organizations, sponsorships, events, organizations you want to fund just because! You can make this 20-30% of your giving, targeting the remaining 70-80% to achieving your mission's impact.
Anuja has spent the past ten years working in philanthropy. From designing successful partnerships at the Goldman Sachs Foundation to strategically deploying funds for high net-worth individuals, from revitalizing family foundations to managing the board approval process at JPMorgan Chase Global Philanthropy group, she has experienced the wide array of philanthropic vehicles operating today. Anuja, who is a Management Fellow at Columbia University focusing on Social Enterprise Administration, remains dedicated to helping people and organizations be more strategic, more targeted, and achieve more impact.
You can get in touch with Anuja at khemka.anuja@gmail.com and be sure to check back here for Part Two of this article, which will focus on how to put dynamic processes in place that support impactful philanthropy.
Calling all HuffPost superfans!
Sign up for membership to become a founding member and help shape HuffPost's next chapter