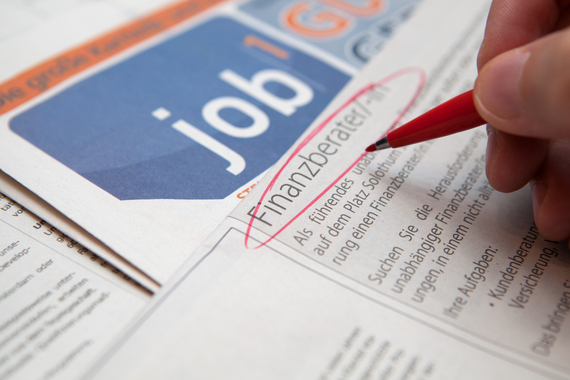 What's one area of the workforce that's seen a huge increase in the last few years? Temporary employment. That bastion of often low-paid work many of us fear to get close to is doing better than ever. But it's not just low paying jobs at Walmart.
Many large firms, online shopping outlets and previously uninterested industries are using temps, freelancers and contract workers as a means to an end. There's a huge demand from the health care sector (hospitals and doctor's offices), as well as from the legal, tech and graphic design industries. And staffing agencies have had to expand their reach in order to cater to all of them.
All of these strongly suggest a long-term trend. At least that's what Sunil Sani, Co-founder of Career Glider, believes.
"In today's environment, I think one of the best ways for a solid yet un-employed person to break into the job market," says Sani, "is through temping. At the very least, you gain insider insight from working at the company."
Sani's company was formed earlier this year to help people achieve their career goals by connecting them with the right courses at relevant institutions. The company believes that Americans are being left behind in the jobs race because they sometimes lack the skills necessary to succeed in the 21st century.
"I think it's important for people to take relevant classes in order to gain or develop those skills they are lacking," says Sani. "There are many opportunities out there where you don't need a four-year degree. Very often, a two-year degree, or even a series of courses, will be enough. "
For those who have such skills, there's no better place to seek temporary employment than from a Staffing Agency.
Temp Agency Business is Booming
Temporary employment is a career for Lisa Carver, Managing Director of Temporary Staffing at Execusearch's Parsippany, New Jersey office. Roughly 90 percent of her New Jersey office's business begins with temporary placement, Morgan Stanley being one of many clients she has dealt with over the years. Carver admits that the larger corporations often want better degrees, but she also deals with clients who are more willing to consider skills and experience above scholastic achievements.
Very often, as temporary employees prove their worth, they're converted into permanent ones. But not without serious effort. Many companies are putting temporary employment applicants through a brutal interview process, beginning with phone screens all the way through a series of three interviews -- even for a six-week gig.
"These days companies demand serious due diligence before they take on a temporary employee," says Carver. "That's why we screen people so carefully."
Although many of these jobs don't lead to permanent work (some will always be temporary), employment specialists like Carver agree that there's a method to the madness. Among the things her clients give consideration to:
Are they a demonstrated team player?
Do they have the required experience and skill set for the job?
Is the candidate willing to work consistent overtime?
Do they have the right personality for the company?
Can they present themselves in a professional manner?
This last aspect -- your ability to present yourself professionally -- is perhaps the most important trait of all at the outset. Can you remain calm during each interview? Can you communicate well? Can you look the interviewer in the eye? This last ability has become an increasingly important aspect in a time when the Ipad crowd seems to have forgotten how to remain focused when dealing with human beings.
"It's a deal-breaker," says Carver, "if the candidate has issues when it comes to personal presentation. The better you present yourself during the interview process, the better chance you'll have at getting hired."
9 Temp to Perm Tips
Being prepared and professional is just the beginning. Here are some tips that might help you get ahead in your goal for turning your temporary job into a permanent one.
Use your contacts. While you're looking for work (temporary or permanent), be proactive. Reconnect with former bosses and co-workers; they might prove invaluable when it comes to networking.
For higher-end jobs, college degrees are still important. It doesn't matter how good your skills or experience are. If the advertisement says they want a degree and you don't have one, your resume will get trashed and you'll look foolish for sending it. Don't waste your time -- move on to the opportunities that fit.
Be flexible. Demonstrate to your staffing agency that you're open to new ideas and new ways of doing things. This is especially true of those who are older and more experienced. Some companies want to make sure they're hiring people who'll go with the flow.
Do your homework. Temporary employees can take advantage of having a foot in the door. Being on site enables people to better identify which skills are required in order to become permanently employed.
Get to know the company. What kind of products or services do they offer? Who's the competition? The more you know about the business, the more valuable you become, and the easier it is for the agency to get you a permanent gig.
Start as you mean to go on. One way to gain an advantage when a permanent position opens up is to learn about your company's way of doing things: their brand, their values and codes of conduct. Beyond reading the company manual, which can be of help, one of the ways you can do this is to learn about the company's key players (yes, even those you might not click with). The sooner you understand the way things work, the faster you can discover if you fit in; if so, then you can figure out how to best stand out from the crowd.
If there's extra work to be done, volunteer to do it. Being willing to take on projects or tasks even if they're not your job shows a solid work ethic and flexibility. That's what companies are looking for. Just make sure it's in the spirit of being indispensable to your manager -- not a potential replacement for them!
Make an effort and let others get to know you. If you want permanent employees to treat you like part of the team, act like it. If you see they need help with something, offer it. Even if they say no, they'll usually open up to you and know they can turn to you if need be.
Let others help. Your staffing agency has an established relationship with the company (that's how you got hired). Let them be your advocate for a permanent position.
Disclaimer: I have no personal, professional or financial connection to either company/person interviewed for this article.
This post has been modified since its original publication.