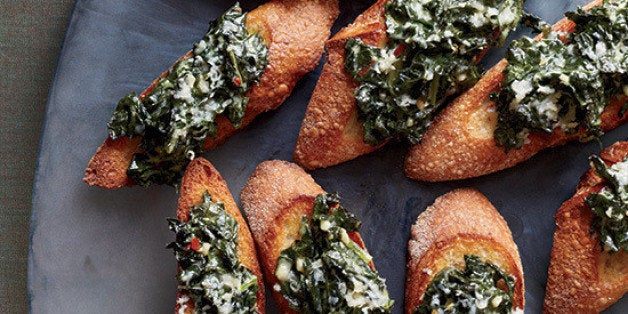 Kale salads are great—if you don't mind a little chewing. For a wintery alternative, slowly braise kale until it becomes soft and silky.
Whether it's bacon, pancetta, ham hock or chorizo, pork products + greens = magic. To keep the pork crisp and prevent it from giving away all of its flavor, cook it briefly first, remove it from the pan and cook the greens in the rendered fat, then return the pork to the pan at the end.
Hard Italian cheeses, like pecorino and Parmesan, are terrific with kale, seasoning the greens much like the pork and adding a little richness. Add it toward the end of braising.
3. With tomato paste and smoked paprika
For an umami-rich vegetarian version of braised kale, toast tomato paste for a minute or two until it darkens and add a pinch of smoked paprika to the braising liquid.
Another vegan umami-adding option: Sauté mushrooms (shiitake are especially flavorful) before adding some blanched kale.
To add some heat to your kale, sauté fresh chiles with onions and garlic or add pickled chiles right at the end. For a warm, lingering heat, make a broth with dried chiles to use for braising the kale.
6. With currants, lemons and olives
For a combo that hits a lot of spots on the tongue, add plumped dried currants, kalamata olives and lemon juice and zest soon before serving.
7. With anchovies and capers
Sauté anchovies in the oil to give greens a funky—not fishy—flavor. Add capers for a tangy pop.
For easy Asian-inspired greens, sauté ginger with garlic, then add soy sauce and sesame oil when the greens are done braising.
Creamed greens might seem old-fashioned, but they're no less delicious.
Related