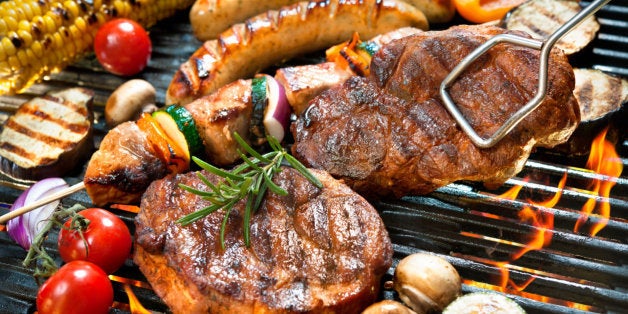 Summer is almost here, and with it comes the promise of plentiful backyard barbecues. This season, up the ante on your usual hamburgers-and-hot-dogs routine, and take inspiration from the Deep South, St. Louis and even Asia. Because when it comes to chilling and grilling, you'll want to satisfy all of your sunny-day cravings.
Spice up your next BBQ with a variety of different meats -- ribs, brisket, pulled pork and whole chickens -- as well as Thai spices, Korean flavors and Southern sauces. We've smoked out 9 dishes that are sure to keep you and your guests raving all the way to Labor Day:
Instead of throwing a hamburger on the grill, try preparing a pulled pork sandwich this season like the one at Sweet Cheeks Q, delivered on hot griddled Texas toast (extra thick sandwich bread) or a bulkie (a New England-style sandwich roll) with pickles and onions.
Why serve one meat option when you can serve multiple? Take note of Chicago q's popular BBQ Platter with pulled meats and half chicken or half slab, plus cornbread, coleslaw or fries on the side.
Maple Block Meat Co.'s signature sliced brisket sandwich with red cabbage slaw, pickled shallots and green sauce served with pickles and a side of mac and cheese is a true Southern BBQ feast.
Lo Spiedo puts its grill to full use, offering ½ chickens marinated with lemon and olive oil, as well as grilled octopus, striped bass, skirt steak and a whole grilled catch of the day.
Farmhouse Kitchen delivers Thai-inspired barbecue dishes, including chicken marinated in turmeric and coconut milk, cooked on bamboo skewers and paired with sides of papaya salad and black sticky rice.
Bar Bolonat brings Middle Eastern flavors to the table with a short rib dish served with couscous, almonds and herbs.
A crowd pleaser for meat lovers and vegetarians alike, Union Sushi + Barbeque Bar stacks its barbecue skewers with beef filet, shrimp, beef tongue, chicken thigh, prosciutto-wrapped scallops, squash and cauliflower.
Add some Asian flair to your next barbeque with inspiration from Koy's delicious Korean style bone-in short ribs, served with pickled daikon radish, sesame and green onion.
Adopting a smokey, St. Louis style of BBQ, Town Hall delivers ribs with BBQ sauce, corn muffins and Stevie's coleslaw, as well as grilled pork chops with grit cakes, summer beans and peach-and-rhubarb pepper jelly.