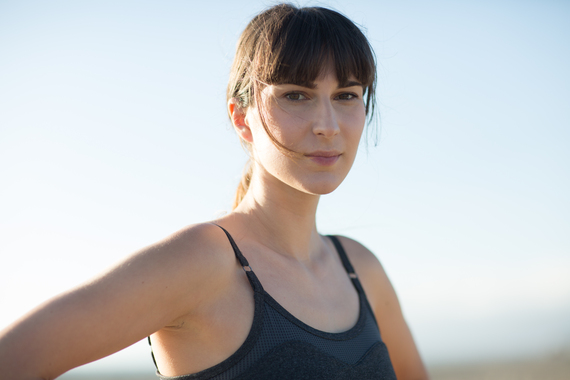 2016 is coming to a close but before we say "Hello 2017!" let's reflect on the positives. While this year might not have been your favorite, there were a number of wins for women's healthcare in the areas of breast and ovarian cancer. Here's the rundown:
1. Genetic Testing Is More Affordable For Those Who Need It
If your family health history or a conversation with your doctor has indicated you're at high risk for breast or ovarian cancer, genetic testing may be the right choice for you. Here's the good news: getting a test is more affordable than ever before. Color Genomics recently released a test for $249 than can, "accurately analyze a saliva sample for mutations in the breast cancer genes BRCA1 and BRCA2, as well as check for 17 other genetic variants that have been associated with a somewhat increased risk for cancer of the breast or ovaries." Before getting tested, make sure you check out these practical considerations.
2. Personalized Breast Cancer Treatment Gets Closer To Reality
In a recent study, researchers tested 560 breast cancer genomes from around the world, and found 5 new genes that could, "spur breast cells into cancer cells." This means that in the future researchers will be able to learn a lot more about individual cancers. "As we gather more data, we will learn more about each cancer and improve on our methods to treat everyone more efficiently and more effectively," says lead study author Dr. Serena Nik-Zainal of the Wellcome Trust Sanger Institute. This is a truly groundbreaking discovery.
3. 42% Fewer US Women Are Dying Of Breast Cancer
Sounds too good to be true, right? Guess again. According to data from the World Health Organization, in 39 out of 47 studied countries, breast cancer mortality rates have significantly decreased since the 1980's. Researchers think this is due largely to lifestyle changes like eating a healthy diet, and regular exercise. If you want to know more about reducing your risk of breast and ovarian cancer, Bright Pink can help you with that.
4. Doctors Test A New Approach To Ovarian Cancer
Could a change in protocol provide the breakthrough scientists need when it comes to ovarian cancer treatment? Dr. John Chan, of the California Pacific-Palo Alto Medical Foundation and the Sutter Cancer Research Institute and his team of researchers set out to answer just that. The team conducted a study to find out whether altering the go-to ovarian cancer treatment regimen (surgery followed by rounds of chemotherapy) might improve results and cut back on the chances of the cancer returning. The study consisted of one group of women receiving chemotherapy every three weeks (the standard) and another group receiving chemotherapy on a weekly basis. The second group of women were administered chemo in lower doses, however, over time, the lower doses added up to be slightly higher at the end of the month than the total dose received by women in the first group. The results were not as straightforward as Dr. Chan hoped but he's optimistic. "Clinicians don't make decisions based on one study," Chan explains. "But this study, combined with others, clearly suggests that weekly therapy should be an up-front approach for treating ovarian cancer."
5. Cobie Smulders Opens Up About Her Experience With Ovarian Cancer
Cobie Smulders, of "How I Met Your Mother" fame, shared her experience with ovarian cancer at the young age of 25. The actress, who is now 34, kept her diagnosis private until recently. By bringing the conversation to the mainstage, Smulders wants to encourage women to be proactive about their health, physically and mentally. Smulders maintains, "If you are going through something like this, I urge you to look at all your options. To ask questions. To learn as much as you can about your diagnosis. To breathe. To ask for help. To cry and to fight."
6. Bright Pink Launched ExploreYourGenetics.org
This year Bright Pink released a brand new resource working to fill a void by helping women better understand the genetic factors that contribute to breast and ovarian cancer in an accessible way. ExploreYourGenetics.org is a place where you can go to better understand the connection between genetics and breast and ovarian cancer, the various genetic testing options available, resources to inform decision making, how to navigate insurance and financial barriers, and just about anything else you might need to know on the subject. Genetic testing isn't necessarily the right choice for everyone, but now there's a resource to help you make the right decision for yourself.
7. The Inaugural United State of Women Summit
The White House announced the first summit early on this year with the theme "Today we change tomorrow." Several influential trailblazers and overall amazing people were present such as Oprah Winfrey, Kerry Washington, Cecile Richards, Indra Nooyi, Tina Fey, Jessica Williams, Laverne Cox, Meryl Streep, Tory Burch, Valerie Jarett, as well as President Obama and First Lady Michelle Obama. The United State of Women Summit was organized to rally women together in celebration of their past, present, and future. Bright Pink was honored to join these leaders in Washington to discuss important issues such as women's health and an action plan for how we're going to keep moving forward.
8. September was Officially Proclaimed National Ovarian Cancer Awareness Month
On September 1, 2016, President Obama officially released a presidential proclamation that September will be National Ovarian Cancer Awareness Month. "Each September, in honor of the women who have been taken by ovarian cancer and the brave individuals still fighting this disease, we reaffirm our commitment to carrying forward this important work." said President Obama. He continued, "We recognize those in the medical community who work tirelessly to provide treatment and care and pay tribute to those who have lost their lives to this disease. Let us resolve to increase awareness of ovarian cancer and shape a cancer-free future."
Fallopian Tubes May Have Big Role in Ovarian Cancer Fight
CNN reports, "Most doctors now believe there is little to lose by removing the tubes of women who are done bearing children -- and potentially much to gain in terms of cancer prevention." This is because some of the most aggressive ovarian cancers begin in the fallopian tubes. In the past, when a woman underwent a hysterectomy, the uterus and cervix were removed, but the tubes were left behind. More studies are needed, but this is big news for women with cancer and those considering hysterectomies.
These 9 wins give us so much hope for the future of breast and ovarian health. In 2017, find Bright Pink continuing to improve women's healthcare by educating more young women and health providers on breast and ovarian cancer prevention and early detection.
Popular in the Community