Your backyard may not be big enough for a swimming pool, but that doesn't mean you have to forgo the refreshing sounds and sights of water this summer. There are lots of fantastic ways to make a splash in a small outdoor space, from a peaceful pond to the funkiest of fountains. And if no good ideas are springing to mind, not to worry; we teamed up with Angie's List to bring you nine truly inspired water features that can help transform almost any backyard into an outdoor oasis.
1. Take Baths Under The Sky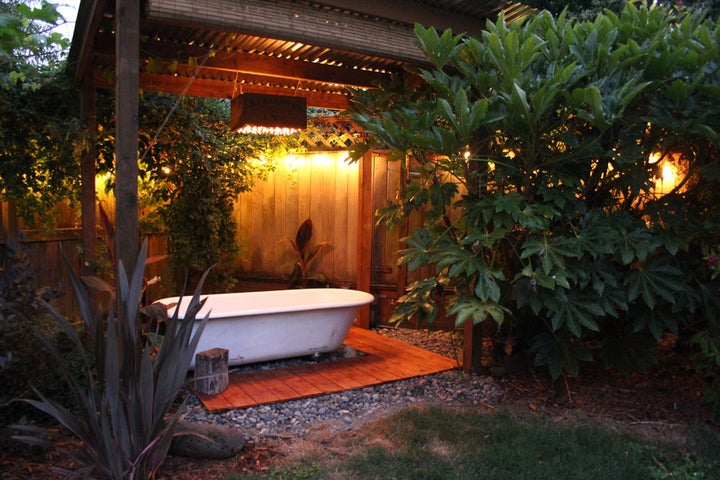 We're obsessed with this beautiful Portland, Ore., backyard retreat that creative director and writer Sloan Schang constructed for less than $1,000 using a salvaged clawfoot tub and minimal help from a plumber.

2. Pump Water Into Wine Barrels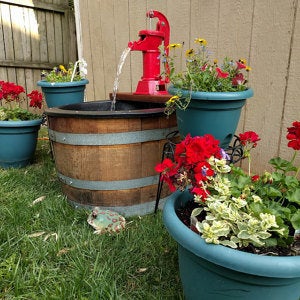 Wine and summer and backyards go hand-in-hand. The wizards at Eco Wine Furniture are here to help you work that idea into your outdoor decor. They created this water pump out of an upcycled wine barrel from Napa Valley (and do the same to build benches, chairs and chandeliers).

3. Make Guests (And Visiting Birds) Smile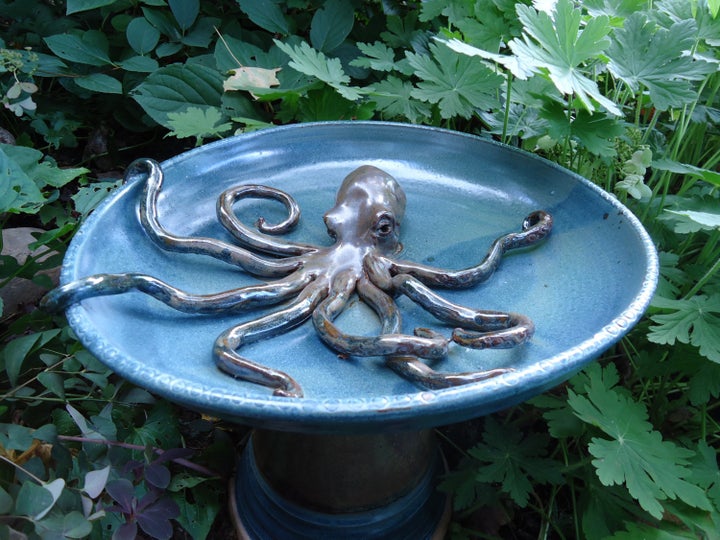 Even if you don't need an octopus-themed birdbath in your backyard, that doesn't mean you shouldn't have an octopus-themed birdbath in your backyard. Visit Andrea Hill Pottery to see this and more of her delightfully whimsical pottery.

4. Turn Dead Space Into Waterfalls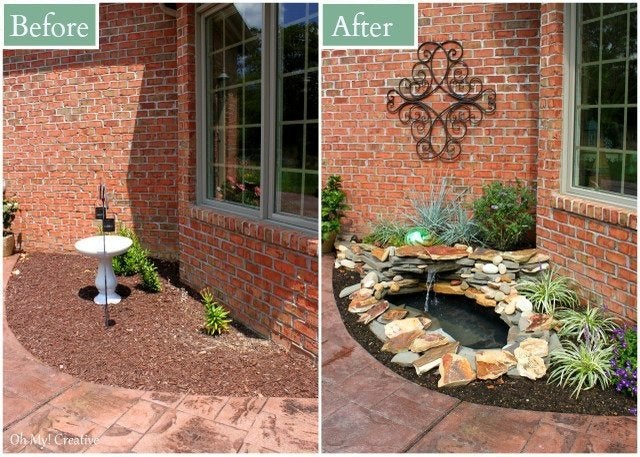 With hard work and less than $500, Susan Boroch at Oh My! Creative turned an unused corner outside of her house into a pond and waterfall. The water-feature tutorial is featured on her website.
5. Relax To The Soothing Sounds Of Water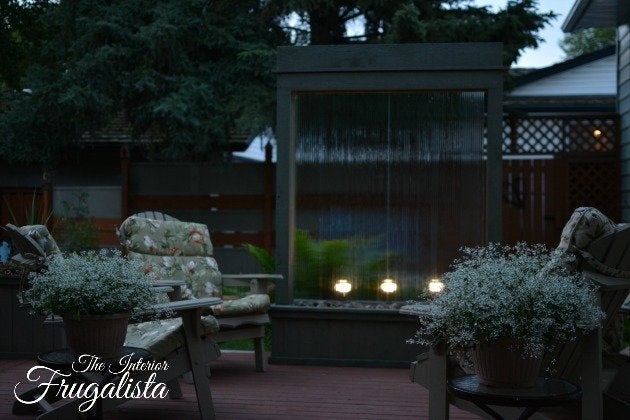 Don't only think of backyard water features as daytime decor. Marie from The Interior Frugalista built an illuminated water wall using little more than tempered glass, lumber and tubing. Step-by step-directions for the DIY project can be found on Marie's blog.

6. Beautify Your Backyard With Water Lilies And Other Aquatic Plants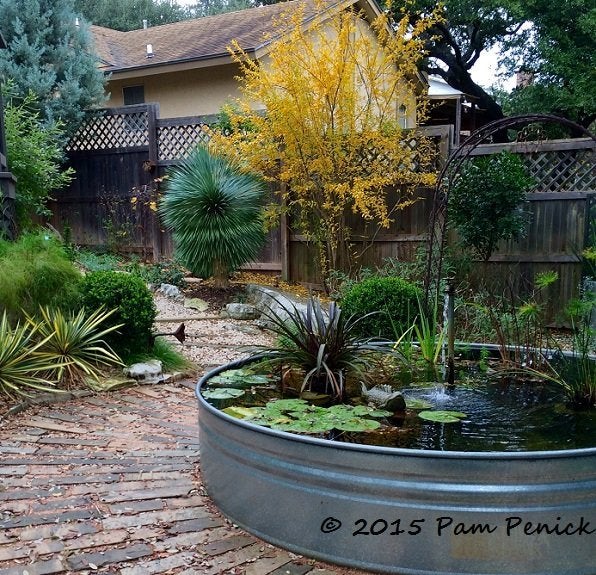 Claude Monet was on to something ― and so is Pam Penick, author of The Water-Saving Garden, with her DIY lily pond, adding leafy tranquility to any outdoor space. She provides detailed instructions on her blog, Digging, for water lily lovers who want to make stunning container ponds out of stock tanks.

7. Create Sanctuaries For Koi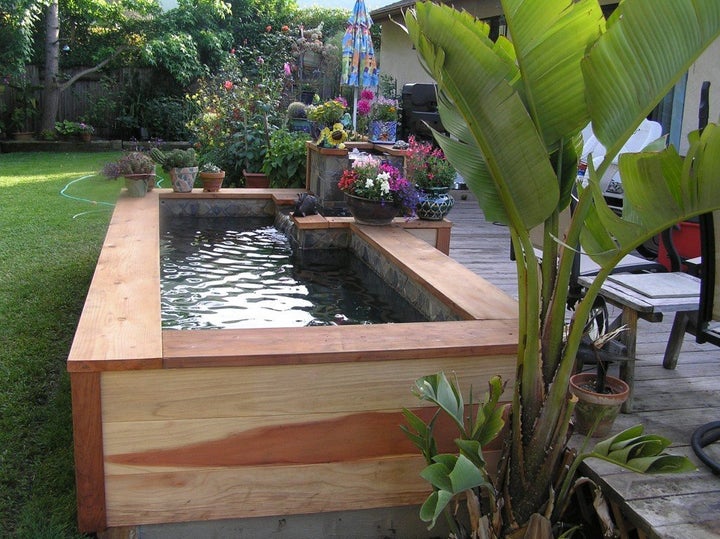 Using concrete, tile and redwood facade, landscape contractor Bruce Garcia of Garcia Rock and Water Design constructed this handsome pond filled with brightly colored koi carp.
8. Bring Art To The Outdoors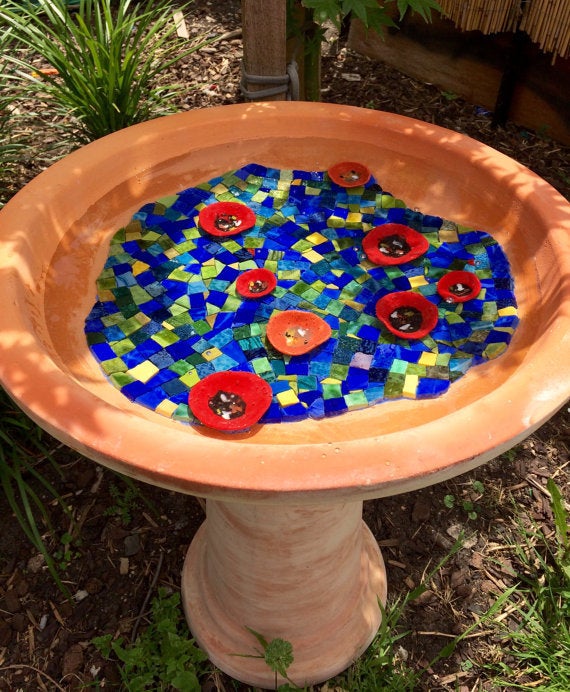 Australian artist Rebecca Naylor creates beautiful mosaic birdbaths, made from glass, pebbles, tiles and other materials, that she sells on Etsy. When the birdbath is filled, the sun plays on the water and colors come alive, Naylor says.

9. Salvage And Transform Sinks And Other Objects Into Fountains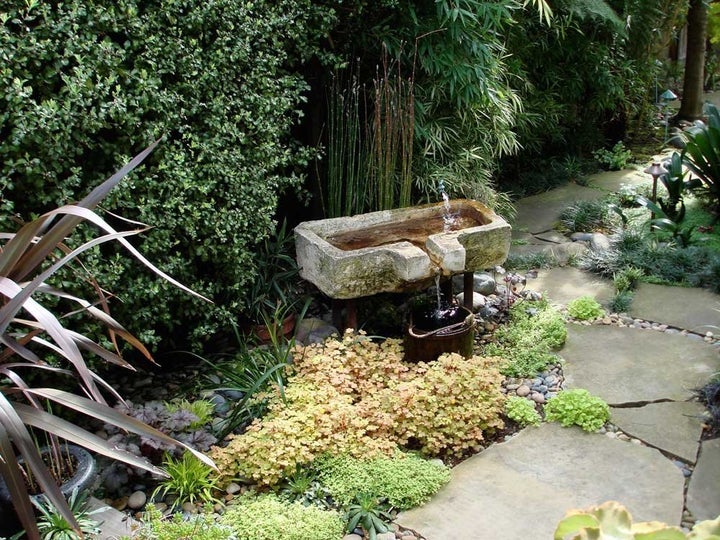 Artist, designer and builder Gary Marsh of Gary Marsh Design turned this more than 100-year-old limestone sink into a dramatic fountain that looks right at home in the backyard of his California client.
Angie's List is a leading provider of reviews, offers and information in over 700 service categories to help you improve your home. Finding a pro for a job well done is made easy online by visiting Angieslist.com.
Related