By now, you've probably seen a fair share of kids who dress better than adults. But have you ever seen a kid with an absurdly keen fashion sense who is also the CEO of his own company at age 9?
Meet Mr. Cory, founder and CEO of Mr. Cory's Cookies (yes, really.) The business- and sartorially- savvy pre-pre-teen became interested in fashion at the age of five, and runs a homemade cookie business with his mom based out of their New Jersey home. We had the chance to chat with Mr. Cory himself, who we met in line shopping for suits at J. Crew (again, yes, really.)
On what words he uses to describe his style:
Fashionable, fancy, different, BOSS, nice, and high quality.
On his favorite things to wear:
Suits, linen pants/shirts, glasses, sport coats, and Oxfords.
Zara, Ralph Lauren, Salvation Army, thrift shops, TOPSHOP and J. Crew.
On how his style has helped his business grow:
Presentation is the key to success. People first look at my style and ask "who dresses you? Your mom?" and my mom says "do you see what I have on? I need my son to dress me."
On why he started making cookies:
I wanted to buy my mom a car when we moved to New Jersey from New York City.
On the one thing every guy should own:
A suit, pocket square, and a classic watch! If you have that, you're good to go.
Check out Cory's Instagram for even more sweetness (get it?) and for information on his cookies, head here.
Before You Go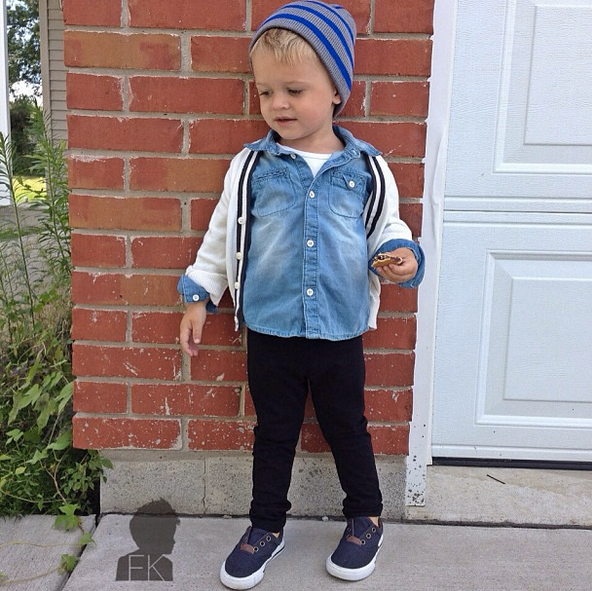 Fashion Kids, Instagram's Youngest Style Stars