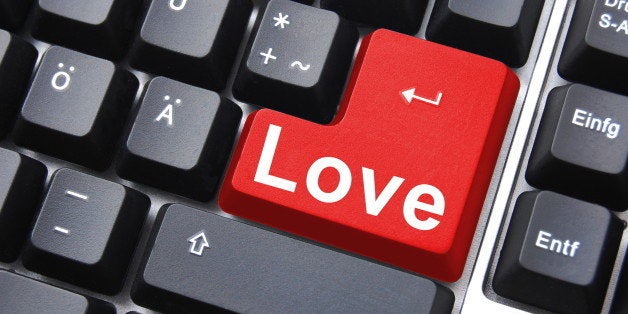 "We were just talking about you," my 90-year-old father's voice greeted me when I called. With the phone on speaker, my brother's voice entered the conversation, "I was just asking Dad how it feels to have a 70-year-old daughter." I sucked in my breath preparing for his good natured joking. This new milestone still felt like a millstone.
"I said you were a youngster," Dad continued. "At 70 I was playing tennis five times a week." I told him I had recently written those very words of his calling me a youngster.
"No wonder I'm getting all these messages," he laughed proudly. My father swears to receiving greater attention since I began writing about him. I wrote of returning to his home after an online date in Manhattan. When I unlocked the door, there stood my dad leaning on a wall, tears streaming down his face. In between bursts of laughter, he told me he'd prepared an online profile of his own: 90 year old looking for long term relationship.
"Tell me about the messages, Dad."
He said one came by anonymous text and read: "If every time I missed you, a star fell from the sky, the sky would soon become starless." I immediately thought of his beloved of 45 years. "It's from Lonnie!"
Mysterious sightings on his phone had occurred in the year since her passing. The most dramatic was her photo lighting up his darkened phone which lay untouched by human hands several feet away. The message could just as easily have been from me, as the sentiment fit the feeling of being 3,000 miles away as family gathered around him.
Attempting to discern voices was confusing as the phone was rapidly passed around the circle of family love in New York. It was a lively crowd with much laughter. But when my dad began to tell of a real life encounter the room grew quiet. My dad can tell a great story.
"There was this young blonde who was holding the door for me."
"A tattooed blonde," my brother broke in giving me a moment to picture both the door and the tattooed blonde as they discussed the accuracy of this fact among themselves. I could see the heavy wooden front door of his building in Forest Hills Gardens. With mobility often an issue as we age, a building without a ramp and several steps either up or down to access the elevator can be difficult. Dad maneuvers well both the door and the steps. Yet, how ironic that a man who worked much of his life as an advocate for the disabled should live in a building where access was so challenging.
Dad continued with his story. "The blonde who did have a tattoo was holding the door for me and asked my name. So I told her, I'm Ira."
"And I'm Eva." Dad imitated her flirty voice, "Ira and Eva. Nice. We make a good pair."
"No, it's Adam and Eva," dad corrected, flirting back.
"The heck with Adam," she teased, winking at my handsome father.
As he spoke the punchline, Dad's loving audience burst into riotous laughter.
"I'm getting all these messages and attention because of your blogs," he said with conviction. Personally I think it's because of his big heart but, for once I didn't argue with him.
After a lifetime of giving to others, I hoped he would continue to receive them. And if there is any truth in his belief, this one's for you dad: "I love you. Happy Father's Day!"
REAL LIFE. REAL NEWS. REAL VOICES.
Help us tell more of the stories that matter from voices that too often remain unheard.