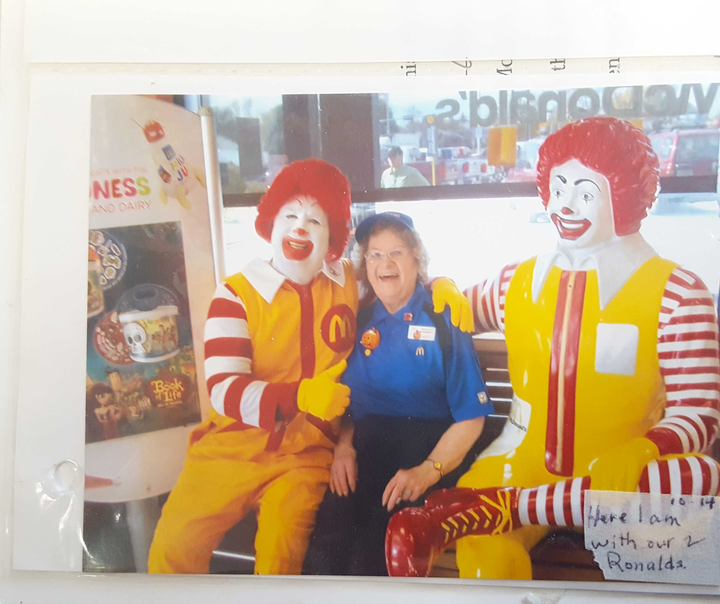 Alice Pirnie of Broken Bow, Nebraska, keeps herself pretty busy. When we first gave her a call, she wasn't there to greet us, but her voicemail message ― in which the 90-year-old assures, "Whether skies are grey or blue, it's always nice to hear from you" ― was.
That sunny disposition has followed her for 26 years as a greeter and cashier at McDonald's. Pirnie has worked the Broken Bow location since it opened on Dec. 2, 1992, and has only recently taken a break due to a grease fire at the restaurant in April.
"The lobby will soon be ready to open again, they're doing remodeling after the fire," she said. "I am anxious to get back to work."
Pirnie works a lunch shift on Tuesdays and Thursdays, and commutes on foot. "I live close, so I can walk unless it's a severe thunderstorm," she said. A recent storm forced her to drive, but the rain had stopped by the time her shift ended, so she walked home, forgetting completely about the car. "I went back into the store and told the young kids I work with that I forgot my car. One of the boys said, 'We didn't know you could drive!' Since they always see me walking," she said with a laugh.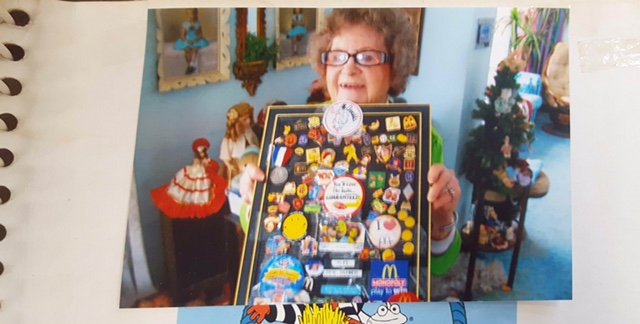 Nearly three decades working in hospitality and customer service sounds like it could really take the toy out of a happy meal. But not for Pirnie. A self-proclaimed "people person," she told HuffPost she couldn't think of one "worst" thing about working at the restaurant. "I love to take orders from people," she said. "If I ever have a customer that doesn't have a smile, I like to give them one of mine."
How does she do that? "By smiling lots," she said. "I smile at them until they finally smile back at me. I like to see happy people. Life is better if you can be friendly. To have friends you must be friendly. I just love seeing people."
"Life is better if you can be friendly. To have friends, you must be friendly."
She has kept a record of her time working there, or at least the first 10 years, keeping a scrapbook with news clippings from the restaurant's opening along with lists of states and countries her customers have visited from.
"I guess I'm kind of considered the unofficial historian of our Broken Bow McDonald's," she said.
Her love of people ― and working ― never wavers. When the question of retirement comes up, Pirnie said she doesn't think about it. "Every day I have is a gift from God," she said. "And I love to work. I'll keep on working as long as the lord gives me good health, and I will just keep on until he tells me it's time to quit."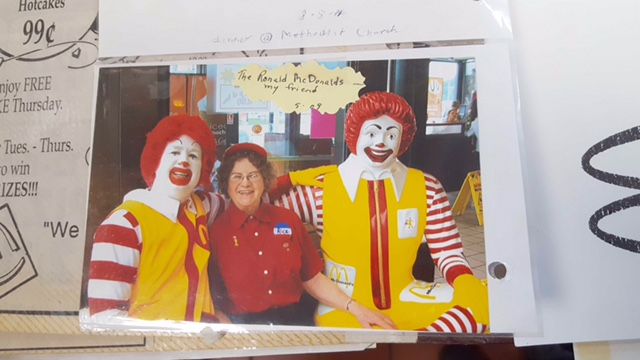 Her work ethic spans decades. She worked first as a teacher, then took some time off to start a family (she has four daughters, four sons-in-law and 11 grandchildren). After that, she worked alongside her husband in a rest home he built with four other men in Broken Bow, and also worked for 15 years at an assisted care and independent living complex.
That work ethic is something she passed down to her daughters. One has been an RN for 33 years, another a flight attendant for 31. They live all over the country, but recently reconvened in Broken Bow to celebrate Pirnie's birthday. The guest list consisted of "about 100 people," despite the fact that it was Easter weekend.
""If I ever have a customer that doesn't have a smile, I like to give them one of mine.""
Stories about people who live to Pirnie's age and beyond sometimes point out a dietary secret to longevity, like bacon or wine. Pirnie didn't get into the specifics of her diet, but she did share some favorite items on the McDonald's menu ― she gets a free meal every shift.
"I love the buttermilk crispy sandwich," she said. "I like the Quarter Pounder, we have very good salads, and our chicken strips are good. I think all our food is good. I like our sausage biscuits and Egg McMuffins. It's all good."
"It's all good" sounds as much about Pirnie's outlook on life as it does a fast-food menu. And we could all stand to be reminded of that every so often, right?
Before You Go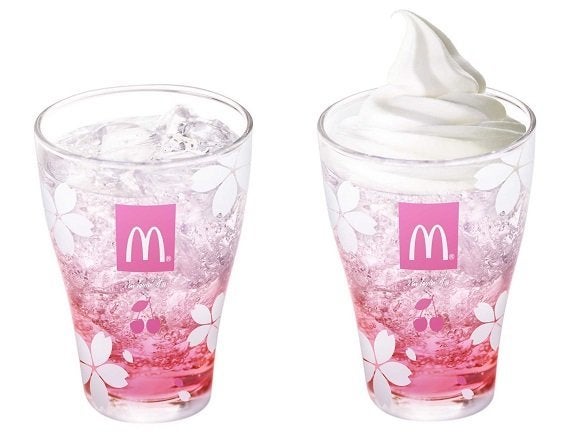 McDonald's Best Creations Overseas