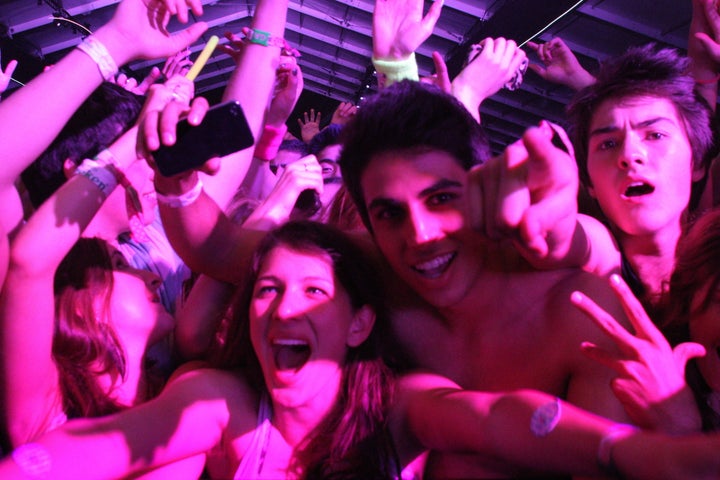 When people think of '90s Britpop, four bands usually spring to mind: Oasis, Blur, Pulp and Suede. Oasis and Blur made it into the U.S. pop charts with hits like "Wonderwall" and "Song 2." Pulp had a sizable fan base in college radio crowds. Recently, they received the adoration of hipsters everywhere by being prominently featured at this year's Coachella festival and cruise. But what of my beloved Suede?
Whether they wanted to or not, Suede found themselves championing the Britpop movement. In 1992, Brett Anderson appeared on the cover of Select magazine emblazoned before the Union Jack with a headline reading "Yanks Go Home!" As the Britpop scene grew, Suede tried to distance themselves.
Suede has always had a turbulent relationship with the U.S. In 1994, a lounge singer from Maryland sued the band over the use of the name "Suede." Thus, Suede was then to be known as "the London Suede" in America. They were not happy about this decision. In 1997, the band's gear was stolen after a show in Boston. Suede had a small but devoted following in America but unfortunately they just seemed to have bad luck. Due to the lack of Suede coverage in the States, they were one of the last "big" Britpop bands that I discovered as a teenager.
Suede isn't for everyone. Brett Anderson's voice can be high and nasally, similar to Brian Molko from Placebo. Their last album, 2002's A New Morning, was a critical and commercial flop. Music fans eventually got to the point where Suede was either forgotten or not taken seriously. But if Smiths-inspired jangly guitars are your thing, read on.
It's best to start at the beginning. Bands' initial releases are often their most earnest and it's no different in the case of Suede's 1993 self-titled debut. Suede is dripping with everything that would become the group's lyrical calling card: drugs, sex, androgyny and gritty London life. The album's cover depicts two people of indeterminate gender kissing. On "The Drowners," Anderson ruffles the feathers of conservatives everywhere with the line, "We kiss in his room to a popular tune." The song title "Animal Nitrate" is a play on amyl nitrate. The chorus of "So Young" goes, "We're so young and so gone, let's chase the dragon."
The music itself is still fresh and exciting in 2012 so I can only imagine how it must have sounded to listeners in 1993. The Smiths' Johnny Marr heavily influences Suede guitarist Bernard Butler. Though never as glam as their Welsh contemporaries the Manic Street Preachers, it's clear that Suede are graduates of the school of David Bowie. A mess of eyeliner and spray paint they're not but there's glitter in Suede's veins. But it's not all a Britpop glam fest -- songs like "Sleeping Pills" and "Breakdown" are sprawling sonic masterpieces.
After Suede, I suggest you skip ahead in the back catalog to 1996's Coming Up. It was arguably Suede's most commercially successful record featuring hits like "Trash" and "Beautiful Ones." It's the ultimate Britpop party record. Still rife with references to sex, drugs and council estates, it's the sound of a band that has matured. It was the first album to feature the new Suede lineup: guitarist Richard Oakes and keyboardist Neil Codling. Like Suede, Coming Up features ballad-esque songs in the form of "Picnic By the Motorway" and "The Chemistry Between Us."
Next, I recommend Suede's 1994 release Dog Man Star. While I believe it's one of the finest records of the '90s, this album always seems to divide Britpop fans. Some love it while others think it's just another bloated rock record. If you've made this far into Suede's back catalog, chances are you'll love it. It features rocking anthems like "We Are the Pigs" and "New Generation" but also some of Suede's finest ballads. "The 2 Of Us" is a piano-based tune about the plight of the lonely housewife. "The Asphalt World" is a sweeping epic about a former lover. Sure Oasis gave us "Wonderwall" but "The Wild Ones" comes out on top as Britpop's best love song.
It's unconventional but I next recommend acquiring Suede's 1997 B-side compilation Sci-Fi Lullabies. Songs like "Killing Of A Flash Boy" and "My Insatiable One" have become hits in their own right. There's beauty to be found on softer tracks like "These Are the Sad Songs" and "Another No One." Songs like "W.S.D." and "Europe Is Our Playground" foreshadow the type of sound explored by Suede on 1999's Head Music. Sure, some of my favorite Suede B-sides are absent from Sci-Fi Lullabies but overall I find this to be a comprehensive collection of Suede's non-album tracks. Strikingly absent is "Stay Together," the A-side without an album. Released on Valentine's Day 1994, it is one of Suede's finest moments. Be sure to acquire the eight minute version on the Stay Together EP for the full effect.
When Suede played Coachella in 2011, they didn't receive the type of attention that Pulp received at the 2012 festival. The closest we north American Suede fans will get to our beloved band is Mexico's Corona Capital Fest in October. The band is working on new material so here's hoping that in 2013 Suede will return to the U.S.
Listen to Kayley's Suede playlist here.
Calling all HuffPost superfans!
Sign up for membership to become a founding member and help shape HuffPost's next chapter