As our situations in politics, climate change, global diplomacy, and social discrimination continue to grow more complex and embittered, sometimes our only refuge is looking back at the '90s, a simpler time. This is especially true in the context of feminism -- where in 2015, "feminist" is apparently a dangerous thing to call yourself, especially online -- the '90s was its own women's movement. Though feminism at the beginning of the Third Wave wasn't perfect or all-inclusive, it paved the way for important social progress in the treatment of women. Girl power, as a significant movement for the empowerment of women and girls of all ages, found its way into our lives through all sorts of media, and it was notably free from the misogynist backlash we experience today. Let's all reminisce about this mostly wonderful era and try not to think about how much we've regressed in terms of this millennium's media feminism.
One of the most essential deployments of girl power on screen was the sudden plethora of '90s women as witches, in film and on television. In these narratives, women and girls were the wielders of supernatural powers, often relying on female bonds to strengthen and hone their skills. Prominent examples in this vein include Sabrina the Teenage Witch, The Craft, Practical Magic, and Charmed. Their lives were not viewed through the lens of a romantic relationship, but rather through their relationships with other women, their powers, and the world around them. In a world where women lacked social power in reality, the supernatural abilities projected onscreen offered a more empowering alternative.
10 Things I Hate About You
Though this title is often dismissed as a chick or teen flick, it contained the '90s in a nutshell and featured a staunchly feminist protagonist who might only grace today's films as a "feminazi" joke character. Kat was part of a line of more positive representations of women that dominated the screen at the time, moving beyond the John Hughes romantic imperatives of the '80s in favor of a more individual woman who actively avoided being distilled into the girlfriend role. 10 Things I Hate About You also provided an excellent feminist reading list and music collection through reference. Basically, we all wanted to be Kat, who managed to stick to her feminist morals throughout the film and eventually found a way to fit a relationship with the oh-so-dreamy Heath Ledger into the equation.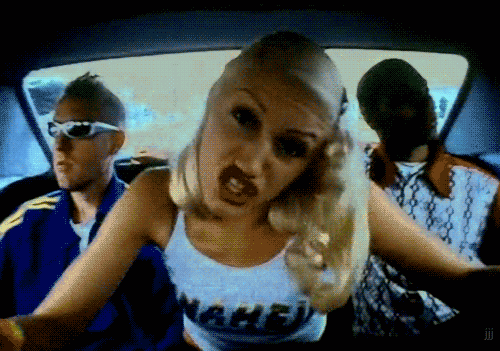 Esteemed frontwoman of the amazing No Doubt, Gwen was a big punch in a pint-sized package, rocking bellybutton rings and red lipstick and leading a group of men to the top of the charts throughout the '90s and early 2000s. Her strongest work is with 1996's "Just a Girl," from Tragic Kingdom, which questions the antiquated gender roles that still trapped women of the '90s. Other standouts include songs like "Simple Kind of Life," and "Marry Me," from 1998's Return of Saturn, placed the female subconscious center stage in a diary format.
From the angry mouths of all-girl underground hardcore punk band/zine makers Bikini Kill in the early 1990s came the riot grrrl movement, which spawned numerous bands and a thriving DIY subculture including zine production and political activism. Riot grrrls in local scenes often organized meetings to support the works of other women in music and art. Grounded in a rising consciousness stemming from attacks on legal abortion to Anita Hill's revelatory accusations of sexual harassment, this movement had a message: songs from this era were socially conscious and dealt with rape, violence against women, patriarchy, sexuality, racism, and female empowerment. See for inspiration: The Riot Grrrl manifesto. Where are the millennial riot grrrls?
Bow down to the queen, people. In the '90s, Daria was the resting-bitch-face heroine for the unenthusiastic and brainy. With her ass-kicking boots, pro-level sarcasm, and BFF Jane, Daria made witty misanthropy look awesome.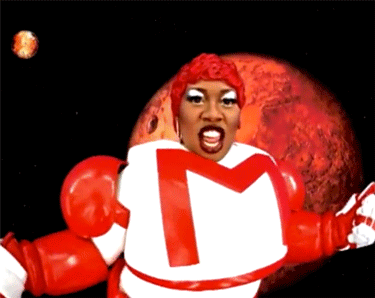 The 1990s saw women of hip hop bust onto the scene, tired of being misrepresented by their male counterparts. They combined social messages with popular music and spread their gospel far and wide. Pioneers of this badass time in music include Queen Latifah, Lil Kim, Missy Elliott, Salt-N-Pepa, Lauryn Hill, Erykah Badu and many, many more. They made a lasting mark on hip hop and on feminism with their unapologetic, table turning lyrics.
While this show was primarily aimed at a quite young population, Miss Grotke forgot the target audience on the regular. So basically she's amazing.
Xena, a ruthless, badass woman fighting against the gods and warlords. Need we say more?
Also, her badass sidekick Gabrielle could certainly hold her own against the raging warmongering men. Best friends and partners in battle they took care of business like no other.
Denise Bryson in Twin Peaks
The character of Denise is an awesome positive representation of trans women in the early '90s. And the best part? All of the other people in the show are just like, "OK, cool." We think society could learn a thing or two from this scene.
For bookish, nerdy girls growing up in the 1990s, Hermione Granger was the heroine we needed. Smart, capable, and always ready to lay down the law, Hermione showed us that girls can be just as tough as boys, all while holding onto a book.
Joey and Jen on Dawson's Creek
While it may have been a show situated on Dawson Leery's existential angst over his future film career, the girl across the creek, or the enigmatic "bad girl" next door, the women in this show had the men by the balls. Joey may have been pining for life-long best friend Dawson, but she wasn't willing to put up with his bullshit. She routinely called out all the guys on their patriarchal crap and was willing to walk away from them both to put herself first. Jen, at first glance was the fast and loose New Yorker, but she went from trying to hide her past to embracing it full out. Yeah, OK, so she got busted having sex and doing drugs in her dad's bed, but a big screw you Gran, Dawson, and anyone else who is going to look down on her for it. Nobody slut shamed Jen and got away with it.
The Last Scion & God in Dogma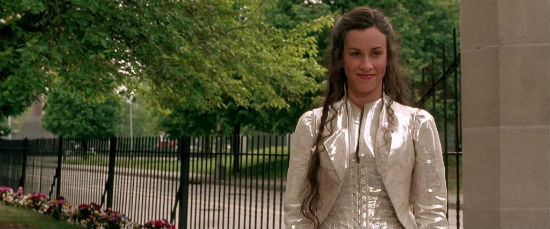 There likely has never been a better movie about the complicated relation between religion and belief than Dogma. It also featured some badass ladies, including God Herself played by Alanis Morrissette who liked to head to the Jersey Shore and boop people on the nose. The last scion was the modern day "virgin" Mary who though she used to work in an abortion clinic and had some mega-beef with theology she accepted her role in having to save the world from the tragedy of the male ego. While she ends up self-sacrificing, the most important thing is that it's her choice that saves God Herself, Heaven, and the next generation of Scions. So basically while the dudes were all stuck in their drama and dogmas, the ladies were fixing the world above and below.
For us '90s girls, the Spice Girls were our first taste of Girl Power and the feminist movement. While each had a specific niche and "type" of female they portrayed, they always made sure we knew that together, women could do anything (especially drive a double decker bus over a moving drawbridge). In a male-dominated culture, they weren't afraid to bring the Girl Power to the forefront. They were sassy, fun and able to take on the world (and we're still secretly wishing for another reunion tour).
In the late '90s women artists were huge. They were so big that they had a festival all to themselves including some of the biggest names of the day: Paula Cole, Sarah McLachlan, Tracy Chapman, Meredith Brooks, Jewel, Indigo Girls, Emmylou Harris, India.Arie, Shawn Colvin, Lisa Loeb, and the list goes on. These women were proving that you didn't have to be bubble gum to be popular (but it was cool if you were), girls CAN play guitar, and that women's music is more than just pining over some guy. These festivals were a place for women to flock to listen to amazing music, be supported by fellow women, and raise over $10M for women's charities without any of the aggro-bro-rock-violence.
Buffy The God Damn Vampire Slayer
Buffy Summers: Valley Girl, Cheerleader, Fashion Obsessed, Boy Crazy, and not the most academic girl in school. Buffy Summers: the Slayer, protector of the Hellmouth and the World, leader of the Scooby-Gang, tragic love life, big sister and orphan, and has the entire weight of the world on her shoulders. Buffy is one of the best examples of how a woman is not defined by the length of her skirt or the twirl of her hair, it's her actions, day in and day out that prove her worth. Buffy, while literally the strongest of the strong, was constantly struggling to deal with the weight of her responsibilities, her femininity and sexuality, and the know-how that nothing and no one would ever save her besides herself. For all of her supernatural abilities, she was tragically human, made bad decisions, learned from them and proved once and for all that a "strong heroine" doesn't mean perfection -- it's just someone who always gets back up and keeps trying.
One of Jessica Alba's first big roles, Max was a chimera created in a lab to be a soldier. Told in the setting of a post-apocalyptic Seattle, we watched Max go from cat burglar to hero for the downtrodden, and she loved to kick ass with her cat-like senses.
VH1 Divas Live "Save the Music" Concert
Not one to rest on their lady laurels (or to hesitate to cash in on a fad), VH1 brought together the biggest female voices in music. And when we say big we mean, the women with the pipes to rival St. Patrick's Cathedral. These concerts were designed to raise money to "Save the Music" but more than anything they gave you hope that the days of good ol' fashioned home grown vocals had not all gone the way of the synthesizer. Featuring the likes of Aretha Franklin, Mariah Carey, Celine Dion, Whitney Houston, Cher, Tina Turner, Chaka Khan, Faith Hill, Destiny's Child and many more, it was a helluva salute to the (literal) power of female voices.
Sex and the City could not have been a more appropriate ode to the '90s if it tried. It is the quintessential look at the money and glamour of Manhattan before 9/11 and the Wall Street crash. And for all its absurdly terrible life choices (seriously Carrie, learn to fucking budget), it was at its core a testament to female friendship. Maybe the core four became THE stereotype for women and it horrifically idealized a life in NYC that only exists for the 1 percent, but you couldn't help but admire the stories of four very different women supporting and loving each other throughout their lives. As Carrie says (many, many times) jobs, men, and even shoes come and go, but your best female friends never die. (Or maybe we're paraphrasing The Sandlot. Oops.) The fact is most TV shows focus more on pitting women against each other for the attention of a man, and S&C gave that the middle finger. Chicks B4 Dicks, ladies.
The only female of "Team Rocket," Reggie (Regina) is a kick-ass athlete and the publisher of her very own magazine, oh so cleverly and punk-ily(?) named "The Zine." She's known for her curly purple hair, yellow helmet, and red sunglasses paired with the famous rocket t-shirt, camo pants, and turquoise gloves. The girl is a fashion statement on wheels, but don't underestimate her. She can more than hold her own on the halfpipe, proving to tomboys everywhere that beauty and brains don't have to be sacrificed to performing sick tricks on the boardwalk.
Lorelai Gilmore, Gilmore Girls
OK, yes, Gilmore Girls didn't begin airing until October of 2000, but it is without equivocation that this show would never have been greenlit if it weren't for the '90s feminism that paved its way. Its precursors showed the media industry that a show ALL ABOUT WOMEN run BY WOMEN that wasn't about their super explicit sex lives or their naked boobs could not only be made but become beloved. Lorelai Gilmore was the former teen mom who made the unapologetic conscious decision to be a single mom because she knew the alternative was not what was best for her, no matter how much it bucked societal norms. She lived in a small town of busybodies and yet was 100 percent committed to being who she was. You're damn right she dated and had sex, and while she sheltered Rory from it as a kid, she was never anything but upfront about it either. She encouraged Rory to be smart, resilient, honest, and true to only herself. Lorelai may have been bossy, kind of crazy, and had more family baggage than an elephant could carry, but she was one of the most realistic female characters ever seen on TV. Also, girl could eat.
This list shows just a few of our favorite moments of 1990s feminism in mainstream media. These ladies represented a politically forceful yet more socially accepted version of feminism than we experience today, even as the movement grows to become more inclusive. Was '90s feminism ahead of its time, or have we regressed as a culture?
What are some of your favorite feminist heroes in 90s music, film or television? Tweet us @litdarling and let us know!
Originally posted on Literally, Darling an online magazine by and for twenty-something women, which features the personal, provocative, awkward, pop-filled and pressing issues of our gender and generation. This is an exact representation of our exaggerated selves.
Like Us On Facebook |

Follow Us On Twitter |

Contact HuffPost Women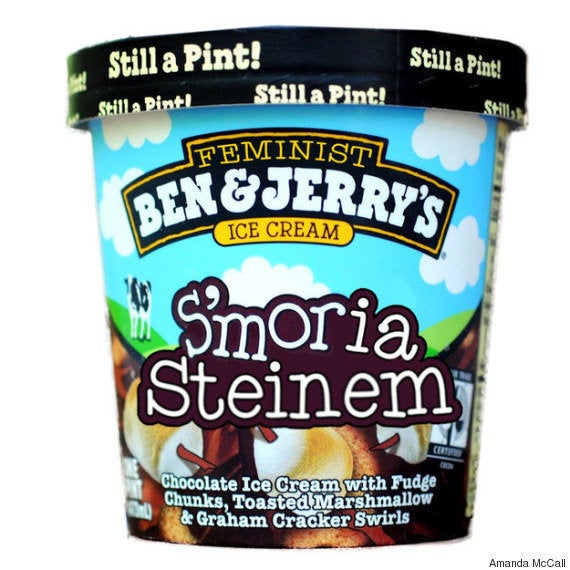 Feminist Ben & Jerry's Ice Cream Flavors
Related
Popular in the Community