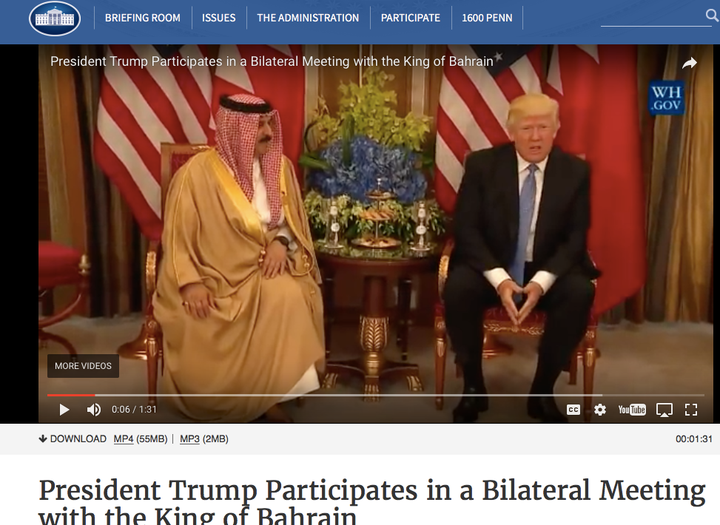 The clip is only a minute and a half, but the White House video of President Trump meeting the king of Bahrain last week caps years of misguided American policy on the kingdom. It's also been followed by a sharp, violent attack on internal dissent against the monarchy.
In the film the pair sit awkwardly and exchange stiff, stilted conversation, but Trump's message is clear. "Our countries have a wonderful relationship together, but there has been a little strain, but there won't be strain with this administration," he said, suggesting Bahrain is about to enjoy a new era free from White House criticism of human rights abuses. "We're going to have a very, very long-term relationship. I look forward to it very much - many of the same things in common," said Trump.
Two days after the meeting Bahrain's security forces attacked an 11-month protest near the house of senior Shia cleric Sheikh Isa Qassim. Demonstrators had gathered to protect the cleric after his citizenship had been stripped last June. Five people were killed in the attack, and hundreds arrested.
Reports from multiple credible sources say detainees have this week been electrocuted and threatened that their family members will be raped. Torture is not new in Bahrain, but this week has seen a sudden and dramatic surge in the targeting of activists. The new assaults on dissent have, say some, been enabled by Trump's message to the king.
Local activists tell me they are "terrified" by the new context, and report that human rights defender Ebstisam AlSaegh had to be hospitalized on Friday after severe pressure was exerted on her during an eight-hour interrogation. "I know that the situation has changed a lot from the previous times, according to the testimonies from many human rights activists in this period," one told me. Internal critics of the monarchy (and external ones, including myself and other international human rights observers) are conveniently and simplistically dismissed as agents of Iran.
A lack of meaningful censure from foreign governments has enabled Washington's military ally to crush its political opposition and attack its leading dissidents for years. Prominent human rights leaders including Abdulhadi Al Khawaja, Nabeel Rajab and Naji Fateel are in prison. Other leading activists have been forced into exile. No-one arrested this week can expect to get a fair trial.
The Obama administration's response to Bahrain's human rights abuses was often weak, and two years ago next month it lifted holds on arms sales to Bahrain's military, bafflingly citing "meaningful progress on human rights reforms." Within weeks of the move peaceful opposition leader Ibrahim Sharif has been rearrested. Last year Sheikh Ali Salman, leader of the main opposition group Al Wefaq, was jailed and the group dissolved. But while the Obama administration offered only sporadic criticism of Bahrain, there were times when it did speak out. Since Trump's election win things have become undeniably worse.
This week's attack has left much of the country more frightened than at any time since the large-scale violent repression of 2011, and several activists have told me in the last few days they are braced for a large-scale roundup of critics.
Parliamentary elections are due to take place next year, but it's impossible to see them being anything more than an oppositionless charade. Bahrain's ruling family appears to have no more sophisticated policy than to stamp out all dissent. President Trump looks unlikely to try to stop them.
Popular in the Community