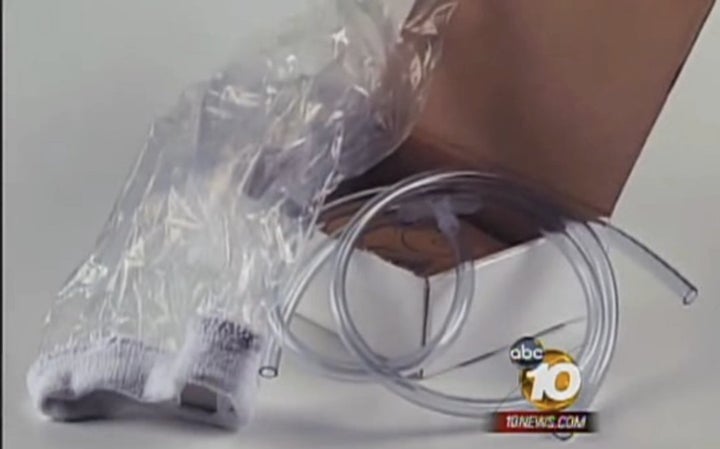 A 91-year-old California woman selling do-it-yourself asphyxiation kits for $60 apiece says business is booming since a depressed but otherwise healthy young man used her product to kill himself in Oregon.
Notoriety surrounding Sharlotte Hydorn's home-based mail order operation near San Diego and the December suicide of one of her customers, Nicholas Klonoski, 29, has also sparked a move in Oregon to outlaw sales of such devices.
Oregon and Washington are the only two states with laws on the books legalizing physician-assisted suicide for people with incurable, fatal illnesses.
The Oregon Senate earlier this week passed a bill to make it illegal to sell or market products like Hydorn's in the state. The chief sponsor, Democrat Floyd Prozanski of Eugene, expects the lower House to vote on the measure by next week.
Prozanski said he worries about individuals who impulsively order a suicide kit "as a permanent solution for a temporary problem," and was especially concerned about minors.
He stressed that his bill would leave intact Oregon's landmark 1997 Death with Dignity Act, which allows physicians to prescribe life-ending medication to terminally ill patients. A key provision of that law, however, requires patients to be physically capable of administering the drug to themselves.
State records show that 525 Oregonians have ended their lives under the act since 1997.
Hydorn says her product, consisting of a plastic hood that closes around the neck and tubing that connects the hood to a tank of helium or other inert gas, is intended to help terminally ill people end their lives with dignity in their own homes. Patients have to acquire the helium themselves.
A tall, sturdy woman for her age, with sun-worn skin and lively brown eyes, Hydorn acknowledges that she does not screen or ask questions of those ordering the kits, which she sells with instructions.
She confirmed from her records that Klonoski did purchase one of her kits last June, though he gave no reason.
But she rejects criticism that she is indiscriminately peddling death to people who may be emotionally vulnerable rather than terminally ill.
"I don't call them suicide kits, I call them exit kits," Hydorn said. "They're for people who want some control over their lives, including control over how their lives end."
She sells the kits under the brand name GLADD, which stands for Glorious Life and Dignified Death. She declines to say how much she earns from her business but denies that she makes as much as $98,000 a year, as some reports have suggested.
A retired science teacher who collects a pension and income from several rental properties, Hydorn said she became interested in helping the terminally ill after losing her husband to colon cancer in 1977.
"I'm not in it for the money -- I have a huge number of checks I didn't even cash," she said.
Hydorn had been quietly selling the kit for about 20 years and said she is uncomfortable with the recent burst of publicity. Sales have risen sharply as a result of the media attention stemming from Klonoski's death and reaction to it in the Oregon Legislature.
"I had two or three orders a month, maybe 25 a year, until all this happened," she said. In the past month, "all hell broke loose, and I've gotten more than 100 orders, 70 or 80 of them from Oregon."
Klonoski's younger brother, Zach, sees the situation differently.
"With the sale of these helium-hood kits, the GLADD company smashed my family into a million pieces," he said in recent testimony before the Oregon state Legislature.
Hydorn said she delved into the subject after reading Derek Humphrey's book, "Final Exit."
"We treat animals better than we treat dying people," she said. "They keep people alive and do terrible, painful things to them because we can't let go and patients just become cash cows."
Hydorn said she adapted her "exit kit" from designs she first saw at a Hemlock Society meeting in the 1990s.
Hydorn said she will use one herself if it's called for.
"I don't want to end up helpless," she said. "It's all right if people don't understand."