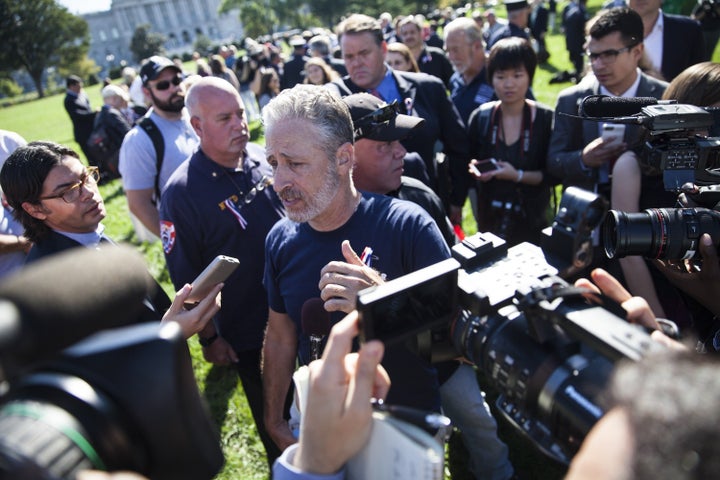 WASHINGTON -- Over 14 years after extremists hijacked airplanes to perpetrate the worst terrorist attacks on U.S. soil in history, Congress voted Friday to permanently care for the thousands of police, firefighters and construction workers who are sick or dying because they responded to those attacks.
The 9/11 provision will spend $3.5 billion on health and extend the World Trade Center Health Program until the year 2090. It will also spend some $4.6 billion to extend the Victims Compensation Fund for five years and make up for a significant shortfall in the 9/11 bill that passed five years ago.
Like this version of the bill, the original measure passed at the last minute after a period of great uncertainty as Congress was leaving town for the year.
There was an unmistakeable air of relief as sponsors of the legislation hailed their success.
"Passage of the Zadroga bill was a long, hard fight for the brave cops, firefighters and construction workers who put their lives and health on the line at ground zero," said Rep. Pete King (R-N.Y.), who had to corral fellow Republicans to back the bill and cajole party leaders to ensure it got done.
By the time the measure passed Friday, separate bills that would have made the entire program permanent had attracted 272 sponsors in the House and 69 sponsors in the Senate. But that legislation never advanced.
But finally, anyone who suffers illness from their 9/11 service will have guaranteed medical care. And there will be compensation available to the families of anyone who becomes ill or dies in the next five years.
"After 15 years, the heroes and survivors of 9/11 will know that their health care is permanent and their compensation is full," said Rep. Carolyn Maloney (D-N.Y.), the bill's lead sponsor in the House, crediting the work of the responders for shaming Congress into action.
Sen. Kirsten Gillibrand (D-N.Y.), the bill's lead sponsor in the Senate, expressed a similar sentiment, emphasizing that the 9/11 responders who'll benefit from this legislation had to fight an uphill battle to secure it.
"This victory belongs to them," Gillibrand said. "While this should have been an easy moral question for Congress with an obvious answer, our first responders were more than ready to stand up and fight for what they deserve, and today they won."
More than 72,000 victims and responders hailing from nearly every congressional district in the country are being monitored for 9/11-linked health problems, and more than 33,000 are already known to have at least one 9/11-related ailment.
Support HuffPost
The Stakes Have Never Been Higher
Popular in the Community