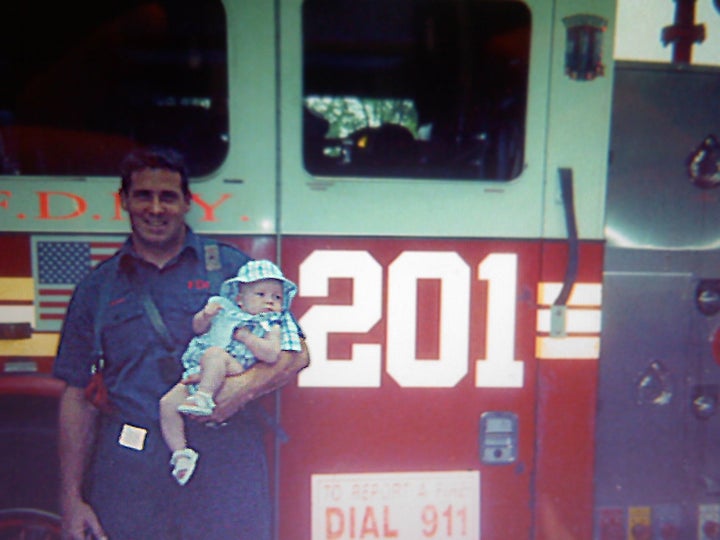 Mike Burke was enjoying a round of golf with fellow firefighters when two hijacked planes struck the twin towers ten years ago.
"We immediately left to go to the Trade Center," said Burke, then with Engine 201 of Sunset Park, Brooklyn. He spent the rest of that day -- and much of the night -- laboring in the cloud of dust and debris at ground zero. He returned to the smoldering site again every day for the next two weeks, and then three days a week until February 2002.
Like so many others who worked at or lived near ground zero, Burke, 39, is now dealing with a lengthening list of health problems, the most troubling of which is kidney cancer. Officials originally told him the disease could not be tied to his time at ground zero.
"They said that there are no studies out there that can support it. I said, 'No shit, there are no studies out there.' We are the guinea pigs being studied."
Researchers estimate that somewhere between 10 and 30 percent of the more than 50,000 people who were exposed to the foul air and other environmental hazards at the site of the collapsed towers continue to suffer from a variety of ailments -- from asthma and other respiratory illnesses to digestive problems and mental health disorders.
And while no one will ever know the full inventory of pollutants people were exposed to at ground zero -- air monitors were not in place until days later -- analyses of the dust that rose and lingered and then settled at the site have revealed a long list of potentially cancer-causing ingredients, from benzene and diesel exhaust to pulverized glass, hydrochloric acid, black soot, polychlorinated biphenyls (PCBs), organochlorine, lead, dioxins and hundreds of tons of asbestos.
"It was an unprecedented mix of proven human carcinogens and other toxic chemicals," said Philip Landrigan, dean for global health at the Mount Sinai School of Medicine in New York.
The concoction of toxins, according to Marc Wilkenfeld, chief of occupational and environmental medicine at Winthrop University Hospital on Long Island, could prove more harmful than each would be alone. "Mixing chemicals together multiplies the risk of getting cancer," said Dr. Wilkenfeld. "If you look at what they breathed in," he added, "it would be a big surprise if they didn't get cancer."
John Feal, who worked construction on the pile at ground zero until he sustained an injury that eventually claimed half of his foot, agrees.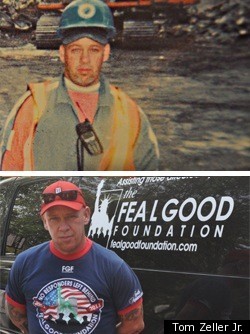 John Feal worked demolition at ground zero
in the days after 9/11 (top). He now works to
secure compensation for those made ill on
that day. He calls cancer the "quintessential
disease of 9/11."
"I don't need a doctor or a scientist or 12 years of college and a Ph.D and an MBA -- no offense to them -- but I don't need anybody to tell me that 9/11 didn't cause or did cause cancer," said Feal, whose own struggle to win compensation for his injury prompted him to establish the nonprofit FealGood Foundation to help 9/11 responders cope with the physical, mental and financial fallout of that day. He said he's getting more and more requests for help from cancer sufferers.
"Individually, if you took any one of the toxins that were in the air that day and the following weeks, and put it in a bottle, you'd have to put a skull and crossbones on it," Feal said. "It would say 'Harmful if swallowed; could cause cancer.'"
Still, when John Howard of the National Institute for Occupational Safety and Health (NIOSH), who administers the Zadroga funds, reviewed the evidence earlier this year as required by the bill, he could neither confirm nor refute the notion that the toxins at ground zero caused cancer. The only information he had to go on was a study of eight responders who had developed multiple myeloma.
According to Rep. Carolyn Maloney (D-N.Y.), who co-sponsored the Zadroga Act, the dearth of data was inexcusable. "The Bush Administration early on actually prevented the use of federal dollars to gather data on 9/11-related conditions through the original World Trade Center medical monitoring program," she told HuffPost in an email. "This is one of the reasons why, 10 years after the attacks, real peer-reviewed data on cancers and other diseases is only now coming to light. When we made the final push to pass the bill last year, we didn't have peer-reviewed data on cancers."
That's changed with the first large study tentatively linking World Trade Center dust exposure to cancer. Published last Thursday in The Lancet, the study looked at nearly 10,000 firefighters, about 90 percent of whom were exposed to World Trade Center dust. The researchers, led by the FDNY, identified a total of 263 exposed firefighters who developed cancer -- meaning they were 19% more likely to develop cancer than the firefighters who did not spend time at ground zero.
The team plans to continue following the firefighters over time in hopes of accruing more data to strengthen the link. As they are well aware, many of the anticipated cancers, such as those linked to asbestos exposure, can take decades to develop.
"I believe that evidence from this study, plus what we know already about the exposures experienced by people involved in the rescue and recovery effort, certainly justifies the addition of cancer to that list of covered conditions," said James Melius of Mount Sinai and the New York League of Conservation Voters, who authored a commentary that accompanied the new report.
Not everyone agrees. "The evidence is not definitive of excess cancer risk," Jonathan Samet, professor of preventative medicine and director of the University of Southern California's Institute for Global Health, told HuffPost. "It's good that there are ongoing investigations. I think there will be questions asked for a long time."
The opinion that matters the most, of course, is that of Dr. Howard. While he declined to comment for this article, NIOSH told HuffPost in an email that the next evaluation for cancer's inclusion is slotted for early to mid 2012.
That's not soon enough for many critics.
"I ask you to immediately re-examine the medical data and re-evaluate your decision to exclude certain cancers from the illnesses covered by the 9/11 health program," Sen. Kirsten Gillibrand (D-N.Y.) wrote in a letter to Dr. Howard, which was shared with HuffPost last week. "These brave men and women continue to suffer without the sophisticated and specific medical care that can be provided by doctors in the 9/11 health program and we owe it to them to provide the most up-to-date analysis possible."
If the long battle to get Zadroga passed in the first place is any indication, however, efforts to add cancer to its list of covered illnesses could take some time.
The final legislation was smaller than a previous version passed in the House, which would have called for a total of $7.4 billion in funding. The original bill would also have kept the coverage program open for 21 years, "to try to take into account the likely emergence of injuries like cancer," noted Rep. Maloney.
"If I can stick around until my children are out of school and I know they are on their way to be productive members of society -- and most of all, if they can get to know me and who I was," he said, "then I can die a happy man."
---


Popular in the Community