In a statement, 9/11 Families United said LIV Golf is "bankrolled by billions of sportswashing money from the Kingdom of Saudi Arabia" and that Saudi operatives played a role in the terrorist attacks of Sept. 11, 2001. LIV Golf is funded by the Saudi Arabia Public Investment Fund, which is controlled by the Saudi crown prince.
Terry Strada, whose husband died in the attacks and is chair of 9/11 Families United, said in the statement that PGA Tour Commissioner Jay Monahan is a "Saudi shill."
"But now the PGA and Monahan appear to have become just more paid Saudi shills, taking billions of dollars to cleanse the Saudi reputation so that Americans and the world will forget how the Kingdom spent their billions of dollars before 9/11 to fund terrorism, spread their vitriolic hatred of Americans, and finance al Qaeda and the murder of our loved ones," Strada said. "Make no mistake — we will never forget."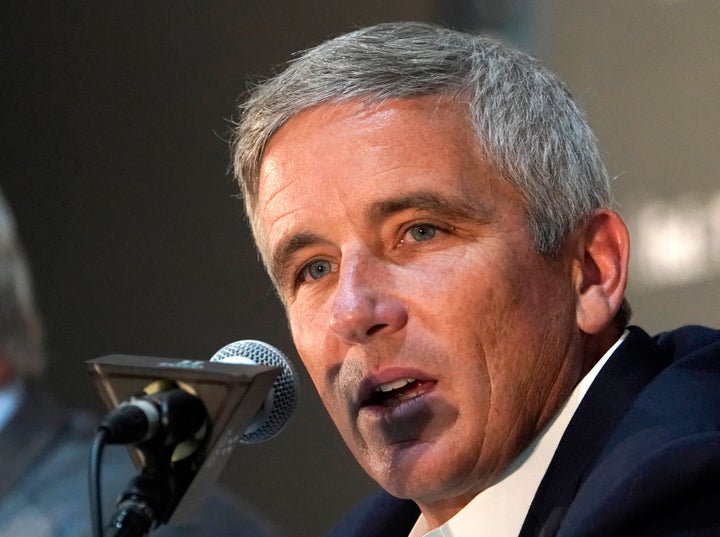 Last year, Monahan told Sky Sports Golf that he knows two families whose loved ones died in 9/11 and there are "serious implications" for those playing for LIV Golf.
"I would ask any player that has left or any player that would ever consider leaving, have you ever had to apologize for being a member of the PGA Tour," Monahan said.
Strada said those players have to — and now so does Monahan.
"PGA Tour leaders should be ashamed of their hypocrisy and greed," Strada said, according to the statement. "Our entire 9/11 community has been betrayed by Commissioner Monahan and the PGA as it appears their concern for our loved ones was merely window-dressing in their quest for money — it was never to honor the great game of golf."
Last year, Strada called out Phil Mickelson, who left the PGA Tour to play for LIV Golf. Strada said Mickelson knew "exactly" what he was doing and that he should be "ashamed."
"They are helping the Saudi regime 'sportswash' their reputation in return for tens of millions of dollars, at the very same time our government is rolling out more damning evidence of Saudi culpability in the 9/11 attacks," Strada said in a statement at the time. "As the PGA Tour commissioner said Sunday 'you'd have to be living under a rock' to not understand the implications of involving yourself with the Saudis."
Mickelson said he had "deepest of sympathy and empathy" for Strada and other families affected by 9/11.
Popular in the Community