Perhaps, there is no more fitting day than September 11th to write about a film that reminds us of our shared humanity as we struggle to survive, better ourselves, and deal with the subject of loss. Currently, this is exemplified in a new film by first-time, feature-length director and writer Cherien Dabis, from whom I feel certain we will see more exciting film-making. Amreeka, is the Arabic word for America, which Dabis knows so well for she is the daughter of Palestinian-Jordanian immigrants who came to the Midwest before she was born.
Dabis' new film is a compelling look at Muna (Nisreen Faour), a lovely, divorced, overweight, overeducated Palestinian woman living in the West Bank with her teenage son Fadi (Melkar Muallem) and her mother. Stopping for groceries before she makes the long and arduous journey home through military checkpoints where she and her son are sometimes subjected to humiliating treatment by Israeli soldiers, she suffers as she sees her ex-husband and his skinny, overly painted, new wife. Muna also suffers from being overqualified for and is becoming exasperated with her job in a bank, weary of her mother's kvetching, and exhausted from a commute formerly taking 20 minutes that now with the wall built around the West Bank takes over two hours.
When a long-forgotten visa application is granted permitting her to come to the U.S., Fadi urges Muna to grab it. Their emotional goodbyes to Muna's mother and brother are a heartbreaking reminder of the farewells that immigrants must make when they tear themselves away from parents, siblings, and children. Dabis' direction of her actors' performances brings an extraordinary tenderness and pathos to the universal experience in this and so many other scenes throughout this wonderfully authentic film.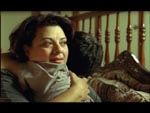 Muna (played to near perfection by Nisreen Faour) and Fadi (in an authentic and compelling performance by Melkar Muallem) embrace demonstrating the power of love between mother and son who have come from Palestine to find a better life in small-town Illinois which is not quite ready to embrace them.
Even after the long and grueling treatment in U.S. customs, Muna and Fadi arrive exhausted but still hopeful and excited to live with her sister Raghda (Hiam Abbass), brother-in-law Nabeel (Yussef Abu Warda), and their three charming daughters (so perfectly cast that they nearly steal the film). The time is 2003, and the U.S. is about to invade Iraq, which is far from a perfect time for Arabs to come to Amreeka.
Muna armed with two degrees and a long work history struggles to find work only to be rejected over and over again. Finally, she takes a job at a White Castle, but the shame of this humble work makes her keep it from her son, sister, and family. Son Fadi encounters similar misunderstandings and abuse based on ignorance and prejudice in school. Thank goodness he has his feisty cousin Salma (Alia Shawkat) close by for support and comfort. Financial pressures and prejudices are made even worse when Muna's brother-in-law, a once successful physician, finds himself losing patients and can barely pay the mortgage on the home that this mega-extended family share.
While Muna and her extended family encounter many ignoramuses and bullies, they are also aided by small heroes: the kind-hearted principal of Fadi and Salma's high school, Mr. Novatski (Joseph Ziegler) who is Jewish; a bank employee (Miriam Smith) working next door to the White Castle who keeps tabs on Muna and her secret life as a hamburger slinger; and Muna's blue-haired, high-school drop-out co-worker Matt (Brodie Sanderson) for whom she makes scrumptious falafel in "The Castle's" deep fryer normally reserved for French fries. No one is perfect in this film, however; even the sophisticated Mr. Ziegler assumes Muna and her Arab family are Muslims, but they are, in fact, Christian.*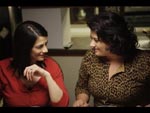 Veteran actress Hiam Abbass known to audiences from The Visitor, Babel, Munich and other films and Nisreen Faour play sisters in a tight-knit, Arab-American family trying to survive and make sense of a post-9/11 world.
Amreeka is an artful, moving testimony to the perils of making assumptions about individuals or groups. It is overflowing with masterful framing, lighting, use of music, editing, and other technical aspects of filmmaking, which coalesce almost seamlessly. It features stunning performances by Nisreen Faour as the irrepressible Muna, veteran Palestinian actress Hiam Abbass (The Visitor, Babel, Munich, Lemon Tree), Melkar Muallem (in his film debut), Yussef Abu Warda (a well known theater actor from Haifa), Alia Shawkat (Arrested Development, State of Grace, Prom Wars), and a wonderful ensemble of other talented actors. The film is also marked by a rare consistency of tone and an authenticity that stretch (almost) to the very end of the movie. By this time, however, we don't much care. We're hooked, so the final idyllic scene is very satisfying indeed.
Amreeka is a film of impeccable taste that unites instead of divides and centers itself on a universal character who reminds us so much of our own relatives past and present who had the audacity and courage to come to America to fulfill their dreams of a better life.*
Amreeka. Directed, written, and produced by Cherien Dabis. Starring Nisreen Faour (Muna Farah), Melkar Muallem (Fadi Farah), Hiam Abbass (Raghda Halaby), Alia Shawkat (Salma Halaby), Yussef Abu Warda (Nabeel Halaby), and Joseph Ziegler (Mr. Novatski). Released by National Geographic Entertainment. Running time: 1 hour 37 minutes.
* (In Lebanon, Palestine, Jordan, and other Middle Eastern countries, there are large numbers of Arab-Christians -- who like Victoria Reggie Kennedy -- are Catholic and descendents of Maronites or are Greek- and Eastern-Orthodox. Like their Irish, Italian, Greek, and Serbian counterparts, they have made their way to the United States ever since the early 20th Century and have not always been entirely welcomed. Recently, Arab-Christians, Arab-Muslims, and other Muslim-Americans find themselves subjected ironically to the same suspicion and grotesque anti-Semitism as their Jewish-American counterparts who suffered so similarly during the Red Scare of the McCarthy Era and the HUAC in the 1950s.)

Popular in the Community