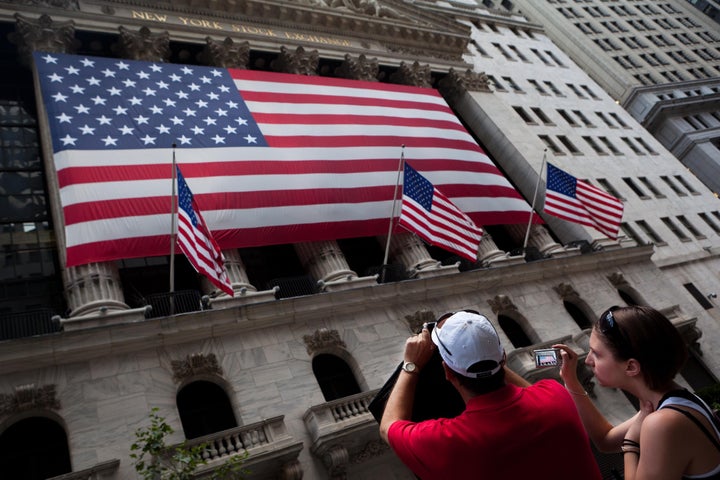 NEW YORK -- Take a walk down Wall Street, and the change is immediately apparent.
Off Nassau Street, the former Seamen's Bank for Savings building houses a New York Sports Club, with a sign out front that reads "Invest in Yourself." A block east, a former Bank of New York building is now the Museum of American Finance. Along the south side of the street, the monoliths of an earlier financial era now contain rental apartments.
The Financial District has transformed in the decade since the terrorist attacks of Sept. 11, 2001, which initially turned the downtown area into a scene of devastation and turmoil. New businesses and residents have moved in, imbuing a neighborhood once dominated by finance with a new measure of diversity. From 2002 to 2010, the share of workers downtown employed in finance, insurance and real estate dropped from 33 percent to 28 percent, according to data from the Alliance for Downtown New York.
In name, the neighborhood is still the Financial District. But experts say the city's financial center of gravity has moved elsewhere.
"The events of 9/11 were the death knell perhaps for the physical bricks and mortar manifestation of the financial capital," said Stephen Brown, a professor of finance at the New York University Stern School of Business. "It accelerated the move that was already taking place."
Real estate brokers speak of a downtown renaissance, pointing both to the growth that has already occurred and to future plans for corporate tenants, such as the magazine publisher Conde Nast, which in May signed a lease at One World Trade Center.
But the transition has been not without growing pains. The destruction of the World Trade Center towers took an economic toll on the area, and the frequent construction in the years since has affected local businesses. With rents becoming more expensive, some small businesses have left.
"The place just feels very, very much like a ghost town to me," said Steven Wilner, a partner at the downtown law firm Cleary Gottlieb, and chair of the firm's New York real estate committee. "As you move east from the World Trade Center, those streets used to be really vibrant places. People from the Trade Center used to walk out at lunchtime and come to all those businesses. And it just doesn't feel the same."
As the concentration of finance downtown has thinned, some local businesses have lost reliable customers. Michelle Koo, owner of Koodo Sushi on Liberty Street, recalled the days when Wall Street types would place large orders at her restaurant. The drop-off in business she said she's suffered is partially due to the financial crisis of 2008. But there's a demographic element as well, she said.
"All the customers moved out," she said. "All the residents who moved in are young people. At night, they hang out; they don't stay here. It won't benefit us."
In earlier days, she said, the restaurant received business from financiers working late: "During overtime, we got their order."
The exodus of financial firms from the downtown area was underway before the terrorist attacks, as the advent of computerized trading made physical proximity to the stock exchange less important. Firms moved to Midtown, or across the river to New Jersey. Banks opened offices in Asia and South America, capitalizing on so-called emerging markets, whose economies are rapidly growing.
But the recent history of finance in the neighborhood is marked more by dilution than exodus. The years following 9/11 saw new entrants downtown, and the sense that finance dominated the landscape continued to erode.
The government had a hand in that process, as Washington approved more than $20 billion in aid for New York City after the attacks, in the form of tax benefits, work projects and compensation for businesses. The Lower Manhattan Development Corporation, a combined city and state initiative, gave businesses $150 million to help retain and create jobs downtown. Small businesses with fewer than 10 employees got $29 million, according to the LMDC website.
Goldman Sachs benefited from this government largess when it made the decision to move from its Broad Street headquarters to a building closer to Ground Zero, securing approval to sell $1.65 billion in special tax-free bonds, and winning tens of millions of dollars in grants.
A few key developments have also given the area a new appeal. Architect Frank Gehry designed a residential tower on Spruce Street, which the New York Times' architecture critic called "the finest skyscraper to rise in New York since Eero Saarinen's CBS building went up 46 years ago." And real estate brokers say that Conde Nast's decision to move downtown ensures a vibrant future for the neighborhood.
Dottie Herman, a well-known figure in New York real estate and chief executive of the brokerage Prudential Douglas Elliman, said in an interview that she enjoys spending Friday evenings downtown, when she's not in the Hamptons.
"You can see the Statue of Liberty. You can see all of the Hudson, and the ships. You see kids playing, and people eating outside," she said. "It's wonderful. It's just wonderful. It's probably one of the nicest places you could go. It's like being in another country."
But others are more wary of the transformation, saying new businesses have pushed out some of the local color.
"What troubles me the most is we're losing mom and pop, and we're getting Sprint stores, and Anne Taylor, and the Gap, and Duane Reade -- all these national chains," said Edward Sheffe, who chairs the financial district committee of Manhattan Community Board No. 1. "Mom and pop can't afford to be here anymore."
"You can buy a Maserati down the street, you can go to Tiffany's, but you can't get a ham sandwich. You can't get your shoes repaired," added Sheffe, who goes by the name of Ro. "We may well end up with this gleaming, new, modern, sleek neighborhood that is so sterile to live in."
High-end retailers dot the Financial District: Hermes, BMW, Tumi, Tiffany & Co. The brokerage Winick Realty hosted a party last year at 75 Wall Street to attract another such tenant. "We're really pushing for a high-end luxury retailer to come down here," Winick broker Annie Shinn said at the time.
Sheffe isn't alone in his lamentation for the lack of ham sandwiches. A Goldman Sachs employee, who asked not to be named, said the firm's new location at 200 West Street, on the northern edge of the Financial District, affords fewer culinary options than before.
"That's the general feeling among employees," he said, adding that the nearby Shake Shack has become a company favorite.
Still, even the neighborhood's skeptics foresee a bright future. Wilner, of Cleary Gottlieb, said he recommended that the law firm stay downtown in 2007, when the company was renegotiating its lease.
"One of the drivers for my recommendation that we stay in place was my view that this area is going to become rejuvenated, and going to become a very desirable place to be," Wilner said. "I am hoping that all of that just comes back to life."