 A major health study of 9/11 responders has found an increased risk of cancer, mirroring two prior investigations.
The federally sponsored study of almost 21,000 World Trade Center rescue and recovery workers found a 15 percent overall increased risk of cancer. The incidences of thyroid, prostate and blood, lymph and soft tissue cancers were much higher than expected, according to the study, published online Tuesday in the journal Environmental Health Perspectives. The study was conducted from 2001 to 2008 by researchers associated with the federally funded World Trade Center Health Program.
All of those cancers except prostate cancer are covered under the James Zadroga 9/11 Health and Compensation Act. Last year, about 60 types of cancer were added to the list of World Trade Center-related conditions.
The study's findings mirror previous ones. A 2011 study looking at 9,853 city firefighters found a 19 percent increase in cancers among 9/11 responders compared with firefighters who didn't work at Ground Zero. Last year, a study of 56,000 people, including those who lived or worked near the trade center and rescue-and-recovery workers, found a 14 percent increase in all cancers, and higher rates of multiple myeloma, thyroid and prostate cancers. At the time, the overall increase was not seen as "significantly elevated." But this latest study shows that the increase in cancer, while not huge, is consistent -- and bears watching, experts said.
"The important thing is that we're finding converging results," said Dr. Philip Landrigan, chairman of the department of preventive medicine at Mount Sinai School of Medicine and one of the study's authors. "We're looking at different populations, yet finding the same thing. That's evidence this is a real finding and not a statistical fluke."
Dr. Benjamin Luft, director of the World Trade Center Health Program in Suffolk, Nassau and Brooklyn and an author of the study, said the findings underscore the need for further monitoring. "Although the trends observed were very modest, it is disturbing that there was seemingly an increased number of cases in certain cancers, such as prostate, that were not previously thought to be impacted by exposure at Ground Zero," he said.
The incidence of thyroid cancer was 239 percent higher than what one would expect to find in a similar population; the incidence of soft tissue cancers was 226 percent higher. Blood and lymph cancers were 36 percent higher and the incidence of prostate cancer was 21 percent higher.
By contrast, the incidence of lung cancer was 11 percent lower than expected, the study found.
The higher rates of thyroid and prostate cancers perplexed the researchers. Thyroid cancer has been linked to exposure to radioactive iodine, the study said, but there was little evidence that this was present at Ground Zero.
And the evidence that prostate cancer is linked to occupational or environmental causes has been weak -- the reason that it wasn't included among the cancers covered under the Zadroga act. This latest study theorized the increased incidence could be because responders were being examined more often.
Experts remain divided about whether prostate cancer should be added to the list of covered cancers.
Dr. Jacqueline Moline, director of the World Trade Center Health Program in Queens and an author of the study, said, "It's hard to make the connection with prostate cancer. . . . We don't know enough yet."
But Landrigan and Dr. James Melius, chairman of the steering committee for the World Trade Center Health Program, said they thought it should.
"Screening doesn't account for what's going on," Melius said.
Asked whether Dr. John Howard, the head of the National Institute for Occupational Safety and Health, which administers the World Trade Center Health Program, would add prostate cancer, spokeswoman Christina Spring said: "There's always an option as new science unfolds that the administrator might include other diseases."
John Feal, the founder of the FealGood Foundation advocacy group, said prostate cancer should be added, especially since far more rare cancers are on the list. "I am certain Dr. Howard will add prostate cancer," he said.
43% Exposed to dust cloud on 9/11
57 days Median duration of service
575 tumors found (498.8 expected)
Some cancers found; number expected
Oral cavity and pharynx: 21; 17.3
Digestive system: 86; 90.8
Lung and bronchus 43; 48.4
Urinary bladder: 29; 21.2
Kidney and renal pelvis: 31; 22.2
Brain and other nervous system: 12; 9.8
Hematological (leukemia and lymphoma): 74; 34.5
SOURCE: Environmental Health Perspectives ___
Distributed by MCT Information Services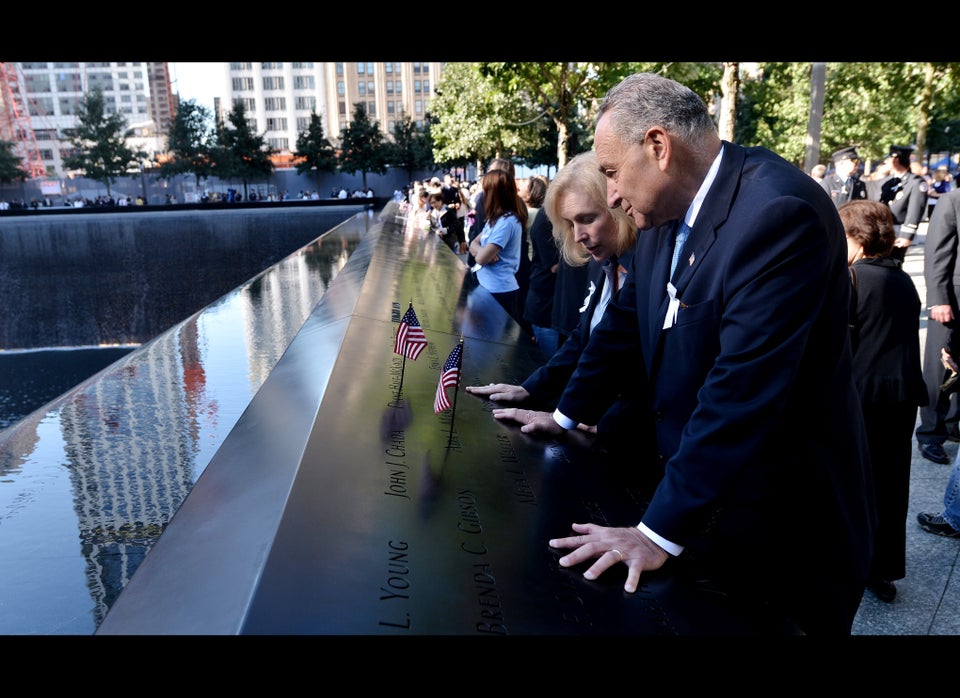 11th Anniversary Of September 11th Attack
Popular in the Community