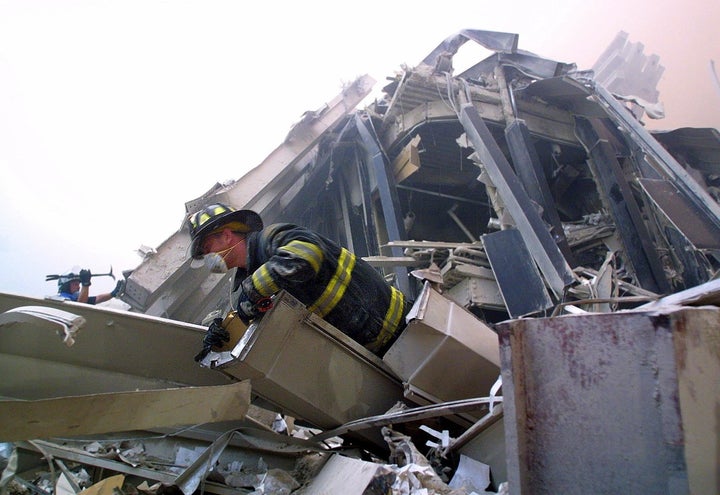 After a nearly decade-long battle, supporters of the James Zadroga Health and Compensation Act celebrated its passage into law this January. Now, they are looking to ensure that the health care and compensation it provides for 9/11 responders lasts -- and is extended to everyone with health problems tied to exposures at Ground zero.
"We worked for nine years to get this passed," Suzy Ballantyne, director of government affairs at the New York state AFL-CIO, told The Huffington Post. "But as we were walking around Capitol Hill time and time again we wondered: What is going to happen when we're no longer here?"
The bill is currently guaranteed for five years, a "lightning flash in legislative time," according to Ballantyne. She added that she and others are therefore "pushing to make sure these people are taken care of forever."
Carole King will help kick start that mission on Wednesday night. The longtime supporter of the Zadroga Act will perform as part of a benefit to honor sick workers and get an independent watch group, co-sponsored by the AFL-CIO, off the ground. Once formed, 9/11 Health Watch would aim to ensure that the Zadroga Act is appropriately implemented and that a network of support is in place that can help it withstand future administration changes.
"Given all the difficulties we have had along the way, we felt we should set up an organization to monitor what goes on over the next few years and to see that the bill is fulfilling what we intended it to," James Melius of the Mount Sinai School of Medicine told HuffPost.
The group will further be tasked with building a centralized database to track health conditions among 9/11 responders nationwide.
"We had firefighters in Los Angeles, Arizona, and Florida that came in and helped out," Dr. Melius said. "We had volunteers from about every state. Right now, we have no way of contacting them unless they contact us."
Ballantyne noted two acquaintances in Minnesota that had spent time at Ground Zero and went on to develop multiple myeloma by around the age of 40. The cancer usually only strikes in older age, making their dual cases unusual. But local doctors didn't immediately consider a relationship to 9/11. Similar scenarios may play out with other possible World Trade Center-related ailments such as respiratory and gastrointestinal diseases.
"No one is linking these, especially when people don't live in New York City," said Ballantyne. "We need to put all of this information together in one place."
Sponsors suggest that the 9/11 Health Watch will also keep tabs on new evidence as it comes in. The Zadroga Act requires regular re-evaluations to ensure the list of covered conditions matches the latest science. As HuffPost reported last week, for example, a recent study suggested a link between exposure to Ground Zero dust and the development of cancer, a condition currently excluded from the bill.
"We think it is important for this new study to be taken into account," said Dr. Melius. "Many of us feel that cancer should be on that list."
Calling all HuffPost superfans!
Sign up for membership to become a founding member and help shape HuffPost's next chapter