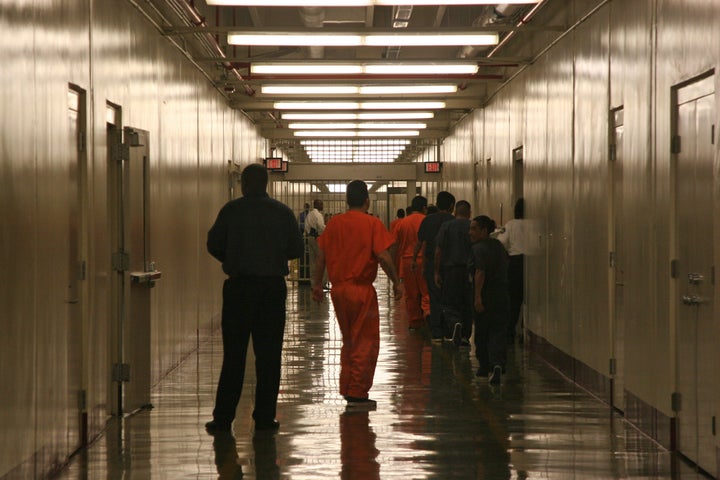 This article has been updated
On a conference call with investors less than two months after the Sept. 11 terrorist attacks, Wall Street executive Steve Logan predicted a new era of unbridled growth for his industry: the for-profit prison business.
"It is clear that since Sept. 11, there's a heightened focus on detention, both on the borders and in the U.S.," Logan, the chief executive of publicly-traded prison corporation Cornell Companies, told analysts on a quarterly earnings call. "More people are gonna get caught. ... So I would say that's positive."
Logan's upbeat assessment of the post-9/11 world would prove true, as the federal government has embarked on an unprecedented campaign to round up, detain and eventually deport illegal immigrants under the guise of bolstering national security. Since Congress brought immigration enforcement under the Department of Homeland Security in 2003, the number of immigrants locked up each year has nearly doubled to more than 390,000, creating a lucrative opportunity for private corporations hired to build and supervise detention centers across the country.
Particularly in the latter half of the Bush administration's tenure, Congress appropriated ever-increasing amounts of federal money toward immigration detention efforts within the Department of Homeland Security -- a move that has led private prison executives on a massive buildout, adding beds to increase revenues. Between 2005 and 2010 alone, the amount of money appropriated for immigrant detention and removal more than doubled, from $1.2 billion to more than $2.5 billion.
"There has always been a fear of immigrants, and Sept. 11 really magnified that fear, and allowed fears that were always there to come to the surface," said Alina Das, a supervising attorney at the Immigrant Rights Clinic at New York University's School of Law. "It becomes the drive for numbers: Numbers to prove that the government is doing something about an issue that the public has come to believe is tied to national security and safety."
Over time, local and state law enforcement agencies have also been brought into the fold, entering into agreements the Immigration and Customs Enforcement agency to seek out immigration violators independently. Yet while government rhetoric has focused on detaining and deporting immigrants as a means to ensure public safety, the majority of those detained from 2005 through 2009 had no criminal convictions, according to data compiled by the Transactional Records Access Clearinghouse at Syracuse University.
Companies such as Corrections Corporation of America and the GEO Group Inc., which are publicly traded on Wall Street, have come to rely on immigration detention contracts with the federal government as a growing source of revenues over the past decade. According to filings with the Securities and Exchange Commission, the GEO Group's contracts with the Immigration and Customs Enforcement agency grew in value from $33.6 million in 2005 to $163.8 million by the end of 2010.
Contracts are generally structured around the number of inmates housed in a facility on any given day. In public filings, Corrections Corporation of America measures revenue with a term called a "compensated man-day," representing the revenues and expenses incurred by each inmate on a given day.
Yet critics have argued that the government's hard-line approach toward immigration enforcement, coupled with the profit motive for private prison operators, has turned a civil detention program into something that looks exactly like a prison system for criminals.
"They don't change their practices for immigration detainees, they just change who they bill," said Brittney Nystrom, director of policy and legal affairs for the National Immigration Forum, an immigrants' rights group. "Immigration detention isn't supposed to be punitive. We're not holding them as incarceration for any criminal offenses they have done. This is really just holding people so that they follow through with their immigration processes."
The 2009 report from the Department of Homeland Security's inspector general also found numerous lapses in the way Immigration and Customs Enforcement oversaw standards at private detention facilities. The immigration agency not only outsourced much of prison operations to the private sector, according to the report, but also hired private contractors to do annual inspections and on-site monitoring.
In a particularly shocking revelation in 2009, the Department of Homeland Security admitted that it had miscounted the number of deaths in its detention facilities, acknowledging that there were 104 deaths -- 10 more deaths than previously reported -- between 2003 and 2009 after a suit from the American Civil Liberties Union.
Among other findings over the years: the Homeland Security inspector general discovered in a survey of detention facilities that 20 percent of detainees did not receive a physical medical examination within 14 days, as required by government health standards.
Access to adequate medical care and supervision has been at the center of numerous legal disputes involving privately-run immigration detention centers. The American Civil Liberties Union filed a lawsuit in 2007 against the San Diego Correctional Facility, operated by Corrections Corporation of America, documenting how numerous detainees were denied access to medical care for months.
The lawsuit came in response to the case of Francisco Castaneda, who complained from March 2006 to February 2007 of severe pain and bleeding from his groin. He received no medical care for nearly a year until a urologist eventually determined that he had penile cancer. After being released from detention, his penis was amputated in 2007, but he died a year later as the cancer continued to spread.
A spokesman for Corrections Corporation of America, Steve Owen, told The Huffington Post that the company could not comment on specific cases, but wrote, "We take the care of every detainee in our care very seriously, and CCA has complied with all required reporting of incidents and detainee deaths to our government partner agencies."
The Obama administration pledged in August 2009 to drastically overhaul the immigrant detention system, shutting down certain facilities and agreeing to provide much more oversight by the immigration agency itself. But the administration is also aggressively pushing ahead with the Secure Communities program, which cross-references the fingerprints of anyone booked into local jails with immigration violation data held by the Department of Homeland Security.
Cori Bassett, a spokeswoman for Immigration and Customs Enforcement, pointed out that the agency is determined to "focus its resources on detaining and removing aliens who pose the greatest risk to our communities. This includes using discretion when making decisions for those aliens who don't pose the greatest risk."
Given that the private prison industry is highly dependent on contracts with the federal government to maintain prisons and detention centers, companies have lobbied Washington extensively in recent years. Statements from the companies' annual filings with the SEC make it clear that immigration policy is deeply intertwined with the bottom line.
"The President recently signed the Homeland Security Appropriations Bill into law, which included an 11 percent increase for U.S. Customs and Border Protection, adding more border patrol agents and funding for detention beds," Corrections Corporation of America noted in a 2005 filing. "We believe these initiatives could lead to meaningful growth to the private corrections industry in general, and to our company in particular."
Since 2001, the amount of lobbying by the for-profit prison industry has skyrocketed.
Corrections Corporation of America bumped its lobbying expenditures more than sevenfold between 2001 and 2005, from $470,000 to nearly $3.4 million. The GEO Group increased federal lobbying spending from $120,000 in 2004 to $660,000 in 2010.
Corrections Corporation of America's Owen wrote in a statement to HuffPost that the company's lobbying efforts are "exclusively dedicated to educating decision makers and have escalated as the company's presence has continued to expand nationally into more than half of all states and a dozen municipalities. ... The goals of our lobbying efforts have not changed over the years or as a result of 9/11."
A spokesman for the GEO Group said the company declined to comment.
National Public Radio further documented the connections between immigration policy and the private prison industry in a piece last fall, noting that representatives of Corrections Corporation of America were present during the drafting of Arizona's controversial immigration law, which gave law enforcement officers wide discretion to determine a person's legal status as a citizen during routine traffic stops or arrests.
A spokesman for Corrections Corporation of America said the company disputes the NPR piece, and has a policy "not to engage in legislation involving crime or sentencing policies."
With the Obama administration's continued focus on immigration enforcement through the Secure Communities program, observers have questioned whether the detention system's expansion is likely to slow any time soon.
"By and large it's very difficult for people to stand up and say, 'We're spending too much money on something that's harming people's lives, and really isn't making us that much safer,'" said Bob Libal, a senior organizer with Grassroots Leadership, an advocacy group that has followed the rise of for-profit prisons and the detention system. "You're defined as being against homeland security somehow."
The article was updated to reflect Corrections Corporation of America's disagreement with an NPR piece linking the company to the drafting of Arizona's immigration law.
Related
Popular in the Community