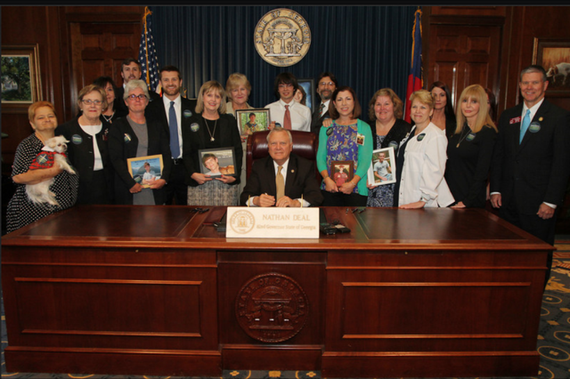 On Thursday April 24, 2014 Georgia became the 15th state in the union to enact a 911 Medical Amnesty law granting limited prosecutorial immunity to people who seek help during a drug or alcohol overdose. It is also the 19th state to extend legal protections to people who administer naloxone to someone experiencing a drug overdose.
One of the more popular bills in the general assembly this year, House Bill 965, Georgia 911 Medical Amnesty Law, sailed through committees and floor votes save for a brief snare when Senator David Shafer snuck in an unrelated amendment that removes online pharmacies from regulatory oversight from the State Board of Pharmacy. The amendment, added with no warning, threatened to curtail efforts to pass the life-saving bill and is an ugly example of how politics often come before people. But after some political squabbling, the Senate passed the bill last month, amendment excluded, and the House approved the version.
Representative Sharon Cooper introduced the bill after she was approached by a group of Georgian advocates, many of whom had lost friends and families to drug overdose. "Last year a similar law passed in North Carolina that has been responsible for saving many lives," says Rep. Cooper. "I'm proud of this bill and of our young people who are helping to spread the word about it."
Atlanta resident Robin Elliott, who advocated for the law after losing her son Zack to a heroin overdose in 2011, is thrilled. "The point behind the law is that saving human lives is always more important than incarcerating a small time drug user," she says. "I miss my son every minute of every day and wouldn't want any other parents to go through what I am living."
The law, which expands access to the opiate overdose antidote, naloxone, is good news for some Georgians, such as Kathy Fletcher, who has kept naloxone on hand ever since she accidentally overdosed on her prescription drugs -- and barely got to the hospital in time.
"I'd just taken my regular dose of [prescription opioids] -- which I'd been taking for years -- when all the sudden I felt strange," she recalls. "I knew something was wrong, but it was like I was in a trance and couldn't speak. I actually felt my breath slowing down."
Kathy was lucky. A friend rushed her to a primary care physician, who took one look at Kathy's low blood pressure and ordered her to a hospital, where they gave her naloxone.
"Naloxone saved my life," she says. "It should be available to the average citizen just like the EpiPen and glucagen because it's just as safe, and the faster we get it to people the more we save."
Currently, Georgia loses more than 1000 people each year to drug overdose. It is hoped that the new law will help reduce these premature deaths and offer an opportunity for treatment to those struggling with addiction.
Laurie Fugitt, a nurse, advocated for HB965 after seven of her friends lost children to opioid overdoses because no one called 911 or had naloxone. "Where there's life, there's hope," she says. "And this bill will give overdose victims a second chance at life."
Calling all HuffPost superfans!
Sign up for membership to become a founding member and help shape HuffPost's next chapter