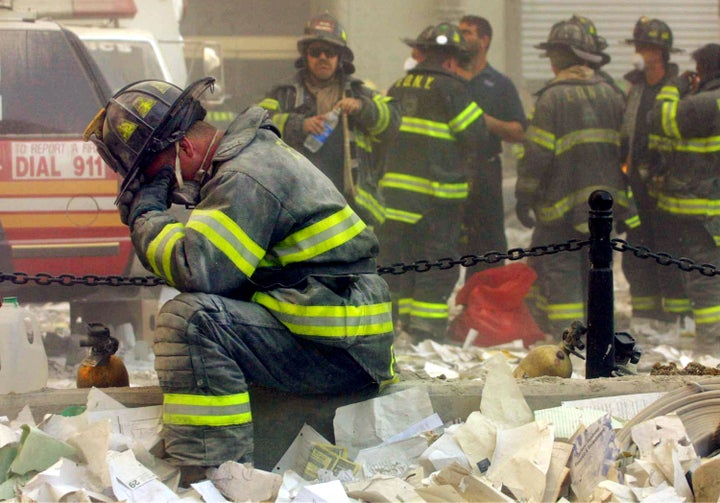 In response to the attacks on the World Trade Center in 2001, New York City and 10 surrounding counties mounted the largest and most effective mental health disaster response in history. Approximately 1.5 million people were served, receiving crisis counseling and education in their community settings. This massive endeavor was funded by The Federal Emergency Management Agency (FEMA) through a program called Project Liberty, which was overseen by the New York State Office of Mental Health and in New York City in conjunction with the New York City Department of Health and Mental Hygiene.*
Over the three years of Project Liberty's operation, $137 million was spent and more than 200 community agencies contracted to respond to the extraordinarily diverse population that constitutes New York City and its surrounding counties, with approximately 90 percent of the services delivered in New York City.
There was no cost to any Project Liberty recipients. More than 750,000 people received crisis counseling, and 740,000 people received public education. About 20 percent were children reached by community agencies in their schools and local neighborhood settings. Crisis counseling was provided to individuals and in groups. It was defined as emotional support in understanding a person's current situation, help in avoiding additional stresses and using healthy coping strategies, and linking impacted individuals with other persons and agencies to promote recovery. Education was defined as delivering direct information about common reactions to trauma, recognizing distress in children, stress reduction techniques and how to build coping skills. Education was also provided through mailings, print flyers and brochures, subway advertisements, newspaper articles and TV or radio spots. Direct victims of the attacks represented about 10 percent of individuals served and included those injured, evacuated or whose homes were damaged as well as family members of those who died in the attacks.
Perhaps the greatest lesson learned was that no one should go it alone in the face of disaster -- individual, community, city nor nation. An impressive level of governmental and community collaboration characterized Project Liberty, with a compelling sense of shared purpose. Were it not only in the wake of disaster that government entities played well together, and in unison with the private sector and citizens. One (of many) public messages conveying the need for trustworthy interchange was "Even Heroes Need to Talk."
Experience with trauma in the wake of disaster, particularly human-made disaster, was limited among the mental health community 10 years ago. While general principles of caring for people in mental distress existed, there were few professionals who had counseled disaster victims. Wide-spread training was needed and clinicians learned quickly. Some techniques proved to carry risk (like crisis debriefing) and over time a standard crisis approach has evolved that stresses careful listening to assess a person's response, capacity to cope and risk of self-destructive behavior: non-judgmental education that helps a person appreciate that their response may indeed be a "normal response to an abnormal situation," urging support from those an individual can trust, practical coping strategies (like getting sleep, not being alone, not abusing alcohol and drugs) and providing hope, since we know how resilient most people can be.
The media play a crucial role after a disaster. Responsible media need not endlessly loop pictures of a disaster (like the planes going into the towers) but instead can help raise public awareness that distress is common, even normative, and that seeking assistance need not be shameful. Because post-disaster distress and disorders (like depression, anxiety, PTSD and abuse of alcohol and drugs) can emerge many months after an event, public messages can be very useful when maintained over time. In fact, it is only over time that first responders (uniformed personnel, including fire fighters, police and EMTs) begin to suffer problems and need to be reached.
A problem in 2001 that continues today is that a FEMA-supported disaster response does not include treatment. FEMA's model, established by law long ago, has been that of rapid response and then transitioning out of an affected community. The Sept. 11 attacks and Hurricane Katrina serve as ample evidence that more than crisis response and education are needed. We were not able to provide, under Project Liberty, short-term counseling or even medications to help traumatized people sleep or quiet their overreacting nervous systems. This is a shortcoming that has yet to be corrected, though Project Liberty was given permission upon our request to employ brief (10-12 sessions) cognitive therapy for conditions like depression and anxiety.
Moreover, FEMA-supported services are based on the view that those people who do develop mental health and addiction disorders can be served by existing public and private services for these conditions. We don't need to go back to 9/11 to know today how under-resourced, fragmented and often broken the public mental health system can be, despite the talent and dedication of its clinicians and administrators (1,2).
Finally -- and here is some good news -- Project Liberty and every disaster response is about the people as much as it is about organizations and interventions. Individuals and communities are resilient. They need, however, adequate time and sufficient support services to foster resilience and the leadership to manage and to inspire hope (3).
Sederer, LI: The Future of Psychiatry. http://www.huffingtonpost.com/lloyd-i-sederer-md/the-future-of-psychiatry-_b_880137.html, 2011
Hogan, MF, Sederer, LI: Mental health crises and public policy: opportunities for change? Health Affairs 28:805-808, 2009
Sederer, LI: Raising the Hope Ceiling. http://www.huffingtonpost.com/lloyd-i-sederer-md/raising-the-hope-ceiling_b_922343.html, 2011
*DISCLOSURE: From 2002-2007, I directed the mental hygiene division (mental health, addictions and mental retardation public mental health) of the NYC Department of Health and Mental Hygiene. Since 2007 I have been the Medical Director of the New York State Office of Mental Health.
I thank my many colleagues at the New York City Department of Health and Mental Hygiene and New York State Office of Mental Health for their work during Project Liberty, and fellow authors -- Ms. Lanzara, Dr. Essock, Ms. Donahue, Mr. Stone (who was Office of Mental Health Commissioner during Project Liberty) and Dr. Galea -- on a report about Project Liberty published in the Journal of Psychiatric Services.
The opinions expressed here are solely my own as a psychiatrist and public health advocate. I receive no support from any pharmaceutical or device company.
Visit my website for questions you want answered, reviews, commentary and stories.