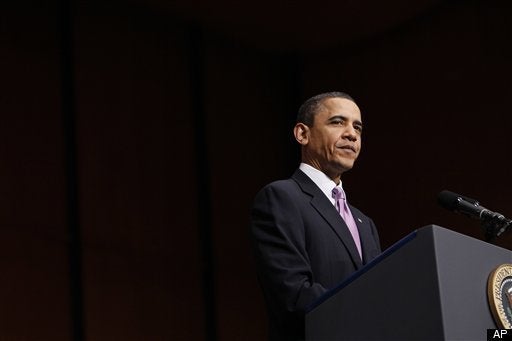 A group of more than 200 family members of 9/11 victims has released an emotional new web video imploring the Obama administration to remain true to its plans to try terrorist suspects in civilian court.
Anticipating a final announcement of the trial venue for the 9/11 plotters, the group September 11th Families for Peaceful Tomorrows is warning the president against "buckling to political pressure," calling the use of military tribunals the "wrong thing to do."
In a nearly four-minute long video, Donna Marsh O'Connor -- a Peaceful Tomorrows member who lost her pregnant daughter when the Twin Towers collapsed -- speaks both to the broad notion that America has a "historic commitment to justice" and, more narrowly, to the horse-trading politics that now surrounds terrorist trials. Reflecting disappointment with recent signals from the White House, O'Connor calls for the president to reject a reported compromise proposal with Sen. Lindsey Graham (R-S.C.) in which the administration would drop plans for civilian trials in exchange for Republican support for the closure of Gitmo.
"As 9/11 families, we have suffered greatly and waited almost nine years to see justice done with our own eyes," O'Connor says. "We understand that you face political pressure to back down. We ask that you do not allow fear and prejudice to govern your decision -- as we are not afraid. We know our country is strong enough to hold on to our values in the face of terrorism."
The video follows other efforts by Peaceful Tomorrows to advocate for civilian trials for the 9/11 suspects -- which is just one of the policy topics the group tackles. But while having O'Connor in the role of narrator makes for a far more poignant and powerful argument, it still crashes up against certain political realities. The administration's commitment to holding civilian trials has ebbed, but it's far from disappeared. At this juncture, White House aides say, they are still looking for a venue to try Khalid Sheikh Mohammed and others in the criminal system. They just haven't found local officials (see: New York City Mayor Michael Bloomberg) who are willing to help.

Popular in the Community